Review copy was received from NetGalley. This does not affect my opinion of the book or the content of my review.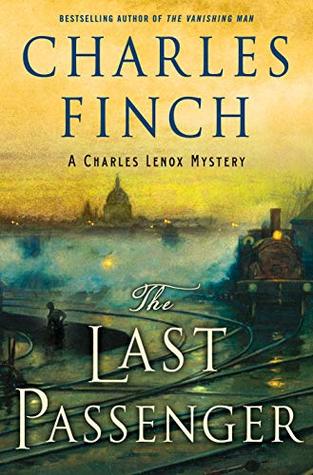 The Last Passenger
by
Charles Finch
Series:
Charles Lenox Mysteries #13
Published by
Minotaur Books
on February 18, 2020
Genres:
Historical Fiction
,
Mystery
Pages:
304
Format:
eARC
Source:
NetGalley
Goodreads
Amazon
, 
Audible
, 
Audiobook
, 
Barnes & Noble
, 
Apple




London, 1855: A young and eager Charles Lenox faces his toughest case yet: a murder without a single clue. Slumped in a first-class car at Paddington Station is the body of a young, handsome gentleman. He has no luggage, empty pockets, and no sign of violence upon his person - yet Lenox knows instantly that it's not a natural death.

Pursuing the investigation against the wishes of Scotland Yard, the detective encounters every obstacle London in 1855 has to offer, from obstinate royalty to class prejudice to the intense grief of his closest friend. Written in Charles Finch's unmistakably warm, witty, and winning voice, The Last Passenger is a cunning and deeply satisfying conclusion to the journey begun in The Woman in the Water and The Vanishing Man.
We arrive at the final book of prequel mysteries in the Charles Lenox Mystery series. This trilogy goes back to the beginning and shows how Charles Lenox came to become a private detective, establishes his place, and his first meetings with several figures that play a strong role in his later years.  I have found these absorbing after reading the books when he is already established, to know how it all came about and how a quietly confident Lenox came into his own, which these prequels do a great job of laying out.
The Last Passenger begins with Charles trying to figure out how he has suddenly become the bachelor du jour of the London social scene with all the matchmaking mamas and their daughters as well as a male friend or ten with their eligible lady relations.  Even his friend, Lady Jane, is not immune.  He ponders his new social life and the repercussions even as he has come to peace with Lady Jane's choice of husband and Grey becoming his own dear friend along with Jane.
But, then a gruesome death is discovered on a passenger train that consumes Charles and his intrepid manservant Graham, first to the startling identity of the deceased, and then to a solution- which is followed by a big twist.  On this case, Lenox is assisting Scotland Yard with pressure to either join the force or get out of their way and his own observations of how many in society will cut him for his choice to pursue detective work.  Meanwhile, the elements of the murder victim's life illuminate the darkness of slavery and the ongoing fight to end it, even as some powerful types work to keep the horrific institution in play, even if it means dividing the former colony, America, in war.
There was a great deal of introspection in this one as I've pointed out and the facts of the case were teased out steadily with a few blips of excitement and a couple lightning twists.  I caught onto a few tricky bits before Lennox and thought I had worked it all out until I didn't.  It was a good mystery even if it didn't raise the pulse much.
The historical backdrop and social history elements were superb as always.  I love how the author slips in those etymology tidbits so I learn the origin of some phrases and words that were- and in some cases, still are- used.  It always makes me smile to think of Charles Lenox as a Victorian Era geek with his fondness for trivia and maps and clipping crime stories.
But, beyond all that, this story led up to a few sad moments for both Lenox and Lady Jane that, as a series reader, I knew was coming.  It didn't make it easier.  And, there was the added bit of private sorry for Lenox's additional loss.
Now, I have the desire to go back to the first story and see the series with a new light after getting these three prequels.  As to reading order when it comes to new readers, definitely follow the release order, starting with A Beautiful Blue Death, and not the chronological one.  Those who enjoy historical mysteries should give this Victorian Era detecting series a go.
Related Posts