The Sunday Post is a weekly meme hosted by Kimberly @ Caffeinated Reviewer. It's a chance to share news~ A post to recap the past week, and showcase books and things we have received.

Stacking The Shelves is also a weekly meme hosted by Tynga's Reviews and Marlene from Reading Reality. It's all about sharing the books you are adding to your shelves, may it be physical or virtual. This means you can include books you buy in physical store or online, books you borrow from friends or the library, review books, gifts and of course ebooks!
---
Don't forget to look at my giveaways on the right sidebar.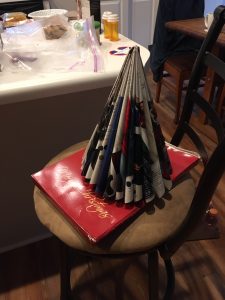 Sunday was rainy and cold. I was fed up with my clothes all being in the clean basket and so I hung everything up, or put it away. I did the usual blog visiting. Somehow I am not getting emails when people comments now and it's making me crazy. I can find them in the comments but it is messing with my normal routine. I ate the last of the garden tomatoes and some lettuce on my taco salad.
Monday my daughter had a doctor appt so we went out. I don't really want to go out at all. I also got the car inspected so I could get the new license tags. I found out I could renew them online for a $3 fee but that's better than waiting in line inside a building. I had some blog issues to try to handle. But it was also the start of the fun Top 10 posts. I had to get my new audios ARCs uploaded so I could listen to them too. My daughter made this tree from catalogs.
Tuesday, I had an Instacart. My daughter had a tele medical appt. She expressed she was unhappy because she didn't get As in her courses. I looked it up online while they were talking and saw she got an A and a B. She seemed surprised she got the A. I told her that those were excellent grades and she should be proud of herself in this tough year. She is so critical of herself; she thinks a B is failing. smh I worked on finishing up the Top 10 posts. In the late afternoon, my daughter and I took Lulu on the short walk when the wind finally died down. I spent a lot of time on my narrator post but I'm finally happy with it.
Wednesday started out with nice weather but more Google Chrome Not Responding. I did some things which seem to have solved it for now. I took Lulu for another walk and made a batch of food with her favorite – chicken. While I made dinner, my daughter got the lights on the tree.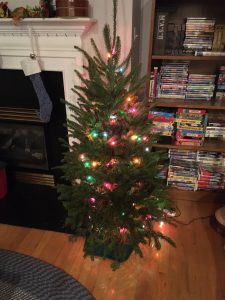 Thursday was an amazing day. I woke up about 2 hours earlier than normal (6:30am – I think I heard my daughter going to bed) and decided to get up because I could get the dog out before it started raining. The weather was warm but very rainy and high winds. My computer was behaving and finally, I started getting my Comment emails and stats for the first time since December 15th! It's incredible how much my routine was disrupted by not getting them. I got my reviews written for next week I got bills paid and doing some tax planning.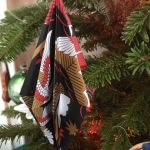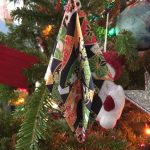 Friday was Christmas and we didn't do much. My daughter had decorated the tree during the night. She made these cute ornaments with origami paper. I was up first as usual, wrapped gifts and put them under the tree, and filled the stockings. I was reading books by favorite authors Ilona Andrews and Patarica Briggs. The high was close to freezing. Brrr. I made my daughter's favorite clam chowder. My daughter made me a matching necklace and earrings. She also made me 20 origami hearts with messages in them.
I FINALLY got to read the eARC of Blood Heir by Ilona Andrews I was saving for Christmas. So I didn't get going fast on Saturday. My daughter went to bed at 12 noon so I wasn't worried about getting up early for her. She had stayed up to do some online gaming partnership she had set up. I made breakfast for dinner with pancakes, bacon and eggs. I didn't get to several things I wanted to do, so hopefully I will get to them this upcoming week. I'm glad it's going to be warmer so I can walk with Lulu more this week.
---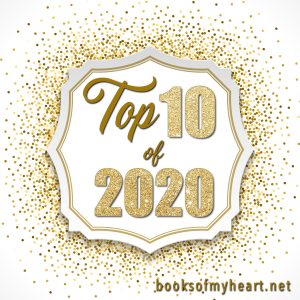 Take a look if you missed our Top 10 posts this week (each one has a link up so you can share your favorites) :
Monday, December 21st– Top 10 Books of 2020
Tuesday, December 22nd– Top 10 Audiobooks of 2020
Wednesday, December 23rd – Top 10 Book Covers of 2020
Thursday, December 24th – Top 10 Book Characters of 2020
Friday, December 25th – Top 10 Favorite Narrators (Blogger's Choice)
Saturday, December 26th – Top 10 Books I Want in 2021
---

Stacking the Shelves is hosted by Tynga's Reviews and Reading Reality. These are the exciting ARCs I received this week (If you click on the cover, it will take you to the Goodreads entry):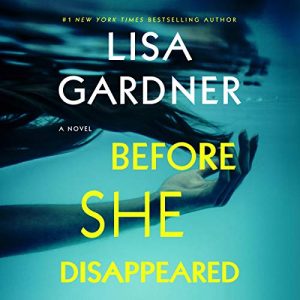 Many thanks to Brilliance audio.
(If you click on the cover, it will take you to the Goodreads entry)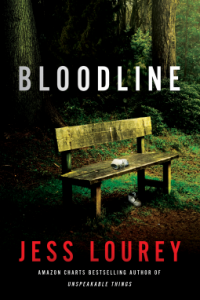 I finally decided on my Amazon first read for December which comes with Prime.

Now the really scary one. This is all the Kindle and Audible freebies I grabbed this past week. You can see why I need to do Thrifty Thursday to be sure I read a few at least one each month.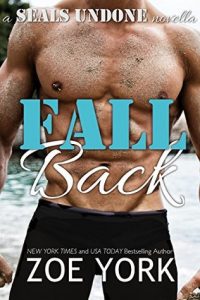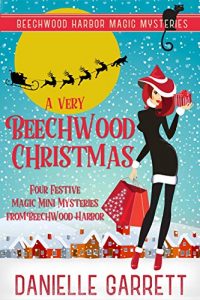 I really meant to cut back on freebies BUT they are free so I guess that won't be happening.

I'm not including things like reviews posted or upcoming as they are always in the right sidebar. And, my challenge status is also there.
I look forward to hearing about your holiday week in visiting Sunday posts today!
Anne
Latest posts by Anne - Books of My Heart
(see all)