Review copy was received from Publisher. This does not affect my opinion of the book or the content of my review.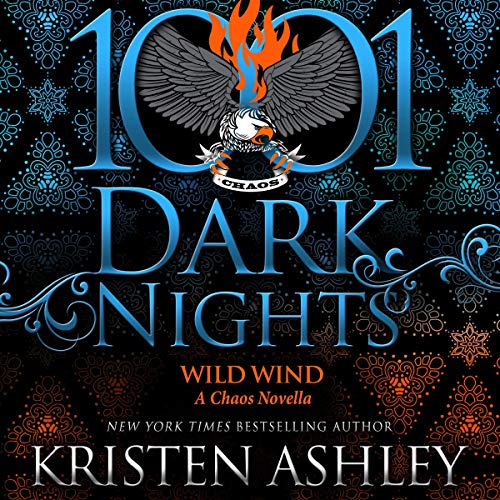 Wild Wind
by
Kristen Ashley
Narrator:
John Hartley
,
Stella Bloom
Series:
Chaos #6.6
Published by
Brilliance Audio
on March 9, 2021
Genres:
Contemporary Romance
Length:
7 hours, 7 minutes
Format:
Audiobook
Source:
Publisher
Goodreads
Amazon
, 
Audible




When he was 16-years-old, Jagger Black laid eyes on the girl who was his. At a cemetery. During her mother's funeral.

For years, their lives cross, they feel the pull of their connection, but then they go their separate ways.

But when Jagger sees that girl chasing someone down he street, he doesn't think twice before he wades right in. An when he gets a full-on dose of the woman she's become, he knows he finally has to decide if he's all in or if it's time to cut her loose.

She's ready to be cut loose.

But Jagger is all in.
The 1001 Dark Nights Series is a collection of novellas by various authors set in already established worlds or series.  It is so you can get a glimpse into the world and writing of that series in a stand-alone book.  I generally like this idea but Wild Wind a novella set after the Chaos Series wrap up is not a really good representation of why I normally like Kristen Ashley.
I've read 50+ books by Ashley and normally her stories work for me.  But every once and awhile there is something that just crashes and burns and all the stuff that I generally like from KA books like the Descriptions of décor, the family drama, the alpha male of it or the social commentary just fall flat and I have to say that seems to be the issue with Wild Wind.
Jagger and Archie spend about ten years just missing each other or getting their stuff together.  He saw her on the day her mom died and knew she was something special.  Their meeting was interesting and I really enjoyed the quirky punkiness of Archie and the woman she became.  Her eclectic style was really cool.  Overall, Jagger is a good guy and easy to like as well.  I did like them as a couple and so the book wasn't a total dud for me.  And like all Ashley books there are some really cool emotional scenes.
The issues I had with this book in the series is that there is no big struggle really.  There are a few family issues and trouble from a couple kids in Junior high but it didn't have the higher octane struggles like kidnapping, murder or organized crime of Ashley's other books and so the plot of the story just really dragged.  Archie and Jag do spend a lot of time getting it on, but Jag's struggle in the book is figuring out how to deal with some aspects of his dad's death.
The other big issue I had for Wild Wind was it felt preachy.  I preface this by saying I don't care what race/sexuality/gender you are.  People are people and I wish we'd stop throwing so many labels around. That said can we just pick one social issue to advocate for instead of trying to throw all of them into a novella at once?  It was like Ashely was trying to point out how her diverse her cast was.  The bad kids were white male, while the kids being picked on were ethnic.  Archie runs an afterschool hang out for intercity youth in her shop which is cool but again it was another social commentary on intercity youth and lower income families.  Then she added in interracial couples (is that even still a thing?) and a trans type character and someone else who was pan sexual.  I mean just stop, it is a novella with little to no plot. Even her step sisters were granola and bourgeoisie.  Pick one issue and role with it not all the race/gender/sexuality/class issues at once splattered with decorating descriptions.
This is not really a good example of her best work and so I would possibly recommend reading one of her other novellas in the 1001 Dark Night Series which in my opinion were all better.
Narration:
Stella Bloom is a staple in a few of Kristen Ashley's series and she has a fantastically sultry voice that is wonderful for romance.   This was my first listen to John Hartley.  He is a natural and performed the male characters really well.  He is suited to giving good Alpha and I'm excited to hear him in a few more of Ashley's books as he seems like a really good fit for them.  I listened to Wild Wind at my usual 1.5x speed.
Listen to a clip:  HERE
Rating Breakdown
Plot
Writing
Characters
Dialogue
Narration (Audio)
Overall:
Related Posts