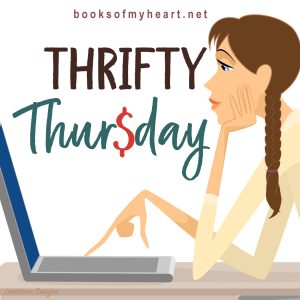 The purpose of Thrifty Thursday is to read a book which was free (at some point).
Kindle freebie on November 18, 2018  (currently free at Amazon and Barnes & Noble as of writing this post)
Overall rating 3.94 with 1,099 ratings and 157 reviews
Pastels and Jingle Bells
by
Christine S Feldman
Series:
Heavenly Bites Novellas #1
on October 31, 2013
Genres:
Contemporary Romance
Pages:
103
Format:
eBook
Source:
Purchased
Goodreads
Amazon
, 
Barnes & Noble
, 
Apple





Trish Ackerly never expected to cross paths with Ian Rafferty again, but when she spots the former bully of her childhood years through her bakery window, she thinks she may just have been given the best Christmas gift ever: the opportunity to finally give Ian the comeuppance he deserves.

But clearly she does not have a knack for this whole revenge thing, because before she can make good on her plans, Trish gets inadvertently drawn into Ian's life in an unexpected way that lets her see just how different the man is from the boy he used to be. In fact, much to her astonishment, she actually starts to like the guy.

A lot.

Trouble is, Ian doesn't know who she really is, and explaining it to him is going to be a little difficult now—which is bad news, because Trish is starting to realize that all she really wants for Christmas this year…is Ian.
With a novella, the plot and characters have to happen pretty fast.  Trish and Ian are the enemies to lovers theme. The enemies part was in middle school and now they are adults who haven't seen each other since that time.  As children, neither was aware of everything happening and was focused on their own issues.
While some of the characters' style felt cliche, it was a pretty good story.  I liked both characters and how they handled themselves in the present.  I was glad they could connect in a positive way and make things better for an unhappy child.
---
Kindle freebie on April 1, 2016  (currently $2.99 on Amazon and Barnes & Noble and in Audible Plus as of writing this post)
Overall rating 3.93 with 2,789 ratings and 334 reviews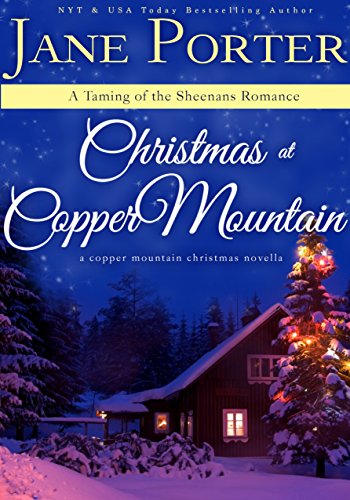 Christmas at Copper Mountain
by
Jane Porter
Series:
Taming of the Sheehans #1
Published by
Tule Publishing Group
on November 29, 2013
Genres:
Contemporary Romance
Pages:
158
Format:
eBook
Source:
Purchased
Goodreads
Amazon
, 
Audible
, 
Barnes & Noble
, 
Apple





Since the loss of her family in a plane crash, Harley Diekerhoff has led a quiet life and keeps to herself. Taking the temporary job at the Copper Mountain Ranch as widower Brock Sheenan's housekeeper seems perfect for her. But her calm cocoon is invaded with the arrival of Brock's pre-teen twins, Mack and Molly who've never experienced a proper Christmas and before she knows it, Harley's determined to make their holiday perfect.

Annoyed at first by Harley's interference, Brock is secretly pleased she's changed Mack and Molly's world. It doesn't hurt that he finds Harley incredibly attractive, fierce, smart and passionate. It's also an added bonus that she's not afraid to challenge him and get his blood heated! But when sparks fly and the attractions sizzles between them, Harley's not so sure she can handle something permanent with this dark, taciturn cowboy who doesn't know how to let her in. But Brock is determined to hold on to her and praying for a Christmas miracle…
I really enjoyed this story set in Montana on a big ranch.  We get some of each of the main character's point of view.  Harley is a hard-working woman who enjoys the work and the solitude on the ranch.  I can believe this sort of method to help her relax and heal without people talking about the causes of her grief.  I loved hearing about her cooking!
Brock was less easy to understand. He also had grief but his attitudes and character were more cliche.  His children were awesome but also not quite realistic.    On that train of thought, the fact the whole story happens in less than two weeks was too fast.    But it was fun to read and had a lovely HEA.
---
Kindle freebie on November 3, 2019  (currently 99¢ at Amazon and  $3.99 at Barnes & Noble as of writing this post)
Overall rating 4.14 with 1,720 ratings and 163 reviews
A Perfect Christmas Gift
by
Lori Wilde
Series:
,
Texas #1
on November 29, 2019
Genres:
Contemporary Romance
Length:
154
Format:
eBook
Source:
Purchased
Goodreads
Amazon
, 
Barnes & Noble
, 
Apple



Hard-driven, corporate lawyer Evan Conner is tasked with accompanying his ailing boss to Kringle, Texas, where his boss plans a lavish party to make amends for his Scrooge-like misdeeds that almost destroyed the quaint little town five years earlier. Dismayed to find a stray dog who's just had puppies in the house they've rented for the event, Evan calls local vet, Chloe Anderson to bail him out.

Chloe is the most charming woman Evan's met in a very long time, despite her silly Christmas costume and plethora of pet hair on her clothes. He loves her bubbly attitude and bright smiles. But the town is suspicious of Evan and his wily boss, and they warn Chloe that big-city men simply can't be trusted.
My impression of this author has been positive but this one didn't do much for me.  I felt like the characters were too cliche and not well developed enough.  The main character Chloe was a veterinarian and yet seemed like a new adult idealist.  She had time all day to run around town with Evan, who also could leave all his clients in Dallas, with no concern for business matters.  It didn't seem like the reality of a small business. It is true that in a small town there may be some more flexibility but not this much.
Chloe's mother and Evan's boss made even less sense.  Evan's boss, Peter, was a rather classic villain.  Luckily, neither Evan or Chloe, let Peter's antics disrupt them. For a smart guy and one with some money, Evan seemed rather unaware of Peter's history in Kringle.
The town is a special place at Christmas time.  We get a bit of it.  The romance was very fast, but it's also a clean romance.  I almost DNFd this one. I didn't fine the business aspects or romance very believable.  But you may enjoy this holiday romance.
---
These are only Kindle freebies I get, or ones through author newsletters which anyone can sign up and get for free. I don't include things like Kindle Unlimited or Prime Free Reading (I do have it). Both Tantor and Audible have occasional free audios (to anyone) and I do include those.  Since I one-click on 1-2 freebies a day or probably at least 5 a week, I came up with this feature to make sure I start reading them.
---
Add your review link here: 
Mister Linky's Magical Widgets — Thumb-Linky widget will appear right here!
This preview will disappear when the widget is displayed on your site.
If this widget does not appear,
click here
to display it.
Latest posts by Anne - Books of My Heart
(see all)
Reading this book contributed to these challenges:
Related Posts