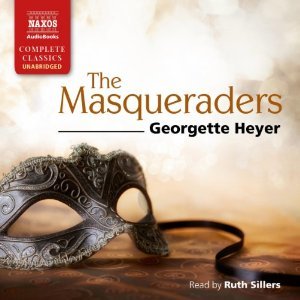 The Masqueraders
by
Georgette Heyer
Narrator:
Ruth Sillers
on May 16, 2014
Genres:
Historical Romance
Length:
11 hours, 3 minutes
Format:
Audiobook
Source:
Gift
Goodreads
Amazon
, 
Barnes & Noble
, 
Apple




After participating in the Jacobite Rising of 1745, Robin and Prudence, brother and sister, become engaged in a swashbuckling, romantic adventure. Our hero and heroine must cross-dress and switch genders if they are to escape prosecution a humorous move that allows Heyer to explore the manners and language affectations of the period as the two romp through the elite saloons and clubs of London. But what the two don't foresee is that they might fall in love along the way: Prudence with the elegant and dashing Sir Anthony Fanshawe, and Robin with the charming Letitia Grayson. Can the two unmask themselves without losing their lives?
A swashbuckling 'powder and patch' early Georgian Era romantic adventure for two vivacious siblings who evaded the purge of Jacobites after Culloden and hide in plain sight amongst London High Society in a sparkling and witty gender bender.
Georgette Heyer is most known for her sparkling, light Regency Romance.  However, she did not limit herself to one era and proved she could carry that engaging dialogue and wit into early historical eras like this mid-eighteenth century charmer.  What could be more fun than a brother and sister who have adventured with their father 'the old gentleman' all over Europe and lastly with the devastating lost Scottish cause and the Highland defeat at Culloden.  Being a Jacobite- or at least being thought to be- is dangerous in those times so Prudence and Robin choose impenetrable disguises as a brother and sister, but Prue takes the part of young Mr. Merriot and Robin as the coquettish Miss Merriot who rescue a damsel, anger a rogue, fall in with the phlegmatic Sir Anthony, and take up residence with the charming and French lady leader of society all the while wondering what scheme their eccentric parent will cook up next.
There is romance for both siblings, but yes, it's somewhat complicated with their chosen disguises and the fact that they aren't exactly what the English high society would consider respectable.  But, they navigate these ticklish issues along with the old gentleman's maddest scheme of all.  Pru falls for formidable and deceptively quick-witted Sir Anthony who she must constantly stay one step ahead of while Robin falls for a sweet, dreamy poppet of a girl.  I enjoyed them both and their love interests, but their father Robert, Lord Barham stole the show with his outlandish conceit and prowess to scheme and best everyone.  The villains are the types one cheers when they get their just desserts, but the focus was very much on how the family of adventurers find their way through their difficulties.
All in all, this was another fun classic Heyer romp and I can recommend it for those who enjoy witty dialogue, light and sparkling plot with fabulous historical description and setting.
Narration:
The narrator, Ruth Siller, was new to me.  I had to adjust to her voice which was wonderful for Terese's French and the variants in class.  However, the nasal way she did all the male voices except Robin's and particularly, Sir Anthony's voice I found the most distracting since he is a huge 'mountain' of a man so I expected a low, resonating voice for him.  But, as to her storytelling, that was entertaining and I had no trouble enjoying that.
Rating Breakdown
Narration (Audio)
Overall:
Related Posts