Review copy was received from NetGalley. This does not affect my opinion of the book or the content of my review.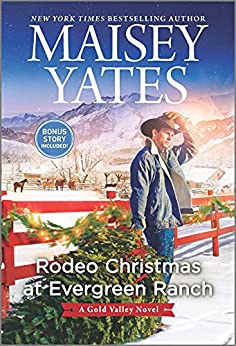 Rodeo Christmas at Evergreen Ranch
by
Maisey Yates
Series:
Gold Valley #13
on October 26, 2021
Genres:
Historical Romance
Pages:
368
Format:
eARC
Source:
NetGalley
Goodreads
Amazon
, 
Audible
, 
Libro.fm
, 
Barnes & Noble
, 
Apple




Legendary bull rider Jake Daniels has only one plan this Christmas—to ignore the pain the season always brings. Until his best friend, Callie Carson, shows up on his ranch with a marriage proposal. Jake has lived so close to the edge it's a miracle he's still alive—he knows all about risk. But marrying the woman he craves more than anything feels like the biggest risk of all.

Callie Carson may be rodeo royalty, but to fulfill her dreams of riding saddle bronc, she needs her inheritance. And to access that, she needs a husband. But Jake the husband is deliciously different from Jake the friend, especially after the wild heat of their wedding night. He was only supposed to be her cowboy for Christmas, but Jake's every heart-stopping touch has Callie questioning how she'll ever be able to walk away.
It has been ages since I read my first cowboy romance from this author and I always meant to go back for more especially since I see others really loving on her books. But, it took a mood for a Christmas cowboy romance to get me to snag one and it took me on quite the wild bronco ride.
Rodeo Christmas at Evergreen Ranch is the thirteenth in the Gold Valley series, but read fine as a standalone.
As I mentioned, it has been a while for me. I forgot just how emotional a Maisey Yates story could be. Jake is a top rodeo star and could keep at it even longer, but an accident to his close friend, Callie, has him facing some facts and deciding to retire and start running his ranch. Callie isn't just a friend- he loves her. He lost his parents and feels a strong need to protect himself from that degree of loss and pain again. But, his reason for leaving the circuit tracks him down with a bodacious offer. And, it will take all he has in him to accept and then keep to the terms.
Callie has high respect and a deep friendship for her mentor, Jake. She is poised to have all she dreamed about when a mistake costs her a bad injury. Her rodeo star dad decides now he'll take back the reins and this cuts her off from her plan when he cuts off the cash flow. Some quick thinking makes her realize if she gets married, that releases her waiting trust fund so she goes to Jake to help her once again. It's strictly friends because she's afraid that any real feelings she might have will destroy the beautiful and fun, flirty friendship they have always shared. Funny how the heart won't stay in line when her mind is made up, but she is a tough woman and will fight her feelings right on out of her true happy dreams if she isn't careful.
Rodeo Christmas at Evergreen Ranch was not just set during the holiday season, but took its time across many weeks. This is good because this pair had a lot to unpack and work out within themselves and between them. I do have a tough time with heroines and have to admit I was not enamored with Callie for much of this story. I get where she's coming from and she had a right to want what she wants, but I didn't care for the way she ran roughshod over others and refused to consider other perspectives and her stubbornness when it came to Jake was huge. Okay, to be fair, he was doing his fair share of resisting, too. Jake was a special guy who had some early losses that shaped him and I really did want him to find his happy especially since he'd been secretly in love for a while. Seeing them both grow and learn was what kept me reading when their dithering over the same mental ground had me irritated and appreciating what came at the end as worth it.
I've not read the earlier books in the series, but there are updates with earlier couples and characters for the series fan to appreciate.
All in all, it was a deeply emotional, tough-fought, banter-filled and sexy friends to lovers romance set on a ranch. Made me regret waiting so long between the author's books. Cowboy romance fans who haven't tried the author or the series really need to give it a go.
Related Posts