Review copy was received from NetGalley. This does not affect my opinion of the book or the content of my review.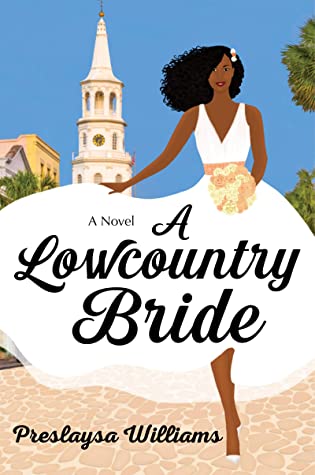 A Lowcountry Bride
by
Preslaysa Williams
Series:
Brides of Lowcountry #1
Published by
Avon
on June 1, 2021
Genres:
Contemporary Romance
Pages:
352
Format:
eARC
Source:
NetGalley
Goodreads
Amazon
, 
Audible
, 
Audiobook
, 
Barnes & Noble
, 
iTunes





Maya Jackson has worked for Laura Whitcomb, Inc, a renowned New York City bridal gown brand, for years and dreams of becoming Head Designer. She has the talent; she just needs a chance to showcase her unique style. Due to an illness, she's always prioritized her career over her personal life until her father fractures his hip and Maya returns to Charleston, South Carolina. While home for only a few months, she's thrilled to find an opportunity at the local bridal gown boutique, never expecting sparks to fly with its owner...

A military veteran and widowed father, Derek Sullivan hopes to save Always a Bride from bankruptcy in order to preserve the legacy of his mother. He also wants to reconnect with his estranged, twelve-year-old daughter, who is still recovering from the loss of her mother. The last thing he needs is a relationship with a beautiful, smart, complicated woman who will be leaving soon.

When Derek begins to fall for the lovely Maya, he knows there's no future. But destiny has its own plans, and these two lonely people with big hearts discover that coming home to love is the best gift life can give.
Going home to take care of family, fighting a chronic health issue, and dreaming of her own design career while he is honoring his mother's dream as the business barely holds on, working through the grief of a wife and mother gone too soon, and trying desperately to connect with his daughter.  Is there enough hope left for romance?  This story looked charming, sweet, and emotional and I was eager to try this author for the first time after seeing the excitement for her books in a few reader pals.
As I noted, this was my first time opening one of the author's books, but I've had my eye on them for a while.  So many, found characters and romances that resonated with them and shared that in their reviews that I took the chance with this standalone.   It does start off at a gentle pace and relies strongly on character-driven plot.
I thought I was prepared for the emotional punch, but this one dug deeper than I was expecting.  Her chronic health issue turned out to be Sickle Cell Anemia, a terrible one I'm all too familiar with in my former job (people have ongoing health trouble, sometimes get treated differently from others, and mostly die young) and his wife's death was a church shooting that, understandably, devastated him and his daughter.  There was also gentrification, racism, and other up to the minute troubles our society faces.  I did have the stray thought that all this might be too much for one story.  But, that was selling this author short.  She wrote with heart and deep interest that came across in her characters, setting, and plot so the story was bittersweet at times, but also hopeful and heartwarming.
Maya designs beautifully, honoring her mother's diverse heritage through her gowns and having a special friendship with her boss.  She grasps her situation, but she is a woman of strength who sees life as a precious gift and lives it.  I adored seeing her slowly get through to Derek's hurting daughter and forge a relationship with her apart from their own slowly connecting romance which was sweet rather than fiery and not difficult once they got started.  I appreciated this because I felt they had so much else to overcome individually that any extra drama in the romance would have been too much.  As for Derek, he is a wonderful man and something truly special the way he puts so many others first and cares.  He knew the score about loving a woman with Maya's condition and what it would be like if he put his heart on the line after losing one beloved wife, but he opened his heart anyway.
An amazing heart-felt story and now I know why readers love her books so much.  Those who want a contemporary romance that digs deeper balancing a current reality for people of color with a beautiful love story should definitely pick this one up.
Related Posts