Review copy was received from Author. This does not affect my opinion of the book or the content of my review.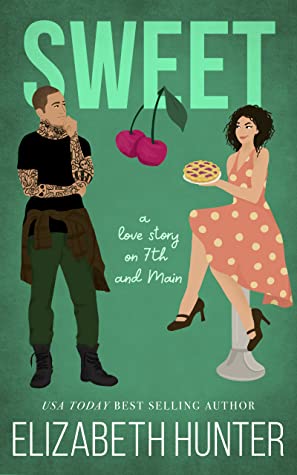 Sweet
by
Elizabeth Hunter
Series:
7th and Main #4
Published by
Self-Published
on December 14, 2021
Genres:
Contemporary Romance
Pages:
130
Format:
eARC
Source:
Author
Goodreads
Amazon
, 
Barnes & Noble
, 
Apple





It's 2004, and Daisy Rivera knows two things: she's going to end up disappointing her parents' fondest hopes and dreams in roughly six months, and somehow she's going to figure out how to kiss the mysterious tattoo artist two shops down from her grandmother's cafe that everyone calls Spider.

Spider Villalobos knows one thing: if he gives into temptation and makes a move on Daisy, his fresh start is over.

Their shops may be neighbors in Metlin, but their lives are worlds apart.
This author excels at infusing life into her characters which engages readers on a whole new level.  Sweet is the fourth book set in a small town in California, in the 7th and Main series. It takes an interesting view about a decade before the first three in the series happen.  I like getting a different perspective.
Daisy is smart and talented and loves her family.  I feel badly she isn't able to be more forthcoming about what she really wants.  Eventually,  she manages it.  But it hurt that she couldn't make it clear earlier.
Spider is a good guy with a bad past. He has done well and I was so worried his past would catch up to his many years of building a good life.  He doesn't feel he is good enough for Daisy but he really likes and respects her.
Thankfully, Daisy has a great family and lives in a town with wonderful, caring people.   I love the safety net of "it takes a village."   Daisy and Spider might seem too different but they both are artists and get along well.   I appreciated the epilogue which brings things back to the present storyline of the other three books.
Excerpt:
She tasted so good. Her mouth had tasted like mint and her lip gloss had been vanilla or some shit like that because when he licked his lips after he kissed her, it tasted like a muffin. Where the hell did girls even find stuff like that? 

"I like your place." She was looking around at his bedroom. "It's really… clean."

He nodded. "Yeah. I like to keep things organized."

She bit the corner of her lip. "I can tell."

Spider didn't own a chair. The sole surface for sitting was his full-size bed, but that didn't seem like a very good option if he was trying to get control of his dick. 

Of course, the only other option was the floor.

"Um…" He gestured to the corner of the bed. "Sit. I'll get you some water. Or milk. Sorry, I don't have anything else. I'm not used to—"

"Spider." Daisy was looking around, and her expression was amused. Not like, mocking amused, just sweet. Cause she was a fucking sweetheart. "It's pretty obvious that you weren't expecting company. It's okay. Why don't we go get a coffee or something? We don't have to hide here."

She thought they should be seen together? In public? "I don't think that's a good idea."

"Why?"

Cause I'm a fucking homeboy and you're a decent girl. He shook his head. "Daisy, I like you—"

"I like you too." Her cheeks were a little pink. "And I'm not embarrassed to be seen with you. Are you embarrassed by me?"

"Embarrassed by you?" He snorted. "That's not the way this works, princesa. I'm the embarrassing one, remember? You're Metlin's golden girl. The last thing your reputation needs is someone like me."
Latest posts by Anne - Books of My Heart
(see all)
Reading this book contributed to these challenges:
Related Posts