Review copy was received from Publisher. This does not affect my opinion of the book or the content of my review.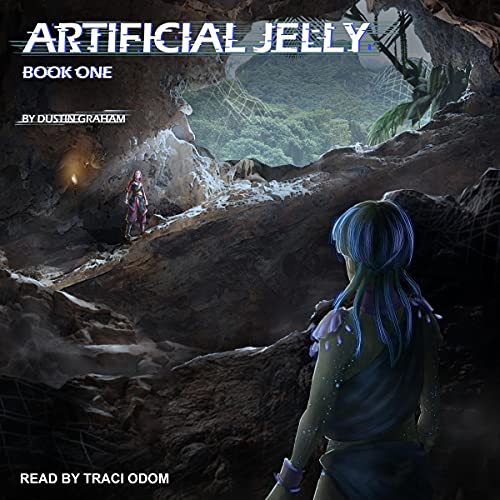 Artificial Jelly
by
Dustin Graham
Narrator:
Traci Odom
Series:
Artificial Jelly #1
Published by
Tantor Audio
on May 25, 2021
Genres:
Fantasy
Length:
10 hours, 52 minutes
Format:
Audiobook
Source:
Publisher
Goodreads
Amazon
, 
Audible
, 
Libro.fm





Born to die and be born again, Gell, the Jellyfae must discover her strange connection to the horrible monsters called humans, that speak with words she understands, but seem to want nothing but her death. Driven by a desire for safety and freedom, she ventures forth to Tread the Sky, and finds more worlds than one.
Artificial Jelly was a bit of a surprise for me.  When the main character was described as Jellyfae I sort of assumed some things that were completely wrong.  Like this was a fantasy story set in Faery.  It isn't, that doesn't mean I didn't enjoy myself.  I definitely did, but I think this falls more into a little niche category called LitRPG.
There is a lot of fun to be had hanging out with Gell, but if you have never been caught up in the MMORPG it might not resonate with you like it did with me.  The hubs and I played World of Warcraft seriously for about 4-5 years.  We loved the game and had a great time moving up the ranks and exploring the world there.  But this book gives an interesting perspective.  What if one of the creatures you've been killing or farming for extra stuff could feel every death and was becoming sentient?
That is our little Gell, the Jellyfae.  She is becoming more in each death until she changes her life and the game she is living in forever.  It is a journey story that opens up a world and shows us what it is like to be on both sides of the game.  If you have done some online gaming, then I think a lot of the story will resonate with you, but if you haven't you might not understand the obsession on MMORPG can become to people.
My only complaint is the ending seemed a bit abrupt even though it was extremely interesting.  I was glad to see this has book one on the description so we will possibly get to see more of the courageous Gell who figured out how to get out of her dungeon, see the world and touch the lives of both NPCs and players in the real world.
Narration:
Traci Odom is a really good narrator.  It was a little strange to have her voice a small girl in this narration as the last ones I listened to by her were for a middle age woman.  I will say I do prefer her narration of older characters to a semi-child like creature.  Still she did a great job and enjoyed  her narration.  I was able to listen to this at my usual 1.5x speed.
Listen to a clip:  HERE
Rating Breakdown
Plot
Writing
Characters
Dialogue
Narration (Audio)
Overall:
Related Posts