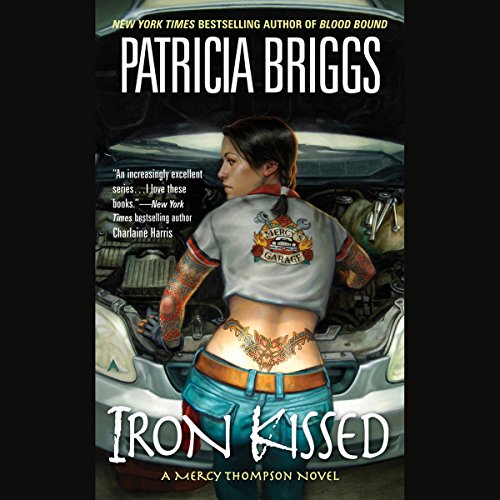 Iron Kissed
by
Patricia Briggs
Narrator:
Lorelei King
Series:
Mercy Thompson #3
Published by
Penguin Audio
on November 1, 2009
Genres:
Urban Fantasy
Length:
9 hours, 11 minutes
Format:
Audiobook
Source:
Purchased
Goodreads
Amazon
, 
Audible
, 
Audiobook
, 
Barnes & Noble
, 
Apple





It wasn't hard to follow the scent of blood to the living room where the fae had been killed. It had been a violent death, perfect for creating ghosts.

Mercy Thompson enjoys life as a mechanic, but life is never simple given her increasing closeness to the local werewolf pack, and her ability to change into coyote form at will. And when a member of the fae community calls in a favour, needing her skills for a covert murder investigation, she jumps into the hunt.

But the dangers multiply and she clashes with shadowed creatures of great power. When her old boss Zee is charged with a brutal assassination, Mercy find herself fighting alone. There are those who love her, who would keep her safe, but she is wary and holds her freedom precious. Until, that is, she has nothing left to lose but her life ...
We continue our read-along on the Mercy Thompson series, with a review by Carole at Carole's Random Life in Books: 
This book left me with all kinds of feelings.  I have had a hard time getting it out of my head since I finished it hours ago.  This was a re-read for me but it has been roughly 6 years since the first time I read this book and it really had a bigger impact on me this time around.  I have so much love for this series having read all of the books set in the Mercy world and now working on re-reading them as time allows.  This book felt like a really pivotal book this time around since I know how things do work out.  I am in awe of the magic that is the Mercy Thompson series.
Mercy is asked by Zee to help out with an investigation investigation involving the fae.  Things get a whole lot more complicated almost immediately after when Zee is arrested and charged with murder.  Mercy knows that he is innocent so she is going to do everything in her power to set the record straight even when she is told to leave things alone.  I will be honest and admit that I didn't remember who the bad guy was in this mystery and was trying to puzzle through everything right along with Mercy and she discovered new pieces of information.
The other major point in this book focuses on Mercy's love life.  In the previous books in the series, Mercy has had both Adam and Sam showing interest in her.   Sam ended up moving in with her as roommates and Adam has declared her as his mate.  Sam and Adam are both very strong Alpha wolves and a choice has to be made.  Mercy does finally figure out where her heart is in this book and she does it in a way that reminds me why I love her character as much as I do.
The final section of the book really got to me.  It was intense to say the least.  I was emotionally all over the place as I listened to the everything that happens to Mercy.  I was angry for her.  I wanted to cry for her.  I wanted to help glue back all of the pieces or try to do something to make it be that things didn't really happen.  I think that the way that Patricia Briggs decided to share how Mercy was feeling during the aftermath of the big event is genius.  I am in awe of her writing ability.  Mercy dealt with the pain by turning into her coyote.  In doing so, the way she acted and her body language took on a very obvious meaning.  It was powerful stuff to say the least.
I would highly recommend this series to others.  I do think that this is a series that is best read in order since the relationships between the character grow and change over the course of the series and events from earlier books do come up from time to time.  I can't wait to continue with my re-read of this fantastic series!
Narration:
I loved the narration of this book.  Lorelei King did a spectacular job in narrating this story.  There are quite a few characters in this book and she did a fantastic job in using different and consistent voices for those characters.  She really showed the emotions of the characters during this story.  The pacing of her reading was really nice and I found myself being able to listen for hours at a time.
Listen to a clip:

---
Games:
Who said (enter the answer in the Rafflecopter, don't put in the comments)
""I like you," she said to me. "You play an underhanded and subtle game—and like Coyote, you shake up the order of the world." She laughed. "Coyote indeed. Good for you. Good for you.  "
There are other options in the rafflecopter for you to enter discussion questions and quotes to share.
---
Share your review/ thoughts on Iron Kissed:
I thought it might be fun to link up reviews so we can find them all easily.  It can be a link to Goodreads or a blog, or wherever you have a review (short or long).
Mister Linky's Magical Widgets — Easy-Linky widget will appear right here!
This preview will disappear when the widget is displayed on your site.
If this widget does not appear,
click here
to display it.
---
Observations and questions you shared from Blood Bound:
(Thank you  so much for sharing!)
I've read through the series twice and I always think after each book that the story is light and funny in parts with doses of chilling terror. Cory Littleton was frightening!
I always wonder why the vampires seem a little threatened by what Mercy is (coyote shifter). Why would that be a threat to them?
Does Stefan really love Scooby Doo?
Why is Mercy so lucky to have two men (Adam and Samuel) in love with her?
I wonder if Marsilia really put Andre up to the scheme.
When Mercy was searching for Andre, why wasn't anyone else actively looking with her?
Why doesn't it hurt for Mercy to change into a coyote?
I wonder if Mercy can really have children.
---
Quotes you readers shared from Blood Bound:
(Thank you for sharing!)
"Why is it that in all the adventure movies the heroine doesn't have to get up and go to work?"
"Adam wants to know what took you so long?"

"Tell him I had wild, passionate sex with a complete stranger."
"So they came after your trailer with can openers?"
"We'd spent years as adversaries, two predators sharing territory and a certain, unwelcome attraction. Somehow, during all those years I spent outwardly acquiescing to his demands while making sure I held my own, I'd won his respect. I'd had werewolves love me and hate me, but I'd never had one respect me before. Not even Samuel. Adam respected me enough to act on my suspicions. It meant a lot."
---
Schedule:   
We are doing one book every 4 weeks, posting on Fridays.
Feb 28:   Iron Kissed – Carole at Carole's Random Life in Books
Mar 27:   Bone Crossed – KC
Apr 24:   Silver Borne – Berls at Because Reading
May 22:  River Marked – Rachel at Waves of Fiction
Jun 19:   Frost Burned   –  Jonetta at the Blue Mood Cafe
Jul 17:    Night Broken – Jennifer the Book Nympho (now at That's What I'm Talking About)
Aug 14:   Fire Touched – Robin
Sep 11:    Silence Fallen – Sophia Rose
Oct 9:     Storm Cursed  – Angela at My Guilty Pleasures
Nov 6:    Smoke Bitten   –  Anne
Miss a post?
Jan 3:    Moon Called – Anne
Jan 31:   Blood Bound  – Melanie
---
Be sure to enter the giveaways!!!
Giveaway:
Digital or Paperback copy of Bone Crossed from Amazon (US )  or Paperback copy of Bone Crossed from Book Depository (open Intl):

Grand Prize Giveaway:
I am still developing the complete grand prize package which I will update here as we go along in the Read-along. I know it will contain the MP3 audio versions of the books from Brilliance Audio, probably signed as I intend to go see Patricia Briggs at a conference or two this year.  It will also contain swag from those events.  There will be a Mercy Thompson enamel pin from AceRoc.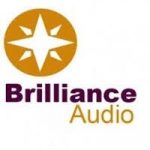 Latest posts by Anne - Books of My Heart
(see all)
Reading this book contributed to these challenges:
Related Posts