The Sunday Post is a weekly meme hosted by Kimberly  @ Caffeinated Reviewer. It's a chance to share news~ A post to recap the past week, and showcase books and things we have received.

Stacking The Shelves is also a weekly meme hosted by  Tynga's Reviews and Marlene from Reading Reality.  It's all about sharing the books you are adding to your shelves, may it be physical or virtual. This means you can include books you buy in physical store or online, books you borrow from friends or the library, review books, gifts and of course ebooks!
---
Don't forget to look at my giveaways on the right sidebar.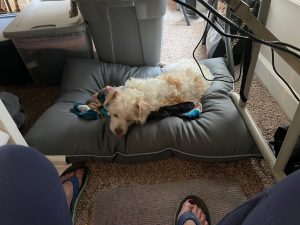 Sunday was the usual blog visiting.  I kept busy with watering and took Lulu for a walk in the morning while the wind was still out of the north.  She has been in the bed under my desk the last two days which is great but a bit unusual.  She likes the sunspot by the sewing machine. The daylilies, shrub rose and tickseed are still blooming, along with the orchid inside the house.   I went to bed early and didn't notice the fireworks too much.  I tested the new hedge trimmer to make sure it worked.  I made a salad for lunch with lettuce from my garden and cherry tomatoes from the neighbor.
Monday, I didn't get up too early. Even though I woke too early, I went back to sleep easily.  Then I read.  I still do my PT exercises morning and night but I feel more myself these days.  I finally got all the setups done I've been working on for posts.  I continue the watering. We had snow peas and herbs from the garden with dinner.
Tuesday, I started with a ton of phone calls.  I set things to watering again.  I figured out how to scan from my laptop. It's different software than I used on my old laptop. I used to scan from the printer. Now I choose Scan on the computer but it has lots of great editing features.  I got it into a .pdf and then used Google docs to convert it to a Ms Word .docx file.   I saw they put the new speed table in front of my house this morning.  I did an errand run to pick up prescriptions and the ice cream sale.  We are going through vanilla ice cream.  It goes with everything-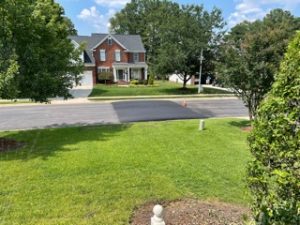 fruit, cookies, crisp, cake, or brownies.  My daughter stayed up very late to finish up her midterm exam.
Wednesday,  I relaxed a bit in the morning to read a bit.  Then I set to work on phone calls, paperwork and errands.  Things started out promising but ended up leaving me frustrated.  Either nobody wants to get back to me or they don't want to answer my questions.
Thursday,  it is a steady rain today. Yay!  No watering and it fits with my mood.  I ran my errands to return my 2 Amazon packages so I'd at least getting something done.
Friday,  well I'm getting a few answers but they are not positive.  The city is out in front making a lot of noise working on the speed tables again.   We took Lulu to the vet to update her allergy shot and she also had an ear infection.  She also lost a pound!   Then we had a late afternoon storm.
Saturday,  I went out early while the wind was still from the north but it still felt  really hot.  I mowed 3/4 of the lawn including the sod in the front yard which all looks good.  I have the section with new sod to mow yet in the back but it just felt too hot for me.  I'm in a mood about everything.   I did some blog stuff, some budgeting, and tried to figure things out.  Lowes did get back to me on the new flooring quote for the bathrooms and laundry room, but I don't know if I will do it now or not.  I don't know if I will do the kitchen.  I'm a big – I don't know.   I am planning to cancel Instacart and start doing my own shopping which will be less expensive overall.  I'll still be home mostly and wear a mask when I do go out.  At 7, it was cooler and I went out and finished the mowing.

Stacking the Shelves is hosted by  Reading Reality.  These are the exciting ARCs I received this week (If you click on the cover, it will take you to the Goodreads entry):
Thank you so much to Penguin Audio, and Random House  Del Rey. 
(If you click on the cover, it will take you to the Goodreads entry)
NOPE.

Now the really scary one. This is all the Kindle and Audible freebies I grabbed this past week. You can see why I need to do Thrifty Thursday to be sure I read a few at least one each month.
I really meant to cut back on freebies BUT  they are free so I guess that won't be happening.

I'm not including things like reviews posted or upcoming as they are always in the right sidebar. And, my challenge status is also there.
Anne
Latest posts by Anne - Books of My Heart
(see all)