Review copy was received from NetGalley. This does not affect my opinion of the book or the content of my review.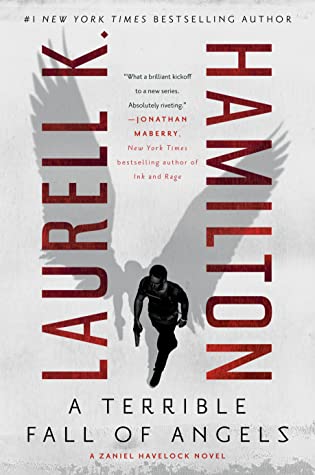 A Terrible Fall of Angels
by
Laurell K. Hamilton
Series:
Zaniel Havelock #1
Published by
Berkley
on August 17, 2021
Pages:
400
Format:
eARC
Source:
NetGalley
Goodreads
Amazon
, 
Audible
, 
Audiobook
, 
Barnes & Noble
, 
Apple




Meet Detective Zaniel Havelock, a man with the special ability to communicate directly with angels. A former trained Angel speaker, he devoted his life to serving both the celestial beings and his fellow humans with his gift, but a terrible betrayal compelled him to leave that life behind. Now he's a cop who is still working on the side of angels. But where there are angels, there are also demons. There's no question that there's evil at work when he's called in to examine the murder scene of a college student—but is it just the evil that one human being can do to another, or is it something more? When demonic possession is a possibility, even angelic protection can only go so far. The race is on to stop a killer before he finds his next victim, as Zaniel is forced to confront his own very personal demons, and the past he never truly left behind.
A cop in a special unit specific to investigating supernatural-related crime gets an angelic visit at a murder scene that sets in motion an investigation that resonates in the highest courts of Heaven and lowest of Hell.  An already top author for earlier urban fantasy triumphs, I was keen to give this author a go in an all new urban fantasy series.
A Terrible Fall of Angels introduces a human who has certain magical gifts that connect him strongly with angels and led to much of his early life spent living with and trained by others like him before tragedy struck and he left that world to make a new life for himself in the outside world that included the military first and now law enforcement.  Zaniel 'Havoc' Havelock is a seasoned veteran detective and this new case forces him to confront his past and learn what he never knew about the College of Angels, an old friend, and his own powerful gift.  His demonic opponent is formidable and a mystery even to the angels.
One of my favorite parts of starting a new urban fantasy series is getting introduced to an all new world especially when the author is gifted enough to paint a vivid picture of that world.  This book introduces the world and the characters in a way that was slower, but not a big dump.  The plot is interspersed with the 'getting to know you' stuff and intense action scenes and teasing intrigues that may or may not get answered in this book or the rest of the series.
Zaniel is a guy still coming into his own after a unique past, growing up at the College of Angels and groomed to work with angel magic until one fateful event, a born protector who runs toward trouble and danger if it will save others and ends up in jobs like the military or the police where he can do what he's good at.  But, his job has cost him and he is having to fight to get his wife and son back because his wife is unable to deal with his career (though he was doing it when she met and married him).
She masks her fear that he will be lost in the line of duty by her unreasonable anger that Zaniel can only scratch his head about.  For example, in their therapy session, she gets mad if he looks at her, but then turns around and gets mad if he doesn't look at her.  She gets mad and accuses him of spying on her and seeing someone behind her back when she is the one flipping out when he talks on the phone to a woman co-worker and she was the one who proposed they start seeing other people- which he has not.  This stressful personal side to the story does take up at least half of the book with the case he is working.  Honestly, I can appreciate that the author wanted Zaniel's life to be cemented in reality with this situation with his wife, but I do hope it resolves soon and doesn't drag on.  I could care less if he gets back with his wife the way she is acting and trying to manipulate him, but the poor guy thinks he's miserable without her.  Good thing he has a demon murdering people and hurting his co-workers to keep him occupied.
I don't know how to make this point without probably getting misunderstood and offending some folks, but I wanted to point it out because it was prevalent and, frankly, got tedious.   The author made meticulous efforts- walking on egg shells, really- to broadcast inclusiveness, equality, and sensitivity to current social and cultural issues.  She would pull over and park on it rather than smoothing it in with the progression of the plot.
The action scenes were great combo of cop work and magic.  The author didn't stint on these and I felt I was right in the moment.  Zaniel and his fellow cops were really in a battle when they were face to face with the demon.  Things got gritty and dire.  Then there was the mysterious magical artifact that really wrecked havoc and Zaniel was forced to call on angelic power he was afraid to use.  Just the sort of excitement I enjoy in an urban fantasy.
Like any good urban fantasy series foundation book, A Terrible Fall of Angels has all the good stuff going for it: introduction of a core group of fascinating and complex characters including Zaniel, curious and mysteries threads that are left open, relationships introduced, and of course the promise of an expanding series universe that includes angels and demons.  It did the job of whetting my appetite for more.  There is no cliffhanger, but enough after the main arc of the book was completed to make one desire the next book.
This is a good time for other readers to get in on the ground floor for this urban fantasy with a supernatural world that focuses on angels and demons and the humans who hold the middle ground.