Review copy was received from Publicity team. This does not affect my opinion of the book or the content of my review.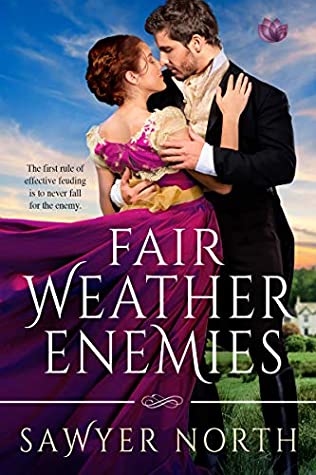 Fair Weather Enemies
by
Sawyer North
Published by
Entangled Publishing
on February 10, 2020
Genres:
Historical Romance
Pages:
220
Format:
eARC
Source:
Publicity team
Goodreads
Amazon
, 
Barnes & Noble
, 
Apple




The Hancocks and Ashfords have had a long-standing feud between their families long before Miss Jane Hancock couldn't stand the sight of gentleman farmer Adam Ashford. But after both families fall on hard times and an unscrupulous creditor forces Jane and Adam to sign a devil's bargain, they'll finally understand the true meaning of keeping your enemies close at hand.

The terms of this bargain? Locate a lost treasure shrouded in deception and mystery.

The catch? Only one can claim it to win...the loser is left to ruin.

As Jane and Adam embark on a trek throughout England they plan to hate their adversary, no matter how attractive, generous, and kind they are.

Sometimes, plans change.
A long-time bitter feud between neighboring families, mutual debts, a devil's bargain, and a treasure hunt made this enemies to lovers sound quite exciting.  I was also pleased to try a new to me author and, particularly, because there are few men writing historical romance these days.
Jane Hancock and Adam Ashford grew up neighbors and they hate each other.  But, their families are both in deep debt to a shrewd businessman who is calling in their debts which will send Jane to debtor's prison and Adam stuck in penury and forced to marry the man's daughter to save anything of his family estates.  All might have gone well, but this year is known as 'The Year Without Summer' when farms weren't producing and everyone was struggling.  Their hands are forced to take the longshot chance- locate a possible lost treasure which would have been lost nearly a century in the past and was at the heart of their two families becoming feuders.  Winner clears the debts and loser suffers consequences of his or her debt.
I admit the set up was pretty dire.  People did get sent to debtors' prison and a man with social climbing wealthy aspirations might use this sort of sordid pressure to get what he wants.  It was the type of thing that would be enough to get bitter enemies on the same side.
The treasure hunt is a device that always hooks me in and I enjoyed seeing if this pair, her Aunt Hester, and the debt-holder's barrister, Barlow, could decipher the clues in the two letters to find the gold that was lost after the Scottish-English battle of Culloden.  The party of treasure hunters meet so many quirky characters and situations along the way including some real life persons.  The historical background of places and events was spot on.
Jane and Adam's romance was iffy for me at first.  I get that they grew up thinking the other's family were responsible for all their family woes, but they acted like petulant children rather than adults.  Perhaps the squabbling was meant to be amusing and was, most likely, attraction sparking between them, but I found their back and forth got tedious.  They get better and especially as they get to know each other and get caught up in their quest, but they are faced with one winner and the other ruined.  They both need to win, but inevitably, as romance flourishes, struggle to go for the win when the other will be faced with the trouble from the loss.  I had no idea how they were going to pull it all off and that made for a bit of suspense toward the end.
.Jane's young widowed aunt, who was along as chaperone, was my favorite character.  Hester was beautiful, adventurous, mature, and faced all that was thrown at them with aplomb.  I had a good time with her side romance involving Mr. Barlow who did his appointed task, but was obviously cheering for Adam and Jane to find a way to thwart their conniving money lender.
So, it was engaging though I took a bit to get into it.  I'd like to try more of the author's work.  Those who enjoy snark and enemies to lovers would probably enjoy this one more and are the target crowd for this historical romance.
Related Posts