Review copy was received from Publisher. This does not affect my opinion of the book or the content of my review.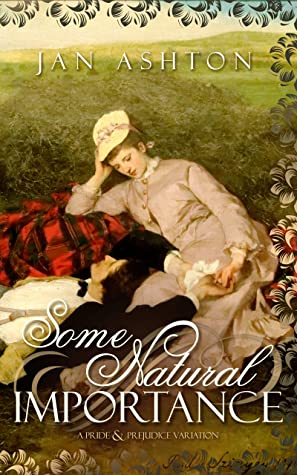 Some Natural Importance
by
Jan Ashton
Published by
Quills & Quartos Publishing
on May 10, 2021
Genres:
Historical Romance
Pages:
384
Format:
Paperback
Source:
Publisher
Goodreads
Amazon





"It is the way of the world, Elizabeth. Men hold power over women, but I am not a man who wants to wield such power. I would prefer a woman who has some power over me."

Fitzwilliam Darcy already has one arranged marriage in his past. The last thing he envisions for himself is another, yet he has somehow become entrapped in a promise to a dying man. Not only must Darcy overcome his resentment in order to live up to his sense of honour, but when he realises how deeply his heart may be engaged, he must convince Elizabeth Bennet of his true feelings.

Elizabeth never expected the imperious Mr Darcy to become a good friend of an idle gentleman like her father. And she certainly never anticipated they would form a secret pact compelling her marriage to a man she dislikes. She must set aside grief and resentment, as well as her suspicions: Is Darcy using her to avoid another bride pushed onto him by his family, or to gain riches Elizabeth never knew she had?

Or is it possible he loves her?
A widower who wed for duty the first time and pressured by family to wed for the same reason once again, finds himself attracted to a vivacious young lady who he must persuade is not a duty to him.  Characters and scenes from Jane Austen's Pride & Prejudice grace this newest release by an author I have long meant to try, but an all new story has emerged with some variation.
Fitzwilliam Darcy married Anne de Bourgh to save her pain and reputation.  She was sickly and is now gone, leaving him the owner of a united vast estate.  But, being free once again and out of mourning finds him pressured by his Fitzwilliam family to wed his uncle's step-daughter, Cecilia, and an old nemesis has been blackening his name around London society.  Darcy escapes it all at the side of his friend, Charles Bingley, into Hertfordshire where he meets a kindred spirit in a quiet, intellectual Mr. Bennet who just happens to have five unmarried daughters and an entailed estate.  While the second daughter, Miss Elizabeth attracts him, he is weary of being compelled to do his duty to yet another man's request to save his family.
I am one of those impossible readers.  I enjoy dramatic stories, but I can't stand over the top angst- yes, that is subjectively defined by me as what I consider drama for drama's sake instead of what comes natural to the story.  This book introduces a man who has drama swirling around him from everyone he encounters or so it seems, but, happily, the story never felt angsty.
I loved seeing a man of great wealth and power put on the ropes in almost an underdog situation, but with this incredible heart to help others who are in trouble.  He has pride, but not the arrogance and wrong use of his power that he is reputed to have.  I loved seeing Darcy discover a friend in the older, sickly Mr. Bennet.
Bennet is cunning and, unlike Austen's character of the same name, this one has made provision as best he could for his family, but he needs Darcy's help to execute this and would have his new young friend for one of his daughters.  Darcy needs an older-fatherly figure's wisdom after feeling so alone the way his family uses him and friends like Wickham aren't always true.
Elizabeth Bennet resents Darcy's taking her place as her father's bosom friend and confidante even as she is drawn to him and catches glimpses of the depth and complexity that matches her own.  She doesn't know the whole picture and this leaves her vulnerable to vicious, pointed lies about Darcy from his nemesis Wickham.  The middle of the book slows and even drags a bit, but it was mostly necessary because Elizabeth and Darcy need time to untangle all that has gone before it and face the machinations of his Fitzwilliam side of the family even Colonel Fitzwilliam who isn't always his friend and the others who work to sabotage them and their relationship.  Darcy doesn't want a reluctant bride or a marriage from duty.  He needs Elizabeth's love and respect and she is no easy sell- man, does she resist her feelings and the truth for so long.
The romance is not the only strong element and I enjoyed seeing the relationships of other types like friendship and family, secondary romances, and personal growth create a more layered compelling story.
I enjoyed the tone of the book that kept it from getting broody or obnoxious with all the various people and their agendas around Darcy and Elizabeth.  All the emotion was organic to the story and the tension was well-placed.  I loved the resolves.
All in all, it was a satisfying read that was hard to put down and a book I easily lost myself inside.  Those who love variations on the classic or a well-written sweet historical romance should definitely pick this one up.
Related Posts