Review copy was received from Publicity team. This does not affect my opinion of the book or the content of my review.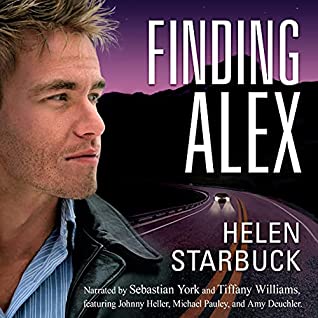 Finding Alex
by
Helen Starbuck
Narrator:
Sebastian York
,
Johnny Heller
,
Tiffany Williams
,
Michael Williams
,
Amy Deuchler
on October 30, 2020
Genres:
Mystery
Length:
10 hours, 1 minute
Format:
eARC
Source:
Publicity team
Goodreads
Amazon
, 
Audible




Not Knowing Can Be Lethal

Assaulted, left for dead, and amnesic, the woman who thinks her name is Alex, may be the only surviving victim of a killer who's targeting prostitutes and leaving their bodies without fingertips to complicate their identification. Denver Homicide Detective Blake Halloran is sure she is connected to the other killings but he can't identify her, even with her fingertips intact. And she can't remember anything-including the face or name of the man who tried to kill her.

With each new victim, it becomes more crucial for Alex to remember what happened to her if Blake and his partner are to solve the murders, but how do you force someone to remember? As Blake's strong attraction to her and his need to protect her grows, so does his uneasiness about the inability to identify her, whether she's a villain or a victim, and whether her amnesia is real.
A mysterious woman wobbles into the road and the homicide detective driving the car takes on her case which they gradually realize is part of something bigger.
After listening to a standalone romantic suspense by the author last year that hit me emotionally and got me deeply vested into her characters, I was more than ready to dive into this latest standalone romantic suspense featuring an amnesiac woman and a police detective on the trail of a serial killer.
Blake Hallaran is still hurting from the loss of someone and he focuses on his job while holding everyone at arm's length including the women he dates.  It's not until coming upon the bewildered woman who responds to Alex and taking on her needs and her case with his current homicide investigation that he starts to unpack his issues and start to connect.  He's something of an emotional mess at first and I liked seeing a tough guy with this sort of vulnerability.
Speaking of tough people, 'Alex' wakes up in the hospital, bruised, battered, and the survivor of a strangulation, it seems.  She remembers nothing about herself and she is scared, but as she has encounters with Blake and others outside the hospital, it is obvious  she has lived a rough life and had to be tough to protect herself.  Blake has reservations about her in an 'is she for real or pretending- is she the victim or something more?' way and as the reader there is some moments of skepticism, too.  The attraction is easy, but the rest is more complicated and especially because of their closeness to a gritty serial of murders that need to be solved.
But, they slowly help each other through the danger and through their issues.  I liked that their personal growth and relationship develops in stride with the suspense plot.
The suspense is part predictable and also flashy reveal.  I had my finger in the situation before the reveal, but there was still some good surprises for me and a feeling of suspense as Blake and Alec made their way through the story.
All in all, it was another sensational experience with a Helen Starbuck novel and I will definitely be open to more including her backlist.  Those who enjoy character growth alongside an engaging romantic suspense story should definitely give this a go.
Narration:
The main narrators were Sebastian York and Tiffany Williams.  There were additional cast narrators: Johnny Heller, Michael Paulsen, and Amy Deuchler.  I was familiar with Sebastian York's fab work and a couple more.  I loved how this was told like a drama since each time a specific person talks a specific cast member does the voice work.  This produced a deeper connection to the story for me and never once was distracting.  I thought the narrators chosen for the characters matched up well with the way they are described in the book and matched up to the tone of the writing and book style.





Listen to a clip:

Related Posts