Review copy was received from NetGalley. This does not affect my opinion of the book or the content of my review.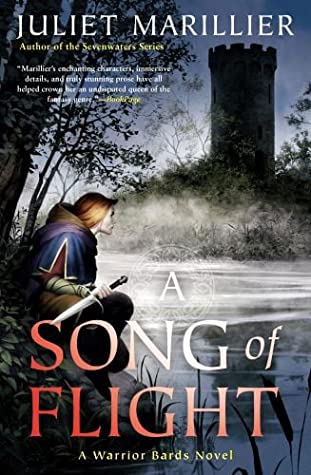 A Song of Flight
by
Juliet Marillier
Series:
Warrior Bards #3
Published by
Ace
on September 21, 2021
Genres:
Fantasy
Pages:
464
Format:
eARC
Source:
NetGalley
Goodreads
Amazon
, 
Audible
, 
Audiobook
, 
Barnes & Noble
, 
Apple






A young warrior who wields both the power of her music and the strength of her sword faces a grave threat in this enthralling historical fantasy.

Bard and fighter Liobhan is always ready for a challenge. So when news arrives at Swan Island that the prince of Dalriada has gone missing after an assault by both masked men and the sinister Crow Folk, she's eager to act.

While Liobhan and her fellow Swan Island warriors seek answers to the prince's disappearance, the bard Brocc, Liobhan's brother, finds himself in dire trouble. His attempts to communicate with the Crow Folk have led him down a perilous path. When Liobhan and her comrades are sent to the rescue, it becomes clear the two missions are connected--and a great mystery unfolds.

What brought the Crow Folk to Erin? And who seeks to use them in an unscrupulous bid for power? As Liobhan and Brocc investigate, it will take all their strength and will to continue pursuing the truth. With the safety of their loved ones in the balance, the risks they must take may cost them everything.
I am always a bit worried these days when starting a new book with rich world-building and character development, because I may feel overwhelmed with the details.  It also can be hard when one read the last book a year ago and may not remember details.  Happily, I started A Song of Flight and it was easy!
Juliet Marillier is  an author I always enjoy.  Now we have the complete Warrier Bards trilogy. I would not read these alone or out of order.  I do feel I enjoyed these books more because I read the Blackthorn & Grim series first, which I LOVED, but you wouldn't have to read it first, only because it is amazing.
The trilogy encompasses all three of the Blackthorn & Grim children, but I would say we get more from Liobahn's perspective than the others.   Brocc and Dau get nearly as many chapters as Liobahn.  But, we only get one chapter from Galen's viewpoint.   A new point of view is Aolu, the prince of Dalraida.  Galen is a lifelong friend and guard to Aolu. They now have a more personal relationship it seems.
Without being spoilery,  Liobahn and Dau are settling in to their new situations.  Liobahn is training Elka which I enjoyed.  Brocc loves his daughter, Niamh, who is almost two.  His wife is violently against the Crow Folk,  but he is trying hard to communicate with them.  Our story begins with the prince going missing and Galen being injured and left for dead.  Dau is sent as part of the mission to find him
Liobahn continues her training, wishing she could go but she is too close to the people involved.  Eventually, when they believe Aolu must be in the Otherworld, she is brought into the search since she has the most experience because of Brocc.  She learns Brocc is having his own struggles. As usual, Liobahn doesn't do what she was told, but her instincts are solid gold.
We see some villains from previous books, and there are new evils.  But there are also new friends.  I was happy to see Brocc make a real connection with the Crow Folk and try to improve their lot.  There was more time at Winterfalls with Blackthorn & Grim which is always a pleasure.
I felt on edge with the suspense over finding Aolu,  helping Brocc and the Crow Folk,  Dau was in some tight spots, and Liobahn seems to always in the thick of the worst of things. I would happily read more in this world with its beloved characters, rich magic systems and political maneuvering.   A Song of Flight was a joy to read and a satisfying conclusion to the trilogy.
Latest posts by Anne - Books of My Heart
(see all)
Reading this book contributed to these challenges:
Related Posts