Review copy was received from NetGalley. This does not affect my opinion of the book or the content of my review.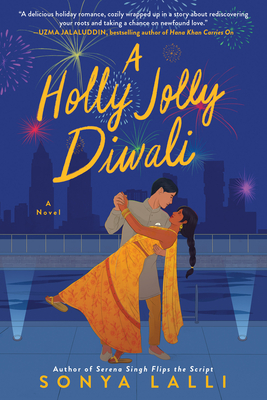 A Holly Jolly Diwali
by
Sonya Lalli
Published by
Berkley
on October 5, 2021
Genres:
Contemporary Romance
Pages:
336
Format:
eARC
Source:
NetGalley
Goodreads
Amazon
, 
Audible
, 
Audiobook
, 
Barnes & Noble
, 
Apple




Twenty-eight-year-old Niki Randhawa has always made practical decisions. Despite her love for music and art, she became an analyst for the stability. She's always stuck close to home, in case her family needed her. And she's always dated guys that seem good on paper, rather than the ones who give her butterflies. When she's laid off, Niki realizes that practical hasn't exactly paid off for her. So for the first time ever, she throws caution to the wind and books a last-minute flight for her friend Diya's wedding.

Niki arrives in India just in time to celebrate Diwali, the festival of lights, where she meets London musician Sameer Mukherji. Maybe it's the splendor of Mumbai or the magic of the holiday season, but Niki is immediately drawn to Sam. At the wedding, the champagne flows and their flirtatious banter makes it clear that the attraction is mutual.

When Niki and Sam join Diya, her husband and their friends on group honeymoon, their connection grows deeper. Free-spirited Sam helps Niki get in touch with her passionate and creative side, and with her Indian roots. When she gets a new job offer back home, Niki must decide what she wants out of the next chapter of her life--to cling to the straight and narrow like always, or to take a leap of faith and live the kind of bold life the old Niki never would have dreamed of.
After sticking to her conservative no-frills life plan all her life, getting a nudge from her folks to live a little on the romantic front and a hard shove out the door from her employer sees a woman chucking the life plan and living a little.  I've seen this author's books before and thought they looked like fun romantic comedies with a South Asian flavor so I grabbed up this latest set during an Indian holiday in Mumbai.
Niki is the good, rule following younger daughter and her sister Jasmine is the one to tout the rules and do what feels good.  Niki never questioned their roles in the family until losing a mid-level management job after doing everything right rocks her back on her heels.  It is her blind date with a parent-approved doctor who gets her to loosen up and change her mind about her best friend's wedding.  So Niki goes for it, taking a plane by herself from Seattle to India for the first time, and lands in Mumbai just in time for Diwali celebrations and Diya's wedding.
Little time separates the moment Niki reluctantly agrees with Asha Auntie to see her son, Sam and falling head over heels for him.  Sam's in a traveling band and made the decision early on to follow his dreams by moving to LA with his sister and giving his music a go.  They are opposites it seems.  In truth, it was a fast moving romance, but I adored Sameer and wanted them together.  They really clicked especially in the beach resort city of Goa.  Sam was a charmer and brought Niki to life.
While this is a delightful Rom-Com, I also felt it was a bit Chick Lit because it's Niki's late-blooming journey to find herself.  Does she go back home, take the good job offer, and date the doctor who was also a decent guy or does she chuck it and follow her heart?  Plus there was a rich, complex layer of Niki getting in touch with her roots.  She's never been to India, can barely speak her family's language or the other local languages, and she is constantly encountering customs that surprise or confuse her.  India is as complicated culturally and socially as America in its own way.  It might seem like the author was bashing it, but I felt she was showing the balance between the beauty and the part that needs to change to show an authentic picture.  The Diwali holiday was in the background and felt like the Indian version of Christmas with the celebration, time with family, and gift-giving as part of it.
All in all, it was a fun, heartwarming, and sometimes thoughtful read.  I enjoyed the author's writing and descriptions, and now I'm sad I waited so long to pick up one of her books.  I can recommend it to those who want diversity and holiday atmosphere in their romcom.
Related Posts