The Sunday Post is a weekly meme hosted by Kimberly  @ Caffeinated Reviewer. It's a chance to share news~ A post to recap the past week, and showcase books and things we have received.
---
Don't forget to look at my giveaways on the right sidebar.
Sunday,  I was a little lazy this morning since I have much to do today and tomorrow will be an early start. I can't express how much it means to me to read your Sunday posts and have an understanding of what is happening with you.  I wait eagerly to read them.  I spent much of the evening finishing up the kitchen packing. We should have gotten takeout for tonight since then I had to run the dishwasher again.
Kitchen before photos: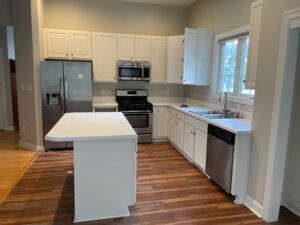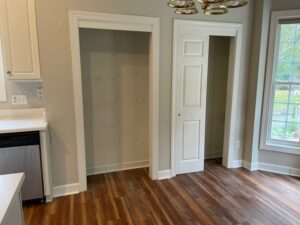 Monday,  I quickly packed up the last items from the dishwasher.  The contractor got to work with removing the cabinets.  It feels like I have nothing to do but I have lots to do I just need to regroup.  Things didn't go perfectly but not badly. The old cabinets are mostly out and he says they will start putting in the new ones tomorrow. I took my daughter to get her COVID booster and we ended up running around to 3 restaurants for takeout.  yeah, we need to get that better organized.  I wanted an old drawer stack to put the microwave on.  I got that at the end of the day and had to clean it up.  The cord didn't reach so I had to get a heavy duty extension cord; it's lucky I had one.  Lulu is a little confused but she's adapting well.
After the first day: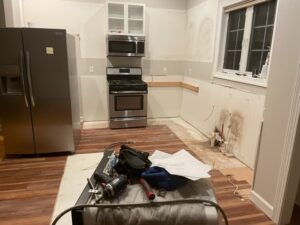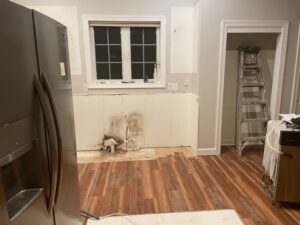 The dining room set up for eating: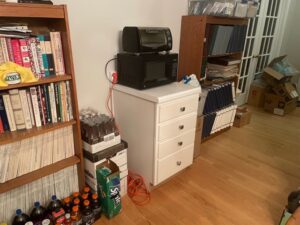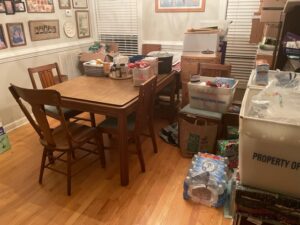 Tuesday,  I really wanted a day at home.  The contractor team showed up about 9 talked to me for 10 minutes, then they took down the microwave and left.   I did a bunch of chores.  Then started a bunch of blog planning and setups.  I was nearly falling asleep in my chair.  So of course I missed the Fated Blades Netgalley setup which was there and gone quickly.  I took Lulu for a walk in the late afternoon.   My daughter is having pain and arm swelling after her shot.  Having both the microwave and toaster oven is a perfect combo for our current eating.
After Tuesday: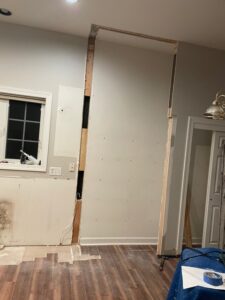 They removed the left set of pantry doors and cabinet.
Wednesday,  I had to get going as usual.  I met the contractor at the granite place.  They didn't really have the ones for which I had samples,  so I looked at 3 new options and picked something really unique.   I was always going to want to see the whole sheet anyway.  It's called River Blue and has a flow rather than the typically "blobby" granite.  Then I came back to help my daughter take notes for her class since her arm hurts.  We had dentist appts, then picked up takeout.  I spent a lot of time before dinner printing online menus and maps of 7 areas where restaurants are.  I'm planning to go for takeout Monday, Wednesday and Fridays.  On the weekends, I can also grill out and steam or roast vegetables if the weather is ok.
After Wednesday:
Thursday,  I wrote some reviews and caught up on emails and laundry.  I didn't sleep well.  Then Lulu was barking at 7am which is extremely unusual. I was emailing with Jeanienne Frost about the details for the Read-along 2022. I am getting so excited!  In the afternoon we had chiro / massage appts, voted early in the town elections, then picked up a few grocery items. Our massage therapist is celiac so we had a timely discussion of the best restaurants for gluten free.  When trying to make dinner, we found the contractor had turned off 4 breakers so I had to turn them on so we could use the microwave. We finally got more rain over night.
After Thursday: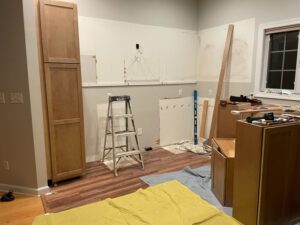 Friday,  Lulu was barking a bit again this morning.  She is not a fan of construction. Another day of running around which I don't love.  I did a bit of things around here, before heading to Walmart.  I spent the end of the OTC benefits card and got a bunch of things we needed.  An added plus was I found some Christmas gifts for my daughter and some bras which are going to work for her.  Then I stopped home for a snack and Lulu care before heading out for food pickup.   I spent a half hour on hold with Walgreens, never got through, and ended up just going to their drive thru.  I was there 40 minutes but at least I got the 2 RX and won't have to make another trip. I was only about 15 minutes late for my first pickup and would have made the second one on time if the GPS hadn't been telling me to turn right instead of left.  I got home just as the contractors were leaving. They stowed their things in the garage but there was still room for my car which I wanted for Halloween.   After dinner, my daughter did fashion show of some things she got from Thread Up plus she tried on the bras I got for her at Walmart.
After Friday: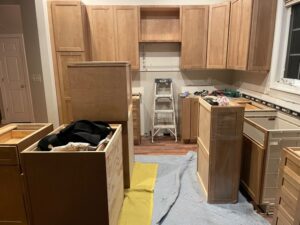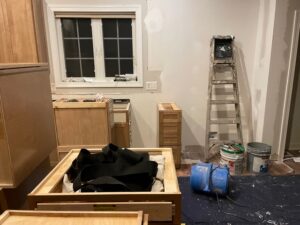 Saturday,  another morning of waking to Lulu barking.   I took her out in my robe and then went back to shower and dress.  Now she's content on her bed under my desk.  I made a list before I went to bed to make sure I remembered what I wanted to do this morning.  It's so nice to have the house to ourselves on the weekend.   Next Wednesday, the granite people will come to measure, so the cabinets will be mostly in by then.  The next two days will be sunnier and I hope to do some leaf suck up.  I need to pick all the ripe tomatoes.   Only 2 of 8 broccoli plants have heads and they look like they might go to the flower stage so we should eat them soon.
---
Coming UP:
Nov 18     HoHoHoRAT Thrifty Thursday Challenge
Nov 20     Top 10 of 2021 announcement (December 20-25, 2021)
Dec  5       2022 Read-along announcement – Night Huntress world by Jeaniene Frost
Dec 15       2022 Library Love Challenge Signup
---

Stacking the Shelves is hosted by Reading Reality.  These are the exciting ARCs I received this week (If you click on the cover, it will take you to the Goodreads entry):
I am so thankful to Kensington Books, and St Martin's Press Minotaur Books.
(If you click on the cover, it will take you to the Goodreads entry)
I got my two "free" books from Amazon first reads.

Now the really scary one. This is all the Kindle and Audible freebies I grabbed this past week. You can see why I need to do Thrifty Thursday to be sure I read a few at least one each month.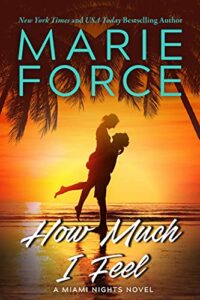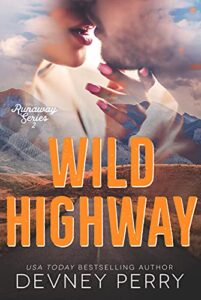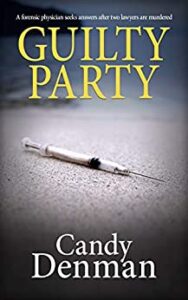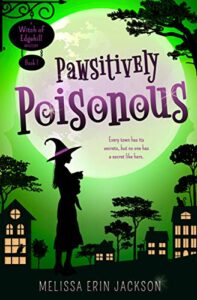 I really meant to cut back on freebies BUT  they are free so I guess that won't be happening.

I'm not including things like reviews posted or upcoming as they are always in the right sidebar. And, my challenge status is also there.
Anne
Latest posts by Anne - Books of My Heart
(see all)