Review copy was received from NetGalley. This does not affect my opinion of the book or the content of my review.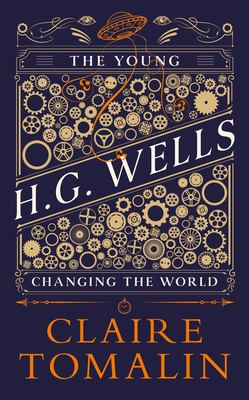 H G Wells
by
Claire Tomalin
Published by
Penguin Random House
on November 2, 2021
Genres:
Non Fiction
Pages:
272
Format:
eARC
Source:
NetGalley
Goodreads
Amazon
, 
Barnes & Noble
, 
Apple




Upon the death of H. G. Wells, in 1946, George Orwell remarked, If he had stopped writing in 1920 his reputation would stand quite as high as it does: if we knew him only by the books he wrote after that date, we should have rather a low opinion of him. For though Wells is remembered as the author of such influential books of science fiction as The Time Machine, The Invisible Man, and The War of the Worlds, and as a man whose visions of the future remain unsurpassed, his success as a writer of fiction stopped short in his forties. He remained famous, with an established reputation across England, America, and France, but, remarkably, never again equaled his early writing achievements.

Here for the first time, Claire Tomalin brings to life the early years of H. G. Wells, and traces his formation as a writer of extraordinary originality and ambition. Born in 1866, the son of a gardener and a housekeeper, Wells faced poverty and ill health from a young age. At 12, he was taken out of school, torment for a child with intellectual aspirations. Determined, Wells won scholarships and worked towards science degrees. Though he failed his final exams, he was soon writing text books, involving himself in politics, and contributing to newspapers. Still suffering from serious illness, as well as multiple physical breakdowns, Wells understood early on the impulse to escape - through books, art, and his imagination - and he began to make his name by writing short stories. But it wasn't until the publication of his first novel, The Time Machine, in 1895, that Wells attained the great success he had so longed for. His book, which transformed the way readers saw the world, was hailed as an extraordinary accomplishment.

Until the period leading up to the first world war, Wells wrote books at an almost unprecedented speed - about science, mysteries, and prophecies; aliens, planets, and space travel; mermaids, the bottom of the sea, and distant islands. He chronicled social change, and forecasted the future of technology and politics; formed friendships with Winston Churchill, Henry James, and Bernard Shaw, and shaped the minds of the young and old. His most famous works have never been out of print, and his influence is still felt today. In this unforgettable portrait of this complicated man, Tomalin makes clear his early period was crucial in making him into the great writer he became, and that by concentrating on the young Wells, we get the best of his life, and of his work
What sort of person is behind the creative and far-flung sci-fi and fantasy of such classics as The Time Machine, The Island of Doctor Moreau, and The War of the Worlds?  I was curious, too, so I eagerly took up this latest of Claire Tomalin's biographies to read about the early life of a man who is one of literature's greatest.
Herbert George Wells nicknamed Buss and also Bertie was the third and last child and was born into a family that struggled with their shop in Bromley.  By the time he came along, his father who lived for Cricket and time down at the pub and a tired out religious mother who wanted a girl baby didn't have much interest in their children though it was never abusive and Buss loved both parents to their deaths.  His older brothers were apprenticed off as drapers and young Buss attended the local school.  He was encouraged to see himself as middle class by his mother and to look down on the poor kids, though in truth the family was barely making it.  A serious injury that laid him up for a long time was the big start to his interest in books and he wrote and finished a book when he was eleven.  This first tale showed the promise of his later talent and the witty and creative mind behind it.
Further changes including deeper poverty for the family was to come, but HG Wells had a brilliant mind and that enabled him to keep going with school on scholarships and encounter influential and wealthy people.  Meanwhile, he had decided his mother's fervent admiration of Queen Victoria and the royal family as well as her strong religious bent were not for him.  He also seemed to early on show a sexual interest in the opposite sex that would color the rest of his life when he married twice, but was always having an affair.  His view of literature as a job that he loved rather than lofty art set him against several of his fellow contemporary authors and his political views earned him just as many heated encounters.  Scholarly text books and histories along with philosophical society membership would show him to be a legit mind and able to become someone one who rubbed elbows with the big and influential names of the day, but was himself classless in the eyes of others.
So atheist, republican, hedonist, and socialist were tags he wore and all the while he was brilliant and one of the most influential writers of the late Victorian and early Edwardian ages.  His futuristic sci-fi and fantasies were often scarily right on the nose and it was only after the Great War and the years leading into the second World War that he lost a bit of something in his writing though he was still prolific to his death.
I confess I knew next to nothing about HG Wells when I picked up this book.  I was equal parts interested in getting his story to see who came up with those amazing stories that came out of the Victorian period as well as finally try Claire Tomalin's books.  I've heard so much about other biographies she has done and want to delve into her backlist at some point.
But, HG Wells… he was a surprise.  Not sure what I was expecting, but he was a daring one and didn't conform to the social mores of his time.  I guess someone who is willing to crossover lines and be open like that is exactly the sort who could write about airplanes before they existed, time travel, shape shifting, and aliens.
The biographic style of writing was straight forward and drew on several sources to give a well-rounded picture of HG Wells.  I did bog down a bit in the philosophical stuff and preferred the life narrative.  It doesn't delineate his entire life and only detailed it out into his forties though the last chapter does sum up his later years and mostly his engagements and correspondence with famous fellow writers and his quirky love affairs.  He seems to have really respected and loved his second wife though he couldn't stop wanting and taking other women.  Friend or foe, those who knew him admitted to his brilliance with the pen and his strong personality.
So, I have a much better picture of such a great classic writer and that his life was often as exciting as his books.  This didn't read swiftly and I had to stop for breaks now and then, but it was enlightening as well as had me eager to reach for an HG Wells book.  I recommend the author for a well-written literary bio and I recommend this one if the reader wants a deep background of HG Wells.
Related Posts