Review copy was received from NetGalley. This does not affect my opinion of the book or the content of my review.
These Silent Woods
by
Kimi Cunningham Grant
Published by
Minotaur Books
on November 16, 2021
Genres:
Mystery
Pages:
288
Format:
eARC
Source:
NetGalley
Goodreads
Amazon
, 
Audible
, 
Audiobook
, 
Barnes & Noble
, 
Apple





No electricity, no family, no connection to the outside world.

For eight years, Cooper and his young daughter, Finch, have lived in isolation in a remote cabin in the northern Appalachian woods. And that's exactly the way Cooper wants it, because he's got a lot to hide. Finch has been raised on the books filling the cabin's shelves and the beautiful but brutal code of life in the wilderness. But she's starting to push back against the sheltered life Cooper has created for her—and he's still haunted by the painful truth of what it took to get them there.

The only people who know they exist are Scotland, an overly friendly hermit with murky intentions, and Cooper's old friend, Jake, who visits each winter to bring them food and supplies. But this year, Jake doesn't show up, setting off an irreversible chain of events that reveals just how precarious their situation really is. Suddenly, the boundaries of their safe haven have blurred—and when a stranger wanders into their woods, Finch's growing obsession with her could put them all in danger. When a shocking disappearance threatens to upend the only life Finch has ever known, Cooper is forced to decide whether to keep hiding—or finally face the sins of his past.
I was excited to find a new book by this author because I remember enjoying the first one, Fallen Mountains a lot.  The books are each standalone, totally unrelated.  The mystery is not typical; it is more about the characters past and how they ended up where they are now.
These Silent Woods was very suspenseful for me.  I was worried about the neighbor (Scotland) ,  Jake's health,  Finch getting older and wanting to venture into the world more.  Practically, there were many problems which could happen with expired licenses or lack of money or even more land development in the area.
Cooper (Kenny) is not a bad guy but he has had to deal with a lot without any support of any kind.  Cindy's parents were always going to be a problem because their way was the only way.  They wanted to force Cindy into certain choices which had nothing to do with Kenny.   I love how he educated Finch and taught her all kinds of things.
Finch was really a smart and extraordinary child.  She was of such a sweet and trusting nature.  Her skills, adaptability and moral integrity should take her far in life.
Marie was a nice surprise and her caring and connection to them made everything better and worse.  I could see no light at the end of the tunnel for them.  I wonder what really happened to the neighbor in the end.
Everything about this story is driven by the characters and their journeys.  They had difficult circumstances and hard decisions to make at times.  Their lives were not easy and things are not as black and white as it first might seem.  People are complex and can be unbelievably kind or uncaringly indifferent or unbearably cruel to others whether they understand them or not, and unfortunately there is a lot of personal bias involved.
Giveaway: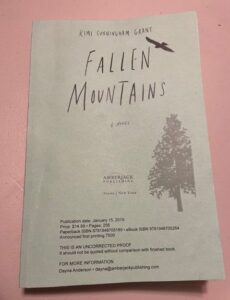 The first thing I read by this author was Fallen Mountains and I have a print ARC to give away since I buy almost everything digital.   US only
Latest posts by Anne - Books of My Heart
(see all)
Reading this book contributed to these challenges:
Related Posts