Review copy was received from NetGalley. This does not affect my opinion of the book or the content of my review.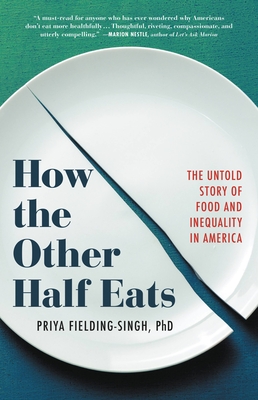 How the Other Half Eats
by
Priya Fielding-Singh
Published by
Little Brown
on November 16, 2021
Genres:
Non Fiction
Pages:
352
Format:
eARC
Source:
NetGalley
Goodreads
Amazon
, 
Audible
, 
Audiobook
, 
Barnes & Noble
, 
Apple



Inequality in America manifests in many ways, but perhaps nowhere more than in how we eat. From her years of field research, sociologist and ethnographer Priya Fielding-Singh brings us into the kitchens of dozens of families from varied educational, economic, and ethnoracial backgrounds to explore how—and why—we eat the way we do. We get to know four families intimately: the Bakers, a Black family living below the federal poverty line; the Williamses, a working-class white family just above it; the Ortegas, a middle-class Latinx family; and the Cains, an affluent white family.

Whether it's worrying about how far pantry provisions can stretch or whether there's enough time to get dinner on the table before soccer practice, all families have unique experiences that reveal their particular dietary constraints and challenges. By diving into the nuances of these families' lives, Fielding-Singh lays bare the limits of efforts narrowly focused on improving families' food access. Instead, she reveals how being rich or poor in America impacts something even more fundamental than the food families can afford: these experiences impact the very meaning of food itself.

Packed with lyrical storytelling and groundbreaking research, as well as Fielding-Singh's personal experiences with food as a biracial, South Asian American woman, How the Other Half Eats illuminates exactly how inequality starts on the dinner plate. Once you've taken a seat at tables across America, you'll never think about class, food, and public health the same way again.
I admit I don't read a lot of non-fiction. I normally read it to expand my knowledge or research a topic.  I was interested in How the Other Half Eats but I think I might have thought of it from a nutritional viewpoint rather than the sociology it studies.  I liked the book, but it was not easy to read because it felt too detailed and I kept waiting for the point.  That is probably my fault from working in the business world. I stuck to the facts and conclusions unless someone asked for the "data."
There is a lot of data and examples with the shared thoughts of the author on how she sometimes believed one thing and learned something else.  The commentary on society and its expectations and judgements were also clear in frustration and constant worry of the mothers working to feed their children.
What children are fed in homes from the poorest single parent homes to the wealthiest two parent homes is different, and yet women handle the bulk of the burden.  The amount they accomplish toward healthier eating depends on more than dollars.  The general view has been how the poor don't have access to supermarkets or the best types of food – a food desert- but that isn't really the basis of the problem.  There are some factors relating to education and cultural differences in foods.  A bigger factor is related to the amount of time the mother has for shopping and preparing food.  Some of these factors relate back to societal issues for affordable housing,  paid leave, and livable wages.
A surprising factor in the poorest homes is when a mother has a couple extra dollars it is not put towards essentials like utilities or saved for emergencies or food at a later time, but it is given to make a child happy with candy or a soda or snacks or fast food / eating out . The "treat" may not be healthy but it is something the mother can give to make her child happy when most of the time she has to say no to so many other things the child wants.
In the homes with less dollars, it is more about the overall child welfare, including their having something to eat.  With more money, it is about controlling the quality of the food and choices to give the child the best chance for their future and an education of sorts for when they select and prepare their own foods. Of course, this is not black and white, families fall along the spectrum.  One option a wealthier family had, was to hire a shopper / cook to provide better meals, when the mother was working, earning higher wages.  With less affluent families, this role was sometimes taken on by a grandmother or older female relative in an unpaid and possibly inconsistent schedule.
While it was interesting to hear the personal stories of so many families, and helped me to gain more understanding into why they handled food the way they did, I would have preferred a more organized presentation of the conclusions with more specific examples. I'm not sure I needed to know all about the author's feelings as she did her research or the way she was careful not to be judgmental or how she found her families to study.   I would have enjoyed a shorter, more focused book.
Latest posts by Anne - Books of My Heart
(see all)
Reading this book contributed to these challenges:
Related Posts