The Sunday Post is a weekly meme hosted by Kimberly  @ Caffeinated Reviewer. It's a chance to share news~ A post to recap the past week, and showcase books and things we have received.
---
Don't forget to look at my giveaways on the right sidebar.
Sunday,  well even though Lulu was happy to sleep in someone rang my phone just after 6 am.  I never get phone calls. WTH. I had to change a couple clocks but I have atomic clocks which change themselves, as do the phones and computers. I got going with my usual tasks.  It's not as cold or windy today so it will be better for a walk. Lulu and I had a nice almost 2 mile walk with the prettiest leaves.  I figured out how to make frozen french fries in the toaster oven which made my daughter happy because we wanted something hot when it's cold outside.
Monday,  I woke up really early 4:40am, read a bit and went back to sleep a bit, then still woke well before the alarm. I had a short meeting with the contractors when they arrived and we went over all my questions.  Everything's good. I just wanted to make sure it would be as expected.  I'm behind on my reading.  I did manage to do a bunch of computer tasks and all my errands. And I finished both books.  The big kitchen work today was electrical and moving the old 220 electric and gas into the wall so the stove can be flush against the wall instead of sitting out 3-4 inches.
After Monday: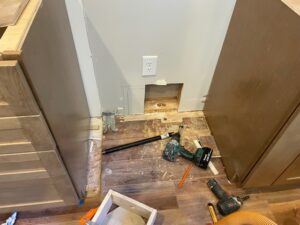 Tuesday,  I decided not to do any errand or food run toady because my daughter wanted my help with taking notes for her schoolwork.  She actually says the notes she wants; I just type them for her instead of her handwriting.  She's feeling behind right now and hasn't felt well.  I don't mind so I juggled my own task list.  I got notified a puzzle I wanted from the Buy Nothing group is mine.  So I picked it up on my walk with Lulu this afternoon, just over 2 miles.  The weather was perfect.  Today, the overhead fixture got moved to be over the eat-in area,  the new outlets, one with USB ports,  and other electrical had work.  The wall behind the fridge got painted and it got moved into place.
After Tuesday: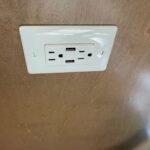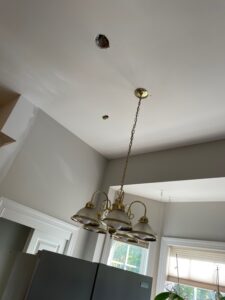 Wednesday,  I got to work on things.  The countertop folks were early and finished by noon.  The weather is really nice so I wanted to fit in a walk with Lulu, and errands, and help my daughter with finalizing her paper due today.  I ended up taking a review book on audio which I already had on eARC because I just have too many eARCs to audiobooks mix and audiobooks work much better with errands and other tasks in motion.  I also figured out this week how I want to do the review when I have the eARC and audio, when I read -listen.  I have done it a couple ways and I have a winning format now.   I had a bunch of back and forth with the contractor because I thought the shelves in the pantry would be wood colored and adjustable.  I don't mind that they are white I guess but I'm really sad they are not adjustable. I jumped in to specify the placement of the shelves after I saw what was happening.
After Wednesday: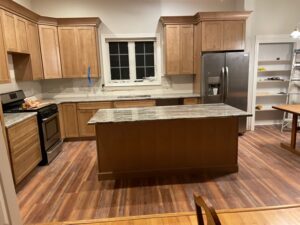 Thursday, I had mostly a day at home other than a quick run for my daughter's medical appt.  She ended up having 2 quizzes, a test and a paper due last night so she was rather stressed.  There was a difference between the syllabus and the online blackboard in what was due so she did it all.   The contractors have lots more to do and their tools and supplies are everywhere, all over my garage all over the kitchen including inside the drawers and cabinets.  They started the backsplash tile today.  I walked Lulu about 2 miles, another gorgeous day.  I also spread the pine straw on a few areas and pulled a few weeds in all the flower beds.
After Thursday: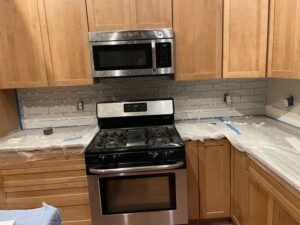 Friday was another busy sort of day for me.  I had my sort of physical/ initial appt with our new primary care doctor. Then I stopped at Dollar Tree for a couple little items.   The contractors were continuing with the backsplash.  I managed to sign up for the Fated Blades by Ilona Andrews Zoom release party!  This afternoon Lulu had her biannual bordatella vaccine.  It used to be a nasal spray but apparently now it is a pill which tastes like chicken – her favorite.  She also got weighed and she has lost 1.5 pounds since August.  Yay.  She still has about 4 pounds to lose.  We ran around and did food pickup for tonight and the weekend.  The contractor seems to have finished the backsplash but nothing else.  This morning they were trying to convince me I could put dishes away over the weekend but no, not without a sink and dishwasher connected.  The stove is connected but it's filthy.  I have to decide if it's worth cleaning up twice if we want to use the oven, but we don't have any pans to use the oven anyway.  After dinner, Lulu and I took another 2 mile walk on the hilliest route in the neighborhood.  It wasn't too bad after dark with a mix of Halloween and Christmas lights.  I saw one house with a Christmas tree already!  After that I worked on a few computer things, and then watched a little more Love It or List It.
After Friday: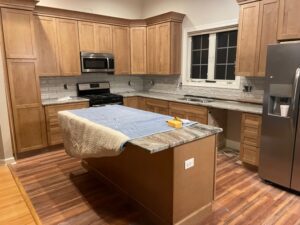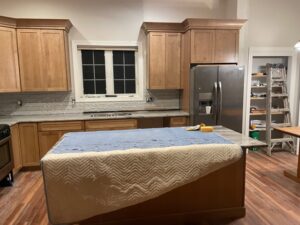 Saturday, I slept until I woke up a bit later and finished off one of my books.  I got up planning in my head all the little tasks I plan to do when I have my home to myself.  It's going to freeze tonight so I will cover some plants but the basil may be on its last legs.  I cleaned up the extra boxes and packing supplies that were cluttering up the entry, including the latest Amazon boxes which arrived this week. Lulu and I took our walk, cooler day but still lovely.  I felt at loose ends, unable to start the work in the kitchen so I watched 2 more episodes of Love It or List It.

Stacking the Shelves is hosted by Reading Reality.  These are the exciting ARCs I received this week (If you click on the cover, it will take you to the Goodreads entry):
I am grateful to Penguin Random Audio, and Harper Audio.  
(If you click on the cover, it will take you to the Goodreads entry)
I have a few Audible credits to use this month.  I read and reviewed the first two books in this series and then what I suspected would be 5 books for 5 sisters, no more were released in the US.  This was released internationally and finally I could get the audiobook.  The paperback and ebook seem to be only international.   It also looks like all 3 other sisters got crammed into this final book?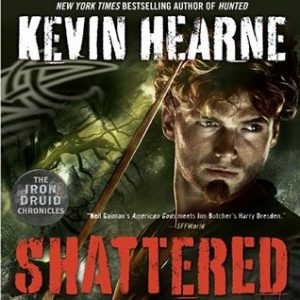 I decided to get the only one of the Iron Druid Chronicles I didn't own already on audio.

Now the really scary one. This is all the Kindle and Audible freebies I grabbed this past week. You can see why I need to do Thrifty Thursday to be sure I read a few at least one each month.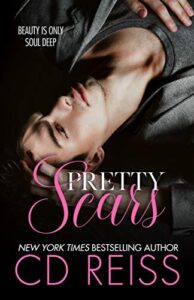 I really meant to cut back on freebies BUT  they are free so I guess that won't be happening.

I'm not including things like reviews posted or upcoming as they are always in the right sidebar. And, my challenge status is also there.
Anne
Latest posts by Anne - Books of My Heart
(see all)