This book may be unsuitable for people under 17 years of age due to its use of sexual content, drug and alcohol use, and/or violence.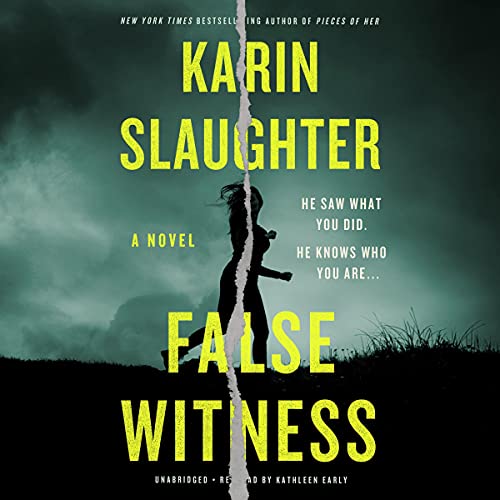 False Witness
by
Karin Slaughter
Narrator:
Kathleen Early
Published by
Blackstone Audiobooks
on July 20, 2021
Genres:
Suspense
,
Thriller
Length:
13 hours, 30 minutes
Format:
Audiobook
Source:
Purchased
Goodreads
Amazon
, 
Audible
, 
Audiobook
, 
Barnes & Noble
, 
Apple






He saw what you did.

He knows who you are....

From the New York Times best-selling author of Pieces of Her and The Silent Wife, an electrifying stand-alone thriller

An ordinary life...

Leigh Collier has worked hard to build what looks like a normal life. She has a good job as a defense attorney, a daughter doing well in school, and even her divorce is relatively civilized - her life is just as unremarkable as she'd always hoped it would be.

Hides a devastating past...

But Leigh's ordinary life masks a childhood which was far from average...a childhood tarnished by secrets, broken by betrayal, and finally torn apart by a devastating act of violence.

But now the past is catching up...

Then a case lands on her desk- defending a wealthy man accused of rape. It's the highest profile case she's ever been given - a case which could transform her career, if she wins. But when she meets the accused, she realizes that it's no coincidence that he's chosen her as his attorney. She knows him. And he knows her. More to the point, he knows what happened 20 years ago, and why Leigh has spent two decades running.

And time is running out.

If she can't get him acquitted, she'll lose much more than the case. The only person who can help her is her estranged younger sister Callie, the last person Leigh would ever want to ask for help. But suddenly she has no choice....


I was in the mood for a good suspense/thriller story and there are several Karin Slaughter stand alone stories I haven't tackled yet, so I just grabbed one at random. I very rarely read the blurb on a book. I like going in blind. So it was a bit of a shock that this story takes place during COVID. I guess I didn't look at the publication date either. LOL
False Witness is a very typical Karin Slaughter book. It kept me on the edge of my seat. I fell in love with several of the characters. There are a few I want to reach through the earbuds and strangle. This story is very dark and can trigger some people (addiction, rape, and child molestation). The details can be a bit if you don't know they're coming.
This story follows a lawyer, Leigh, who came from a very bad situation at home. She is new and very low at her firm. Then she is surprised when a named partner comes to her saying a client requested her specifically. It is for a man she babysat when he was very young.
This story has a lot of flashbacks to the past when Leigh was a child herself. We also get some POV from her sister, Callie, who is addicted to pretty much anything she can get her hands on. Callie's story is like so many. She was a competitive cheerleader and when she broke her neck, she got hooked on painkillers. Once the prescriptions ran out, she went to the streets to get her fix.
This book is very dark for many reasons (see trigger warning above), but even more than that, Leigh and Callie's mother, who is a real piece of work. But Slaughter is great at adding in some humor to lighten the mood a bit. The best are the names that Callie gives to her cat, whose actual name is Binx, which seems to change depending on who she talks to.
Callie smiled at the muscular black cat on the ledge. Binx stretched his back as he waited for entry. "He caught a pigeon today."
Leigh clearly didn't give a shit about the pigeon, but she tried, "What's his name?"
"Fucking Bitch." Callie grinned at her sister's startled reaction. "I call him Fitch for short."
"Isn't that a girl's name?"
"He's gender fluid."
There's another where she talks to bitch of a mother that is even better, but uses the "c" word which was a bit more than I wanted to include in a review. I think she was indirectly calling her mother that. And she's not wrong. Her mother is a horrible person.
Anyway, this was a really fun, but very dark story. While it wasn't hard to figure out who the bad guy was in this story, there were still several surprises that kept the story interesting.
Narration:
Kathleen Early does an amazing job performing this series. She has done almost all of Karin Slaughter's audiobooks. She's so good at getting the character's voice right. She's great with male and female voices. Her tone is always spot on. I've always enjoyed her narrations. She really brings the story to life.
Listen to a clip:

Rating Breakdown
Plot
Writing
Characters
Dialogue
Narration (Audio)
Overall:
Related Posts