Review copy was received from NetGalley. This does not affect my opinion of the book or the content of my review.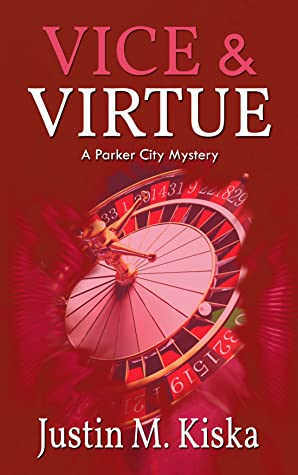 Vice & Virtue
by
Justin M Kiska
Series:
Parker City Mystery #2
on February 15, 2022
Genres:
Mystery
Pages:
288
Format:
eARC
Source:
NetGalley
Goodreads
Amazon
, 
Barnes & Noble




Parker City, 1984…

Three years after the Spring Strangler case rocked the historic Western Maryland city nestled at the foot of the beautiful Blue Ridge Mountains, life has returned to normal for Detective Ben Winters and his partner, Tommy Mason. With a new chief now leading the department and the city slowly crawling out of its economic distress, everything seems to be moving in the right direction. Until one sweltering summer day, a killer begins targeting police officers. Ben and Tommy find themselves once again leading an investigation the likes of which Parker City has never seen. The detectives quickly come to realize that until the shooter is found, everyone wearing a badge is in danger.

To complicate matters even further, when a recently unearthed skeleton mysteriously connects to the string of police homicides, Ben and Tommy begin to think their current case may be tied to events twenty years earlier. But how could a skeleton buried two decades ago hold the key to solving their current case?
I read the first book in the Parker City Mystery series and suffered a bit of first book syndrome where I am settling into the world and characters being developed.  I was not helped by the scenes going back and forth in time from Ben & Tommy's first case to the present when Tommy is retiring.
With Vice & Virtue,  I am much more connected to the characters and more familiar with other characters, as well as the foundation of town events in the first book. Plus I'm comfortable with the two timelines story format now.  You could likely read this one without the first, but I always prefer to get the full development.  The time here follows the previous book, by about 3 years.  Parker City is a small town and murders aren't an everyday thing.  When they occur, the murders seem to be tied to secrets from the past.  So there is the alternation in time from now to about 30 years ago.
The investigation was exciting to follow along and even more intense with the killing of a police officer.  Ben & Tommy are in a much better position now, with having a smart and honest chief, and a bit of confidence being detective for a longer time now.  They are talented and have compatible skills, working well together.  It was nice to have a backdrop of their personal lives for more layers of story.
I'm really taken with these characters and this series.  I'm happy to continue reading more about the town, its secrets and the surely productive careers of Ben & Tommy as the town grows.
Excerpt:
Tall and athletic, Tommy Mason always reminded Ben of Tom Selleck's Magnum P.I. character from television. Tommy always had that whole ruggedly handsome thing going for him. Mixed with a little bit of a "bad boy" vibe and he drove the women wild.
Next to Ben's clean-cut, buttoned-down appearance, their pairing caused many to do a doubletake. At first glance, they appeared to be complete opposites. But as one got to know them, they were very much alike. Each brought out the best in the other and at the end of the day, it was all about getting the job done. Sure, each had his own style, but that's what made them such a formidable team.
Tommy's apparent willingness to skirt the rules was always offset by Ben's ability to find ways to use the rules to their benefit. Just as Ben's refusal to play the internal politics game allowed Tommy to use his charm to keep too many feathers from getting ruffled amongst the powers-that-be. They each knew the other's strengths and weaknesses and how to adapt them to their own, which is why they'd been so impressive in getting the PCPD's Detective Squad off the ground.
"What are you doing here?" Ben asked, more than a little surprised to see his partner.
"Shirley from Dispatch called me. She thought I'd be interested," Tommy explained. "And before you say anything about what I'm wearing, I just want to remind you, it is our day off, so I didn't think I needed to get dressed up to come to a potential crime scene. Especially when we don't actually know this is a crime scene yet."
He was referring to the fact he had on a T-shirt and comfortable pair of jeans, as opposed to the full suit and tie Ben was wearing.
"Besides, now you don't have to worry about getting your fancy suit muddy. I have no problems getting down there in the dirt," Tommy smiled, pointing at the fresh mud stains on his knees. With that, he knelt back down to take another look at the exposed skeletal remains under the floorboards.
"So, tell me. What do we have?" Ben asked, crouching next to Tommy so he could get a better look.
"You can see there's a pretty big cavity here under this part of the floor," Tommy pointed out. "It's got to be a good ten by ten area where the ground has been eaten away, even though it's not too deep, less than a foot in some places. It's definitely because of water…there's a lot of mud down there. As the earth under the floor eroded, it uncovered the skeleton. Partway, at least. Of course, no one could see what was happening under here until our friend Mr. Haggarty had the unfortunate experience of stepping on a board that was rotted through and it snapped, sending him falling through the floor. You can see where he landed in the mud.
"And right there," Tommy pointed, "you see the skull and top portion of the skeleton sticking out of the ground."
"You came face-to-face with that thing, man?" Tommy looked over at the construction worker who was leaning against the wall. "Not a good way to start the day."
"Yeah. You're telling me," Haggarty answered.
Turning back to the skeleton, Tommy said, "I'm no expert, but that hole in the skull right there…see it, it looks like it could be a GSW from a pretty heavy caliber gun."
Leaning down and twisting his head so he could try and get a better look at the skull, Ben saw the hole and wondered if his partner was right. Finding a skeleton buried under the floor was one thing. Finding a skeleton buried under the floor with a bullet hole in its skull was something else. It took everything to a different level.
Standing and stretching their legs, Tommy said, "When Shirley first called me, I thought this was going to have been some kind of prank. Some kids snuck into the site on a dare and left a skeleton for the crew to find."
"You thought kids somehow buried a skeleton under this building in the hopes someone would fall through the floor and find it?" Ben asked, raising an eyebrow. "Not to mention having to figure out how to bury the thing under the floor?"
"In my defense," Tommy started, raising a finger and shaking it at his partner, "I didn't know the skeleton was buried under the warehouse. I just knew they'd found a skeleton at the warehouse."
The first thing that needed to happen was to get the skeleton out of the ground. That would be up to the crime scene techs. Even though he could easily reach in and pull the skull out to get a better look, Ben didn't want to disturb anything more than it already had been when Lance Haggarty crashed through the floor. Thankfully, he hadn't actually landed on the skull itself.
"So much for our day off," Ben said, looking at his watch, wondering where the crime scene guys were.
Latest posts by Anne - Books of My Heart
(see all)
Reading this book contributed to these challenges:
Related Posts