The Sunday Post is a weekly meme hosted by Kimberly  @ Caffeinated Reviewer. It's a chance to share news~ A post to recap the past week, and showcase books and things we have received.
---
Don't forget to look at my giveaways on the right sidebar.
So now it's Tuesday,  on Sunday and Monday I did just a tiny bit of visiting and computer work,  but mostly I binged Marvel shows.  I figured out that the shows can be speeded up like audiobooks.   I watched everything except the Iron Fist ones, 3 seasons of Daredevil,  3 seasons of Jessica Jones, 2 seasons of Luke Cage, and 2 seasons of the Punisher and the season of the Defenders.  I think the Defenders was my favorite since it had a bunch of them in it working together.  Now I'm trying hard to catch up on everything.
I got an Instacart order from Wegmans, did the usual with laundry and dishes. I have so many review requests to go through.  I also was a week ahead on blog stuff but now I'm behind and not even ready for this week.  Because the Olympics, the Marvel binge and the library RAT.  So now I am doing some buddy reads and need to get going on my ARCs.  Lulu and I enjoyed the very nice weather with a longer walk.
Wednesday,  I was behind on ARCs and other stuff still so I worked harder on tasks. I'm reading 2 ebooks and 2 audio books at the same time and two of them are buddy reads.  Lulu and I took an even longer walk as it was a really beautiful day. I updated my month end challenge links for Library and COYER.
Thursday was another warm beautiful day.  I had a productive morning. My daughter had 2 doctor appointments.  When we got back we went for a walk.  Then we did the toenail trimming torture which went very well.  I then set up some posts before dinner.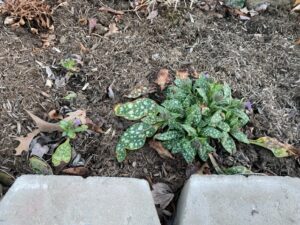 Friday,  it's a bit cooler but nice 60F / 16C  and I had planned to be out doing yard and garage work all day after morning computer tasks.  The car detailer canceled for the afternoon because he is sick, so I hope to get that rescheduled soon but it frees up this afternoon totally.  I worked hard to narrow down my audio picks at the Audible Sale to 31 (!) for $124.  I spent the afternoon in the attic, looking through what was in every box and reorganizing and labeling them.
Saturday,  I organized my schedule to finish off things with my ex leaving today.  He's been here more than a month and accomplished many things.  Lulu and I went for a walk on a longer route.  I noticed the Pulmonaria (lungwort) is blooming when I came back.
---
February Reading:   I managed to read 18 books. Audiobooks continue to help me read more. Some count for more than one challenge.  I listened to 10 audiobooks, read 7 library books,  11 COYER reads, and 2 books which I already own.
All Library books (including ones not reviewed on the blog)  2022 Library Love Challenge
I did manage to read 2 books I own (goal is 3 per month):
Stolen Fury by Elisabeth Naughton
 🎧  The Butterfly House by Katrine Engberg
---

Stacking the Shelves is hosted by Reading Reality.  These are the exciting ARCs I received this week (If you click on the cover, it will take you to the Goodreads entry):
My thanks to Avon / Harper Voyager, Recurve Press,  Montlake,  AceRoc, and Tantor Audio.                
(If you click on the cover, it will take you to the Goodreads entry)
I got 31 audiobooks from Audible in the 85% off sale.  I am not going to list all of them.  I finished up the the books I didn't have in these series: Cork O' Connor by William Kent Krueger, Sebastian St. Cyr by CS Harris,  Alex Verus by Benedict Jacka, and Jane Yellowrock by Faith Hunter.  I bought the first two in the Kara Gillian series by Diana Roland, The Breakup Album by Lauren Blakely, and The Heartbreaker Collection by Lauren Blakely.

Now the really scary one. This is all the Kindle and Audible freebies I grabbed this past week. You can see why I need to do Thrifty Thursday to be sure I read a few at least one each month.
I really meant to cut back on freebies BUT  they are free so I guess that won't be happening.

I'm not including things like reviews posted or upcoming as they are always in the right sidebar. And, my challenge status is also there.
Anne
Latest posts by Anne - Books of My Heart
(see all)