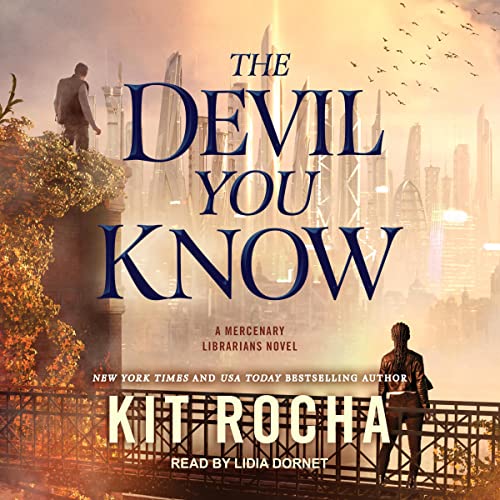 The Devil You Know
by
Kit Rocha
Narrator:
Lidia Dornet
Series:
Mercenary Librarians #2
Published by
Tantor Audio
on May 10, 2020
Genres:
Dystopia
Length:
13 hours and 37 minutes
Format:
Audiobook
Source:
Publisher
Goodreads
Amazon
, 
Audible
, 
Audiobook
, 
Barnes & Noble
, 
Apple





The Mercenary Librarians and the Silver Devils are back in the next installment of USA Today and New York Times bestselling author Kit Rocha's post-apocalyptic Action/Romance, with hints of Orphan Black and the Avengers

The Silver Devils and the Librarians are starting to get the hang of working together—but then a job goes sideways. Instead of the package they expected to retrieve, they find a young girl and discover she is a modified clone… just one of many. Horrified by the implications, the team try to track the missing children, but then Gray, one of the Devils, collapses. His implant is fading, and once rejection starts there's very little hope of a reversal.

Maya, the team's resident mechanical and programming genius, finds herself torn in multiple directions. She wants to help find the endangered children and track down a threat from the past. And she wants to find an impossible solution to help Gray.

But she also wants to stay as far away from him as she can. Because the more time she spends with him the more she cares about him, and she's already watched one man she loves die because of the TechCorps.

This is the second book in the Mercenary Librarians series which is set in a futuristic/post-apocalyptic world. It follows three women who just wanted to help their community. They are the Mercenary Librarians. They provide books (which are hard to come by in this world), repair tech and even help preserve food.
In the first book, the Librarians team up with the Silver Devils. The Devils are four altered men who were designed to be super soldiers for TechCorps. The two teams work well together and there is chemistry between the teams. In the first book, Knox, the leader of the Devils, and Nina, the de facto leader of the Librarians come together. And now the Devils are settling down and trying to stay under the radar of TechCorps.
Grey, the Devils sniper, doesn't get to go out on this mission because his implant is failing. It isn't about if his implant will kill him, it is when will it kill him. And his days appear to be numbered. Maya stays at the compound with him. She's not the fighter, at least she doesn't see herself that way. She has an eidetic memory. And Maya and Grey get really close during this time, which is hard on Maya. She knows he doesn't have much time and she's already lost one guy.
Both Grey and Maya have a very complicated backstory, which we get a lot of in this book. I loved getting to see their history. And we also get a good look into TechCorps. They are truly horrible people in that organization.
As with all Kit Rocha stories, I love the characters in this series. Maya and Grey are no exception. Getting more of the history only made me love them more. I love how Rocha's are fun characters that I could hang out with. They are all such good people. Then the villains are characters that you love to hate. Fans of the Beyond or Gideon's Riders series will recognize some references in this series, they are set in the same world. You can read this series without having read the Beyond or Riders series. I do recommend that you read this series in order.
Narration:
Lidia Dornet continues the narration of this series. She does a fabulous job. She becomes the character and really makes me feel in the middle of the story. I think all of her voices fit each of the characters. I would highly recommend listening to her if you get a chance.
Listen to a clip: HERE
Rating Breakdown
Plot
Writing
Characters
Dialogue
Narration (Audio)
Overall:
Related Posts