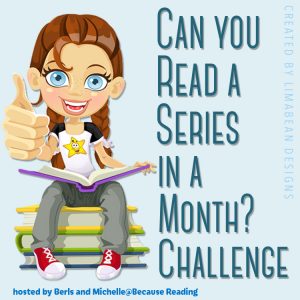 I chose the Kings Lake Investigation series because I love British mysteries and I own the first 3 books and the 4th one was just released in May.   It was a great choice.  I really enjoyed listening to these with a favorite narrator. The overall story arc is the reshaping of the law enforcement personnel in an area after some key players have left and the forming of a new "murder squad." I wished, a little bit, I had read what I now know is the previous series, DC Smith series, which I am really looking forward to reading soon.
Songbird
by
Peter Grainger
Narrator:
Gildart Jackson
Series:
Kings Lake Investigation #1
Published by
Tantor Audio
on September 18, 2019
Genres:
Mystery
Length:
15 hours, 56 minutes
Format:
Audiobook
Source:
Purchased
Goodreads
Amazon
, 
Audible
, 
Libro.fm





Detective Sergeant Chris Waters got the call at 05.29 that July morning. This is it, said DCI Reeve, you'll be first there, it's all yours, you're the crime scene manager. Suddenly, after months of waiting and wondering, Waters finds himself in at the deep end, and alone at the scene of a puzzling murder.

As the investigation proceeds, the detectives at Kings Lake Central find themselves visiting familiar places and talking to some familiar faces, while old enmities reappear in the incident room. Before this is over, Chris Waters will need to make a career-changing decision, and another member of the CID team will find herself facing an unexpected challenge. And Smith? Gone but not forgotten? Surely, he would say, you cannot write me off with a worn out cliché like that…
The series follows what I think is a new Detective Sergeant, Chris Waters, who was trained by DC Smith.  He is learning new tasks, as the crime scene manager,  and working with his readjusted team.   We the point of view of DS Waters throughout the series.   We get both the personal and professional layers of the characters.
Songbird introduced me to the world and many of the regular characters.  I loved the way Waters works an investigation with care for the victim's families and even for the witnesses and suspects.  He is a kind and thorough man who doesn't jump to conclusions but looks for the truth.  The victim is not the most likeable person, but she still deserves justice.
---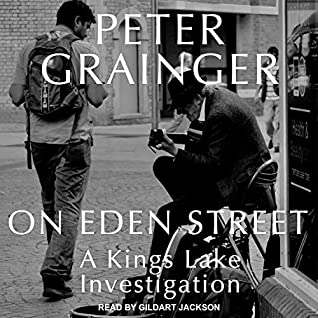 On Eden Street
by
Peter Grainger
Narrator:
Gildart Jackson
Series:
Kings Lake Investigation #2
Published by
Tantor Audio
on April 28, 2020
Genres:
Mystery
Length:
10 hours, 5 minutes
Format:
Audiobook
Source:
Purchased
Goodreads
Amazon
, 
Audible
, 
Libro.fm





"He might be a nobody, but he was their nobody and their first case." The new Kings Lake Central murder squad is about to spend its first morning on team-building exercises and reviewing cold cases when the call comes in that the body of one of the city's rough sleepers has been found in a shop doorway. It happens, someone says, he isn't the first to die on the streets and he won't be the last, but the story the new team begins to uncover is far from routine. New characters appear and new relationships form as the pressure grows on Detective Chief Inspector Cara Freeman to deliver a result and show that Kings Lake's first specialist team is worth the money. Detective Sergeant Christopher Waters discovers links to a previous investigation, learns that there is more than one way to run a successful squad and finds flower-arranging more interesting than he would ever have imagined.
On Eden Street is the beginning of the new "murder squad"  which divides the office into two teams. Waters was invited and chose to go to the new squad and suggested another person.  There are some who weren't invited to the new team which causes some malice.  Waters also finds himself interested in a new woman who is a witness to the investigation.
The case is a twisty one and the first one for the new team.  DCI Cara Freeman leads the team as a driving force.  She has a lot happening personally too.   The team now has its full complement with new members.  There is an interesting adjustment as new combinations work together and mesh their styles and get to know each other.
The investigation runs up against a bigger one and Freeman works to get justice for the victim here. Waters plays a key role in this, trusts his instincts which luckily are good.
---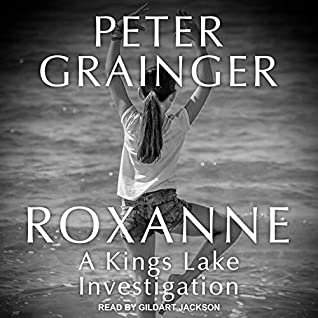 Roxanne
by
Peter Grainger
Narrator:
Gildart Jackson
Series:
Kings Lake Investigation #3
Published by
Tantor Audio
on March 2, 2021
Genres:
Mystery
Length:
10 hours, 13 minutes
Format:
Audiobook
Source:
Purchased
Goodreads
Amazon
, 
Audible
, 
Libro.fm






Life, as Smith used to say, is just one thing after another - as one investigation ends, a new one begins. But for reasons unknown to the rest of her team, DCI Cara Freeman will be haunted by the next case for the Kings Lake Central murder squad. They find themselves delving into the seamy side of life in the town, and one of their number will have departed before this new investigation is over. Perhaps Detective Sergeant Chris Waters should have seen it coming, but he has a lot more than work on his mind these days.
Now the new team is more settled in and has a mystifying death of an "escort" that the regular officers want to call a suicide. Waters can see though it probably is not.   Roxanne was am escort with a plan, leaving the service to handle her own bookings.  She was also in school and had plans to be out of the business within 5 years.
Investigating this type of case, no one really wants to talk to the detectives, in fact they'd rather lie.  The escort service, her roommates, the clients all have things to hide.  Her parents, though, actually know all about it and are proud of the progress of their youngest daughter. It's a real blow to lose her.
Waters is happily settled in a relationship now.  Unfortunately, he has a problem with a female team member which broke my heart.  I was thrilled to see some of his team support him so well.
---
Review copy was received from Publisher. This does not affect my opinion of the book or the content of my review.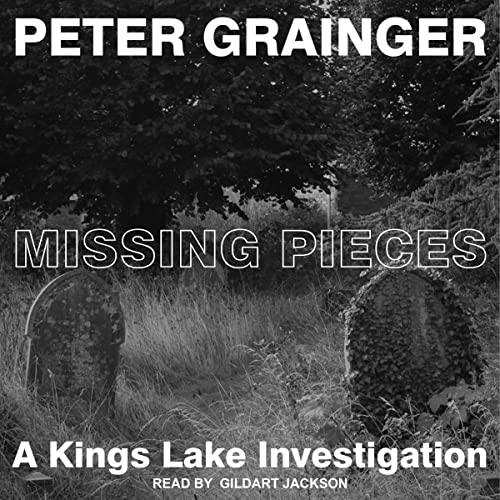 Missing Pieces
by
Peter Grainger
Narrator:
Gildart Jackson
Series:
Kings Lake Investigation #4
Published by
Tantor Audio
on May 10, 2022
Genres:
Mystery
Length:
9 hours, 35 minutes
Format:
Audiobook
Source:
Publisher
Goodreads
Amazon
, 
Audible
, 
Libro.fm




As the first anniversary of the formation of the Kings Lake murder squad approaches, there is a problem—they've run out of murders. As a result, they are given the task of reviewing unsolved cold cases. One of these comes back to life in unexpected ways as the team try to discover the identity of the young woman whose body was found in the Norfolk countryside two decades ago. And even if they can give her a name, how can they possibly find her killer after so many years?
With no new murders, the "murder squad" goes to work on solving cold cases.    We get everything from Waters' perspective or occasionally, an omnipotent view to see what DCI Freeman is doing.  The investigation is handled well and progresses with the squad's talents, especially considering it happened 20 years ago. There are lots of politics involved with the squad being a year old and as to whether it will be continued as it is. The team is now working well together and supporting each other.
There is a lot happening personally with Freeman and Waters.  Freeman has her family issues with her mother and half-sister which the team doesn't know about them.  Waters is now engaged and getting to know his fiance's family.  Waters also considers if he wants to be promoted further or not. I love the character development.
I was sad not to see DC Smith, only hear his wisdoms.  I am now excited to go back and read his series which is before this one.  Hopefully, there will be many more in this Kings Lake series with these new characters I have come to love.
Narration:
Gildart Jackson is a favorite narrator of mine and I enjoyed his performance in this series.     I was able to listen at my usual 1.5x speed.
Listen to a clip: HERE
Rating Breakdown
Plot
Writing
Characters
Narration (Audio)
Overall:
Latest posts by Anne - Books of My Heart
(see all)
Reading this book contributed to these challenges:
Related Posts