Review copy was received from NetGalley. This does not affect my opinion of the book or the content of my review.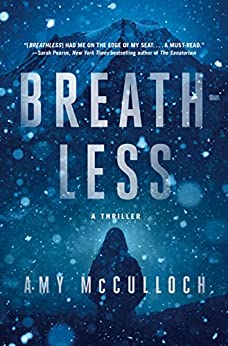 Breathless
by
Amy McCullogh
on May 3, 2022
Genres:
Mystery
,
Thriller
Pages:
342
Format:
eARC
Source:
NetGalley
Goodreads
Amazon
, 
Audible
, 
Audiobook
, 
Barnes & Noble
, 
Apple




When journalist and novice climber Cecily Wong is asked to summit Mount Manaslu, the eighth-highest peak in the world, it's a career-making opportunity. She's been personally invited by Charles McVeigh, one of the most acclaimed mountaineers in the world, who wants her to report on the final leg of his record-breaking series of summits. But there's one caveat: he won't give her the interview until she's scaled the mountain as part of his climbing party. Cecily is by far the least experienced of the group, but she is intent on proving herself and will stop at nothing to reach the summit. So when disturbing questions arise, she becomes concerned. And then people start to die. Trapped on the mountain with a team she barely knows, she must battle more than the elements in an epic fight for survival against one of the world's most dangerous mountains and an unknown assailant who is picking climbers off one by one.
A killer stalks the mountain and there is nowhere to hide in the high atmosphere death zone.  An adventure journalist has the opportunity of a lifetime to make the final climb on a renowned alpinist's record-breaking journey to climb to the summit without aid all fourteen peaks above 8,000 feet, but the catch is she must make the summit with him.  New to the author and new to this small niche of extreme location thrillers, I took little convincing to pick it up and give it a go.
Chinese-British journalist and novice climber, Cecily Wong finds herself out of her depth, but motivated to achieve her promised exclusive interview of a heroic and possibly the most skilled mountain climber in the world.  Charles McVeigh is the real deal climbing without rope lines or aid of oxygen at altitudes where hypoxia is real and death is a near companion.  He's made some famous rescues in his time and now he is on the fourteenth climb in the last year.  Inexplicably, he chose Cecily to grant his one and only interview.  There are more experienced adventure journalists who have successfully made their climbs and Cecily's only claim to fame is failing to summit not once, but twice.
She was asking herself why he chose her especially when her doubts are enhanced once she gets to base camp and the rigors of adjusting to the altitude and prepping for the climb amongst an odd assortment of team members and other teams.  Then the murders begin and she wants off that deadly Himalayan mountain.
Breathless is a standalone book that isn't one of those pulse-pounding, dashing thrillers from cover to cover.  There are pay off moments along the way especially once Cecily and the others are up on Mt. Manaslu and the killer is amongst them.  A lot of the book though is the build-up.  Cecily is introduced and it is obvious she is not a put together person and there is great doubt on her part and the readers as to her ability to achieve what she has set out to do.  Her editor made it clear this is her one and only chance with that magazine or any other, her boyfriend dropped her, and she's spent her last dime getting to the Himalayas on this climbing expedition.
Besides, Cecily's character and intro-ing the rest of the cast, there is the deep intro to high altitude mountain climbing.  The author knows her stuff (she has done the climb being described, in point of fact) and fills this book with her knowledge and experience.  I had watched specials on some of the Mt. Everest climbs and have an armchair interest in this sort of adventuring so I was not put off by the immersion in mountain climbing.
That said, this was a thriller so I did get impatient for the thriller-ing to get going.  I wasn't particularly taken with Cecily or any of the other characters and I worked out who was behind it all, how, and even why to some extent literally before the first murder. This did remove some of the tension in the suspense part.  However, the author snuck in a clever twist in the last build to the climax moment.  I suspected just before the reveal, but it did tangle with my suppositions and restored the suspense element I felt was lacking.
What was done well, along with that twist, was the steady tightening of the tension and atmospheric feeling caused by the preparations and then the climb itself.  I was on that mountain with Cecily and the others and I was breathless and riveted as they moved from base camp up to camp four and the summit.
There wasn't a gradual denouement and I confess I was left scratching my head a bit when it came to the antagonist character.  And, sorry, about the vagueness since I don't want to spoiler.
All in all, this was a solid read so long as expectations are for a slow build, highly detailed on the backdrop and setting, and fairly easily predicted mystery.  Readers who want something unique in setting and the added adventure of the backdrop and situation that gives something of a trapped group murder mystery must add this to the reading list.
Related Posts