Review copy was received from Publisher. This does not affect my opinion of the book or the content of my review.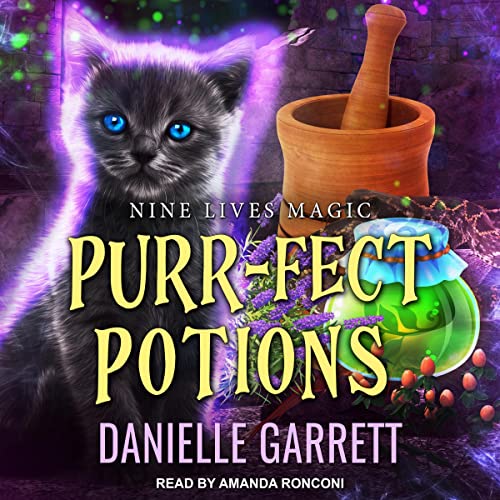 Purr-fect Potions
by
Danielle Garrett
Narrator:
Amanda Ronconi
Series:
Nine Lives Magic #4
Published by
Tantor Audio
on May 17, 2022
Genres:
Cozy Mystery
,
Paranormal
Length:
5 hours, 11 minutes
Format:
Audiobook
Source:
Publisher
Goodreads
Amazon
, 
Audible
, 
Audiobook




After unearthing Aunt Lavender's secret, we may finally know why she was abducted. Unfortunately, it also means the stakes are higher than ever.

We're making headway, but we need help to navigate the elusive world of magical treasure hunting. So, when famed adventurer Tabitha Blake arrives in Winterspell, offering to help, I jump at the chance to work with her.

Tabitha is the key to many doors, but will one of them lead to Aunt Lavender? Or are we going in circles yet again?
The Nine Lives Magic series is one I found easy to love from the beginning.  I loved the setting, the magical world, the mysteries, the main character, her love interest, and even her cranky cat familiar.
Purrfect Potions is fourth in the Nine Lives Magic series that are strongly connected so don't read as well standalone.  This particular one really won't since it is left in an interesting lead-in place for the next book.
Picking up not long after the events of the previous book, Cora and Selene are on the hunt for the missing Aunt Lavender with little luck.  A famous treasure hunter, Tabitha Blake, comes to town determined to get in on the hunt.  Meanwhile, Cora's love life hits a snag and doesn't look good because of Cliff's mom.
Purrfect Potions left me with mixed feelings for the first time in the series.  This book felt different from the past series entries and not just because it doesn't have a new local mystery for Cora to be involved in, which was disappointing.  I liked that they were making progress on their search and the Tabitha character was interesting and left me as suspicious as the others of what she was up to.  I was just as taken with the setting and the narration.
But, there were issues for me.
I'm not a fan of exploding a relationship that has felt settled and good, especially the way it happened here. Clint's mom is horrid.  I suspect this will be a rough patch and there is more to that story so I was more irritated than disappointed since I love Clint for her.  But, what really got me muttering was Selene.  I've been fine with her snotty attitude toward Cora and everything else up until now and at times it has been funny.  This time, she dialed up the attitude right into mean territory.  What exactly does Cora have to do further to earn a little respect from the demanding furball?
So, I still love the series and I really want to get to the finish line with all the exciting bits surrounding Aunt Lavender's disappearance and why she disappeared.  This was a transition book, for sure, so leaves series fans needing the next book and that includes me.  This is a series I'd recommend to readers/listeners who enjoy paranormal cozy mysteries.
Narration:
I love listening to the series because Amanda Ronconi has made it even better with her voicing the characters including a feline character and connection with the tone of the books.





Listen to a clip: HERE
Related Posts