Review copy was received from NetGalley. This does not affect my opinion of the book or the content of my review.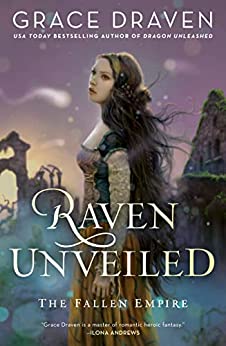 Raven Unveiled
by
Grace Draven
Series:
Fallen Empire #3
Published by
Ace
on November 8, 2022
Genres:
Fantasy Romance
Format:
eARC
Source:
NetGalley
Goodreads
Amazon
, 
Audible
, 
Audiobook
, 
Barnes & Noble
, 
Apple





Siora has been on the run for longer than she cares to remember, from her past and her gift. Born with the ability to see and speak to ghosts, she has heard their desperate pleas as an otherworldly predator stalks the dead amid the fertile killing fields of the collapsing Krael Empire. The creature's power and reach are growing with every soul it consumes, but Siora is preoccupied with her own troubles: namely an assassin who has sworn an oath of vengeance against her.

Gharek of Cabast was once the right-hand man of the reviled empress but is now a wanted fugitive. Although his reasons for hunting Siora are viscerally personal, what Gharek can't anticipate is that when he finally does find her, she will hold the key to saving his world, or what's left of it. To make good on old debts and protect the vulnerable dead from a malevolent force, Gharek and Siora will both need to make an ally out of an enemy—and trust that will be enough to save each other.
He seeks revenge on the woman who betrayed him, but the battle over a fragmented empire and a powerful darkness rising to devour both living and dead force him to accept as ally the mysterious woman he hates.  Returning to the Fallen Empire world for this particular story has been a high anticipation for me and I was not disappointed.
Raven Unveiled is the third of the strongly connected Fallen Empire series and finishes off a story arc that began in the previous book.
Gharek, the dead empress' former assassin and cat's paw, is the most hunted man in the former empire right now, but this doesn't stop him from tracking down the woman who betrayed him and, worse, his little daughter, Estred.  His need for revenge blinds him to his surroundings and he ends up nearly trapped in a dark shadow's claws and does get captured by a former general of the empire set on wresting the remaining pieces of the empire from those who currently hold it as well as his desire to kill Gharek for what happened to his brother.
Siora saves Gharek's life from a darkness that wanted to devour him and then faces down a powerful, ruthless general on Gharek's behalf.  Her shade magic helps her see and hear ghosts and she refuses to believe there is more to it.  Her motive for standing by Gharek bewilder him, but she is determined to save him from himself- all for the sake of Estred his daughter.  Or, so she tells him.
Raven Unveiled jumped in right after the previous book, Dragon Unleashed, left off.  It has been a bit but, Grace Draven did a good job of recapping while current action scenes kept the plot driving forward.  The background is the fallout that takes place after the empress is killed.  I felt the chill of the ghostly realm and the gritty moments of danger between the phantom darkness coming after Siora, Gharek and the others, the brute force of the army camp, and the suspense of them trying to keep from being caught on the streets of the city since Gharek has a bounty on his head.
Siora is an enigma in the other books and starts out that way in this book even with her getting to share the narration with Gharek.  She wields a magic that allows her to see and talk with ghosts.  She is adamant that she is not a necromancer- they enslave the dead.  And, she is just as determined to make Gharek understand that what he saw as betrayal was her taking action for his and Estred's benefit.  She adores his daughter and sees something in him that is redeemable.  I loved her pluck and her humility, but also her will of iron that stands quietly strong when in the company of men who would crush her.
Gharek did atrocious things and I was glad the author didn't try to sugarcoat or excuse him.  This is a villain turned anti-hero at best.  He is paying the price for his ruthless acts as he falls into the hands of people he wronged and must depend on their being better than he to let him live- at least live long enough to see his daughter protected.  I liked getting his background and seeing him slowly let his need for revenge go and his attempts to be a better man for Estred- and Siora.  The romance was slow to come and rightly so as Gharek has a long, hard journey out of the dark and along the path of love.
I have no idea if this is the last book or if there will be more Fallen Empire, but this was a story I wanted and it was satisfactory.  Fantasy is not a genre I reach for very often, but this series captivated me from the start and drew me into the author's writing and the Fallen Empire world.  I highly recommend this book/series to those who enjoy Fantasy Romance.
Related Posts