The Sunday Post is a weekly meme hosted by Kimberly  @ Caffeinated Reviewer. It's a chance to share news~ A post to recap the past week, and showcase books and things we have received.
---
Don't forget to look at my giveaways on the right sidebar.  Giveaways end tonight for Blackwater Falls and the Read-along giveaway of a Jeaniene Frost digital book.
Sunday,  a nice day but one with lots of blog visiting.  I woke up earlier than early for me even considering the time change.  My brother called me from Sao Paulo, Brazil where he and his wife are visiting with her family. I got to see them on Facetime.  They come home tomorrow.  We had a nice FB chat for the Read-along.  Then I hurried up to take Lulu on a longer route before it got dark at 5pm!  I made lists of everything I need to do outside tomorrow while the weather is still really nice.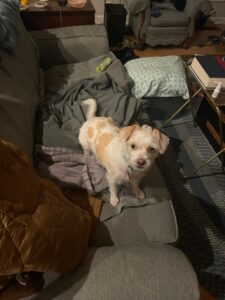 Monday,  I went right to sleep last night so I started the day with reading and finished my book. I still got going pretty well.  After notifying the winners of two giveaways, Vanishing Hour and Archangel's Resurrection,  and doing some blog visiting.  I went to work on the outside tasks. I got everything done except the leaves. The tree in the front yard still has half so I have time. lol  I pulled weeds, trimmed back the rosemary,  planted one perennial I had been trying to decide where to plant.  Lulu and I did our walk. It was 84F (29C), a new record high.
Tuesday,  today my schedule is going well.  Right now, going to bed earlier and getting up earlier is working for me.  Today I'm focusing on phone calls, paper work, etc.  We already voted last week.  I'm looking at healthcare options for 2023.  I have a review to write and I'm writing my first discussion post.  Almost always now, I walk Lulu at 4 since it gets dark at 5.  I went down to go to the bathroom and leave. No water in the kitchen. No water in the bathroom.  I saw on FB that the water main got damaged and they are working on it from 2 hours ago.  So Lulu and I went on our walk.  We got the water about the time we would be having dinner. Luckily we had distilled water for diffusers or the iron or we wouldn't have had any water for anything.  I switched to a simpler dinner, but did add steamed veggies once the water was back.  All the energy went out of me with the lack of water; it lasted about 5 hours.  Then I watched some of the election results on MSNBC because I could watch Steve Kornacki do statistics and graphs every day.  I didn't go to sleep until 3am.  There's a few people I was really happy to see win and some I felt so badly that lost.
Wednesday,   so of course I was going to be tired today and I woke up a bit too early.  My daughter and I went to  the chiro.  Then I went to the post office and picked up a bit at Aldis.  On the way back, we got stopped on the road because there was an accident.  We were stopped and 3 ambulances went past us.  Finally, we turned around and went another way.  It took over an hour longer and it was dark. So poor Lulu didn't get a walk. I had to put away the groceries, get dinner going.  Because of the water main break we have an advisory so we can't use the ice maker. I bought bottled water for drinking and teeth brushing. I'm boiling water in the tea pot then letting it cool and put into a pitcher.  The pitchers I use for Lulu's water, washing food,  I need to get to bed earlier tonight.  They notified us after dinner that the water has tested free of contaminants and now we just need to run all the faucets for a couple minutes to flush the lines.
Thursday, I set my alarm to get going but woke up before the alarm.  I got all the right clothing together.  Then I went out and cleaned the Harley, dressed in my gear and headed out.  I was a bit anxious because there was that big accident last night.  I was also worried it wouldn't start and I fumbled a bit but it started right away.  I rode up to the dealership to have the annual inspection and had them put air in the tires.  It was cloudy and there was a threat of wind and rain, but not as cold as I thought it might be.  After I went to get some gas,  $3.41 for premium, folks!  It was just fun. I need to ride more.  We got a farm box today.  I took Lulu on a medium walk.  Then I got chicken thighs baking to make a batch of her food. I was working to finish a library book due today.  My account said it expired at 8pm. but thankfully it let me finish reading it from bedtime to just after midnight.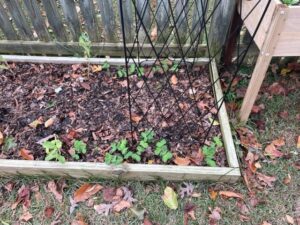 Friday,  I started out pretty early. I made calls to handle some upcoming med appts, refills, and start on next year's health insurance.   I spent a lot of time messing with different post sharing apps. If you're interested look at my notes below. I tried a new cabbage / vegetable soup recipe for dinner. My daughter thought she wouldn't like it but she did.
Saturday, I tried to get going for all the yard work which needed to happen. I woke up too early and then took a bit to go back to sleep.   The snow peas are up. No sign of the swiss chard. The broccoli looks good.  I took the tomato vines on a tray into the dining room.  I threw out the rest of the vines and brought the cages into the garage.  The city sucked up the leaves so I blew all the new ones in front to the curb.  Then I mowed the front yard.  In the middle, I ate a bit of lunch. Afterwards, Lulu and I walked on the long route.  The colder weather starts tomorrow, in the 50s all week and it will freeze some nights.
---
Things I Learned This Week:
OK  if I'm asking for help, I'm also going to share the cool things I learn. You may already know them but hopefully it will help someone.
I've been reviewing ways to share my posts to Facebook, Twitter, etc. These are all things I can access without cost for the 40ish posts I have per month.
I've been looking at Buffer which is free, but for one post a day, but I can't figure out how to get the posts to Buffer.  I think it can be plugged into WordPress or I've found 2 programs to do it but don't know how to feed my posts to them either.  On the plus side, Buffer is easier to post the sales and deals which I do manually on a daily basis.  On Buffer, I only have to do it once and send, instead of posting to each site, and I don't have to change my account for Facebook.  It does only allow one account per channel which works for sales and deals because I only post those to Books of My Heart on FB and @BooksofMyHeart on Twitter.  But posts I share to more Twitter accounts.
I also looked at Post Promoter but haven't figured out how to use it.  It's already set up as a plugin for UBB (Ultimate Book Blogger) but when I try to link accounts it doesn't work.  The website looks like it has several levels of subscriptions from $99 – $499 which even the lowest level is almost as much as Jetpack and I'd have to do all the setup again. OK it's free as part of my hosting at UBB.  But I only get errors when I try to set it up.
Then I found DLVR.IT.  It allows posts to only one account per channel and I set that up using RSS feed for the FB and Twitter Books of My Heart accounts.  It works fine and wasn't too hard to set up.  I don't know how to get my tags there if I can include them in the feed or in the post titles (too long I think).
Next I found IFTTT.  Here there are these little apps that do a bunch of things.  I was able to use one to share posts for my @Northwomn Twitter (also without the tags)  but this is fine.  I'm happy with it working and I don't have to have the tags for this account.  I may find more things which will work here from RSS feed. There are a lot of apps.
I'm also going to look at SlackSocial but I ran out of time.
---

Stacking the Shelves is hosted by Marlene at  Reading Reality.  These are the exciting ARCs I received this week (If you click on the cover, it will take you to the Goodreads entry):
 My grateful thanks to Harper Audio,  Recorded Books, Random House Audio,  Berkley Romance.                           
(If you click on the cover, it will take you to the Goodreads entry)
Nothing  but Audible and Chirp are having sales I will look at on Sunday.

Now the really scary one. This is all the Kindle and Audible freebies I grabbed this past week. You can see why I need to do Thrifty Thursday to be sure I read a few at least one each month.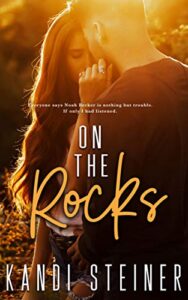 I really meant to cut back on freebies BUT  they are free so I guess that won't be happening.

I'm not including things like reviews posted or upcoming as they are always in the right sidebar. And, my challenge status is also there.
Anne
Latest posts by Anne - Books of My Heart
(see all)