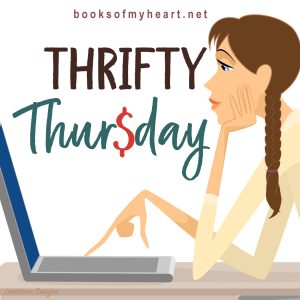 The purpose of Thrifty Thursday is to read a book which was free (at some point).
Kindle freebie on May 28, 2020 (currently $3.99 and in Kindle Unlimited as of writing this post)
Overall rating 3.69 with 13 ratings and 2 reviews
Mantivore Dreams
by
S.J. Higbee
Series:
The Arcadian Chronicles #1
on August 28, 2019
Genres:
Science Fiction
Pages:
270
Format:
eBook
Source:
Purchased
Goodreads
Amazon





On a colony planet, in a hot, dusty village where no one wants to live, is someone who was exiled there a long time ago. Someone who stole something so precious, others are prepared to lie, kidnap and murder to get it back.

Drawn into this web of deceit is Kyrillia, a teenager who dreams of running the village's branch of the Node, the planetwide organic information system, but instead drudges for her mother…

Seth, member of the disgraced Priest family who can read and write, but instead toils as a day labourer on the smelliest, most thankless jobs in the village, in exchange for scraps of food and temporary shelter…

And Vrox, an ancient, sentient alien who lives only in Kyrillia's imagination, or so she thinks...

When Kyrillia sneaks into the Node and opens up a forbidden site, she triggers a chain of events that not only rips through her own life, but affects those living thousands of miles away in the capital. For when something so precious goes missing, others will stop at nothing to get it back.
I wasn't sure what to expect since science fiction can actually cover many different styles and settings.  The setting might be earth or another planet.  There might be spacecraft. One of the key aspects is usually technology and often, a time in the future.
Mantivore Dreams seems mostly a character development with technology. I'm surprised I enjoyed it so much with a young adult / new adult main character.  Kryillia was a very likable character.  She has been mistreated and sheltered her whole life.  Now events force her to face some truths and learn more about her world.
The world-building is tempered by Kyrillia's small focus.  We don't know very much about things. There's more definitive facts in the blurb than I grasped from reading. I hope to read more in the series to develop this knowledge.   The technology is her strength but not so much others, even those who are supposed to manage it.
The mantivore is the other big part of Kryillia's life and focus.  It seems like it, Vrox, has always been there.  Is Vrox a dream, imaginary, or an alien?  I was intrigued to learn more about him, although his childhood suffering felt repetitive.  Vrox is horribly treated currently as well.
I enjoyed watching Kyrillia develop more knowledge and navigate a new life.  Luckily, she has some friends who help her and support her.  She is pretty skilled at recognizing who to trust. Although, that may be because she trusts so few and that's for the best.   I want to read more in her world.
---
These are only Kindle freebies I get, or ones through author newsletters which anyone can sign up and get for free. I don't include things like Kindle Unlimited or Prime Free Reading (I do have it). Both Tantor and Audible have occasional free audios (to anyone) and I do include those.  Since I one-click on 1-2 freebies a day or probably at least 5 a week, I came up with this feature to make sure I start reading them.
If you have read and reviewed  a freebie, link up to your review (Goodreads, blog, facebook or wherever) below.
---
Add your review link here: 
Mister Linky's Magical Widgets — Thumb-Linky widget will appear right here!
This preview will disappear when the widget is displayed on your site.
If this widget does not appear,
click here
to display it.
Latest posts by Anne - Books of My Heart
(see all)
Reading this book contributed to these challenges:
Related Posts