Review copy was received from NetGalley. This does not affect my opinion of the book or the content of my review.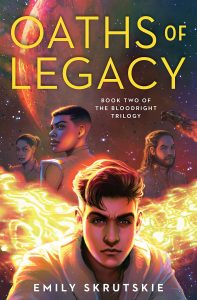 Oaths of Legacy
by
Emily Skrutskie
Series:
The Bloodright Trilogy #2
Published by
Del Rey Books
on September 14, 2021
Genres:
Science Fiction
,
Young Adult
Pages:
288
Format:
eARC
Source:
NetGalley
Goodreads
Amazon
, 
Audible
, 
Audiobook
, 
Barnes & Noble
, 
Apple




Gal's destiny has always been clear: complete his training at the military academy, prove his worth as a royal successor, and ascend to the galactic throne. When a failed assassination plot against Gal sends him and Ettian—his infuriatingly enticing roommate—on a mad dash through the stars, Gal's plans are momentarily disrupted. But he was born to rule the Umber Empire, and with Ettian by his side, nothing will stop him from returning home and crushing the growing insurgency threatening his family's power.

But nothing is ever that simple in war—or in love. Gal is captured by the rebellion during a skirmish and faces public execution, his grand fate cut short. To save Gal's life, Ettian does the unthinkable: he reveals himself as the secret heir to the fallen Archon Empire and rightful leader of the rebellion . . . and, therefore, Gal's sworn enemy. Now a political hostage in this newly-reignited conflict, Gal must use his limited resources to sabotage the rebellion from within, concoct an escape plan, and return to the empire he's destined to lead. And if that means taking down the man he thought he loved?

All the better
A galaxy-wide rebellion is in the offing when a conquered Archon Empire rises from the ashes to challenge the mighty machine of the reigning Umber Empire.  And, caught up in it all are three young people who are at the helm of destiny while still coming into their own.  The first book, Bonds of Brass, left off on a stunning note and Oaths of Legacy carries things forward.
It is at this point that I'll caution readers that if you plan to read the series then don't read the blurb or the rest of my review.  Too late, right?  Oh well, there are still lots of twists and turns to come so I'll keep those to myself.
At the end of Bonds of Brass, Gal who was on the run when an assassination attempt was tried while he was attending academy, ends up captured by the Archon rebellion and thinks his number is going to be punched until his academy roomie, escape partner, and blossoming romance interest steps forward and reveals his true identity as a lost last Archon royal and he wants Gal kept as a political prisoner rather than executed.
Oaths of Legacy switches from Ettian's to be told all from Gal's perspective.  I was glad to have the chance at both their points of view after really enjoying the first book told by Ettian.  But, I have to admit that Gal was in a lousy mood learning his best friend is now his sworn enemy since he's his prisoner now and all.  It was grueling at times when he was near Ettian the way he picked and prodded at the guy to provoke him.  But worse, Gal was a true Umber in his calculated thinking of hating Ettian and stirring up as much trouble as he could to undermine him and ultimately see his new reign topple.  Gal never saw himself as cold and cruel like his mother, but he struggles to come to terms with the fact that he shares his bloodline's pride and belief in their right to rule and that he knows better than anyone else how to rule.  He spends a great deal of this story trying to lead from the jail cell and believing that he knows better than anyone else.  It wasn't easy to read this, but it was necessary to see his progression to respecting that Ettian might think and do differently, but he isn't necessarily wrong.
The odd friendship formed up between Ettian, Gal, and the rascally former street ganger, Wen, continues forward.  Wen remains both their friend, even though she has taken a role in the Archon rebellion.  She latches on to the legend of the Archon Knights of old and takes the piratical commodore as her mentor in her Knight training.  She is also the security who keeps an eye on Gal so he works hard to influence her into helping him escape even while he works to keep Ettian from doing something stupid enough to die.  Meanwhile, Ettian never had the proper training to rule his people and is forced to learn on the fly.  His instincts are good even when his heart leads him to listen to Gal and he lets his feelings for Gal show and are a vulnerable spot for him.
As the middle book in a trilogy, Oaths of Legacy did the job of bringing the story along over the bridge to set up for the crisis point of the final book.  There were exciting action moments, political intrigue, and a stormy relationship.  It has a huge climax battle and then just when the reader starts to get complacent, a shocker twist happens.  Okay, I confess I was expecting something to happen to get people moved to where they are, but I didn't expect a certain person to be the means.
So, we paused at a good place that leaves the reader anticipating the third part of the trilogy.  I still haven't established if this is YA or Adult LGBT Sci-fi, but perhaps a bit of both.  Definitely a series I would recommend.
Related Posts