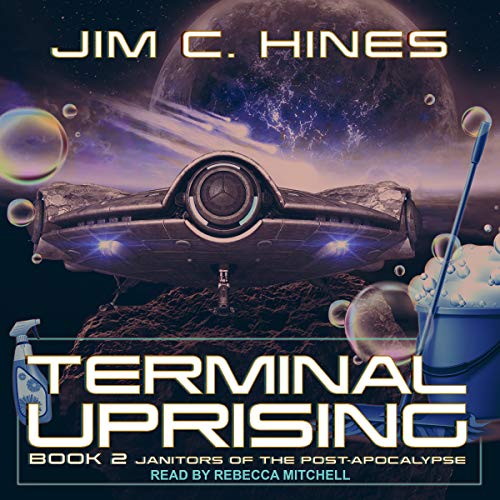 Terminal Uprising
by
Jim C. Hines
Narrator:
Rebecca Mitchell
Series:
Janitors of the Post-Apocalypse #2
Published by
Tantor Audio
on February 18, 2020
Genres:
Space Opera
Length:
11 hrs and 6 mins
Format:
Audiobook
Source:
Library
Goodreads
Amazon
, 
Audible
, 
Barnes & Noble





It's been four months since Marion "Mops" Adamopoulos learned the truth. Four months since she and her team of hygiene and sanitation specialists stole the EMCS Pufferfish and stopped a bioterrorism attack against the Krakau homeworld. Four months since she set out to find proof of what really happened on Earth all those years ago.

Between trying to protect their secrets and fighting the xenocidal Prodryans, who've been escalating their war against everyone who isn't Prodryan, the Krakau have their tentacles full.

Mops' mission changes when she learns of a secret Krakau laboratory on Earth. A small group under command of Fleet Admiral Belle-Bonne Sage is working to create a new weapon, one that could bring victory over the Prodryans … or drown the galaxy in chaos.

To discover the truth, Mops and her rogue cleaning crew will have to do the one thing she fears most: return to Earth, a world overrun by feral apes, wild dogs, savage humans, and worse. (After all, the planet hasn't been cleaned in a century and a half!) What Mops finds in the filthy ruins of humanity could change everything, assuming she survives long enough to share it.

Perhaps humanity isn't as dead as the galaxy thought.


I read the first book in this series when I was on vacation in Canada this summer. This time, I listened to the audiobook. This is the first time I've switched from reading to listening in years. I will admit it took me a bit to get into the story. I think it was the change from reading the name and creating my own voices in my head and hearing the names and hearing someone else's version of the character voices. I think the narration was great, it was just the change in format that took me a bit to get used to, more on the narration later.
I had a great time visiting Mops and the gang. What to say that isn't a spoiler. The team goes to Earth and comes across a group of humans who were never infected from the virus that turned humans into zombie-like creatures. They live in libraries and see themselves as librarians and protectors of humanities history and knowledge. I really enjoyed meeting all of these new characters.
I also loved watching Mops and the gang navigate through the wilderness of Earth where they are scared of pretty much everything. They've heard about every dangerous animal that lived on Earth at any given point of time. My favorite was when they come across a pack of feral dogs and they aren't the breed you would expect. It was fun trying to determine what breed based on descriptions. They do eventually figure out the breed, so we know for sure, but I liked trying to guess. I can say I was correct. But then, I had those kinds of dogs as a kid and my Mom has one now, so I'm very familiar.
I will say that the one of things I like more about reading ebooks over listening to audiobooks, is that I can highlight some of the funny lines I can share in my review. That is so much easier in ebooks. I would love to share some great dialogue with you guys.
This was another great installment. Lots of excitement and even more humor. I look forward to getting to the third (and I think final) book in this series. I've really come to love this rag-tag group of space janitors who everyone thinks are less than, and watching them come out on top. If you're looking for a fun space opera, this is a fun one to try whether you want to read or listen.
Narration:
This was my first time listening to Rebecca Mitchell. As I said above, it took me a bit to get into this story, but that was more the change in format on my part more than anything to say about Ms. Mitchell. Once I got used to her interpretations of the character voices and name pronunciations, I thought she did a wonderful job. I already have book three, Terminal Peace, on my iPhone and will be listening to it soon. I will be on the lookout for more of Ms Mitchell's work.
Listen to a clip: HERE
Rating Breakdown
Plot
Writing
Characters
Dialogue
Overall:
Related Posts