Review copy was received from NetGalley. This does not affect my opinion of the book or the content of my review.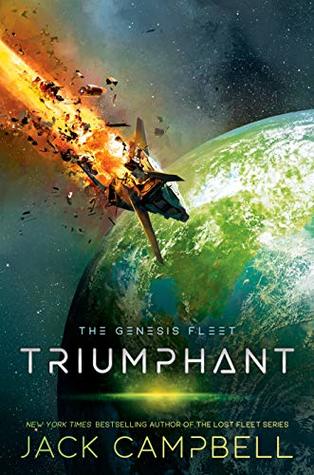 Triumphant
by
Jack Campbell
Series:
Genesis Fleet #3
Published by
Ace
on May 21, 2019
Genres:
Space Opera
Pages:
336
Format:
eARC
Source:
NetGalley
Goodreads
Amazon
, 
Audible
, 
Audiobook
, 
Barnes & Noble




The recently colonized world of Glenlyon has learned that they're stronger when they stand with other star systems than they are on their own. But after helping their neighbor Kosatka against an invasion, Glenlyon has become a target. The aggressive star systems plan to neutralize Glenlyon before striking again.

An attack is launched against Glenlyon's orbital facility with forces too powerful for fleet officer Rob Geary to counter using their sole remaining destroyer, Saber. Mele Darcy's Marines must repel repeated assaults while their hacker tries to get into the enemy systems to give Saber a fighting chance.

To survive, Glenlyon needs more firepower, and the only source for that is their neighbor Kosatka or other star systems that have so far remained neutral. But Kosatka is still battling the remnants of the invasion forces on its own world, and if it sends its only remaining warship to help will be left undefended against another invasion. While Carmen Ochoa fights for the freedom of Kosatka, Lochan Nakamura must survive assassins as he tries to convince other worlds to join a seemingly hopeless struggle.

As star systems founded by people seeking freedom and autonomy, will Kosatka, Glenlyon and others be able to overcome deep suspicions of surrendering any authority to others? Will the free star systems stand together in a new Alliance, or fall alone?
If you have enjoyed Jack Campbell's other series, Lost Fleet and Beyond the Frontier, and Lost Stars,  Genesis Fleet series will feel familiar. The writing style, space opera and military strategy are all here. It is a prequel series.  Ascendant is the second book, following Vanguard by three years, and now Triumphant.
The series could be read by those not having read the other series.  However, it is rather fun and comforting to be with characters having the last names of those to follow 100 years later.  And I like the style so I have read them all. I enjoyed the audio versions as well and have bought some of them.
Triumphant is like a love letter to fans of the series and it filled my heart.  It has all those ancestors of characters I know and love from the related series. I loved seeing my favorites  from the previous two books and even more of those instrumental in the governing of the newly expanded planets.
The situation is dire. The pirate-like planets who are just taking over all the other planets they can and basically enslaving their people continue from Kosatka to Glenlyon.  Well, Kosatka is the home of the Desjani clan and Glenlyon that of the Gearys, so you can guess whose ancestors are involved, along with other favorites like Mele Darcy and Lochan Nakumura.
These are people with character strength , compassion and intelligence. Characters of this exceptional quality are classic in Jack Campbell's works.    I do love the space battles and the ground battles. The strategy and technology discussions around the battles is thrilling. I was rooting for my people! I couldn't put this down and read until 3am.   There is even some humor! I love these stories.
President Chisholm had the look of someone who couldn't quite believe they'd won the lottery, found the love of their life, and backed up an important file just before their system crashed, all on the same day.  "Glenlyon knew we could count on you, Major."
Giveaway: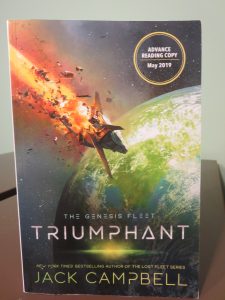 The publisher was kind enough to send me a print ARC of this book. Since I collect digital now for convenience when moving and traveling,  I am giving this away.  Enter below:
Rating Breakdown
Plot
Writing
Characters
Overall:
Latest posts by Anne - Books of My Heart
(see all)
Reading this book contributed to these challenges:
Related Posts