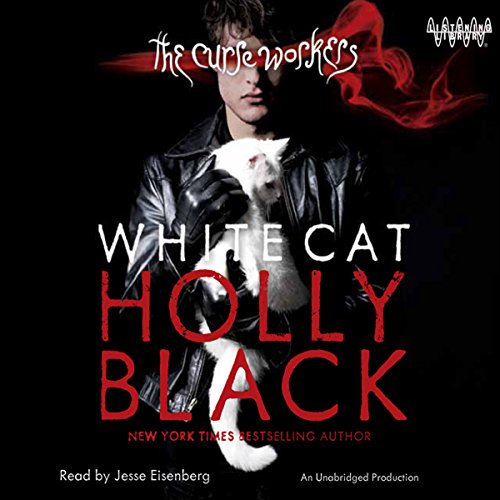 White Cat
by
Holly Black
Narrator:
Jesse Eisenberg
Series:
Curse Workers #1
Published by
Listening Library
on May 11, 2010
Genres:
Fantasy
,
Young Adult
Length:
6 hours, 40 minutes
Format:
Audiobook
Source:
Library
Goodreads
Amazon
, 
Audible
, 
Audiobook
, 
Barnes & Noble
, 
Apple




Cassel is cursed. Cursed by the memory of the fourteen year old girl he murdered. Life at school is a constant trial. Life at home even worse. No-one at home is ever going to forget that Cassel is a killer. No-one at home is ever going to forget that he isn't a magic worker.

Cassel's family are one of the big five crime families in America. Ever since magic was prohibited in 1929 magic workers have been driven underground and into crime. And while people still need their touch, their curses, their magical killings, their transformations, times have been hard. His granddad has been driven to drink, his mother is in prison and his brothers detest him as the only one of their family who can't do magic.

But there is a secret at the centre of Cassel's family and he's about to inherit it. It's terrfying and that's the truth.
White Cat is a charming, modern tale of love and magic written by one of my favorite young adult writers, Holly Black.   The first in The Curse Workers series, it is set in a world where magic is real, but only certain people have the power to use it.  The story revolves around a young man, Cassel Sharpe, who comes from a family of curse workers, people who can manipulate things like emotions, memories, or luck with a touch.  What makes White Cat so compelling is its blend of mystery, drama, and romance as well as its intricate world-building and well-crafted characters.
The world of The Curse Workers is skillfully revealed in a very direct way; one can't help but believe this type of magic is plausible.  Holly Black doesn't dump details on the reader; she just includes anecdotal information about history, politics, and society to support the overall world.  Her style allowed me to form my own ethical and moral positions, and decide if  'Working' is a good or bad thing.  I found the concept of wearing gloves to prevent human touch, and thereby someone being 'cursed,' interesting and thought provoking as well.
Even with a very interesting magical world, I feel White Cat is primarily character driven, and Cassel Sharpe is central to the story.  He's a bit of an anti-hero; one of those characters I know I shouldn't like, but actually really do.  Cassel offers a fresh perspective on the traditional hero archetype.  Rather than being a perfect, moralistic figure, Cassel's moral compass is flawed.  He often makes morally ambiguous decisions; which allows the reader to explore complex ethical issues and experience a more nuanced view of morality.  He is very relatable, and one can see one's own personal demons and flaws in him.  This allowed me to connect with Cassel, evoked my empathy, and made the story more emotionally resonant.  His lack of magical ability plays a huge part in what defines and drives him.  As Cassel navigates his way through his complicated family history and the criminal underworld that surrounds him, he is forced to confront his own identify and make choices that will determine the course of his future.
The characters share equal space with the fascinating world Holly Black has created.  Rather than relying on plot twists and action sequences to keep readers engaged, White Cat uses the characters themselves as the driving force behind the story.  Don't get me wrong, there is the excitement and planning of a 'heist' like event, but it is the plight of Cassel and his friends/family that kept me turning the page.  There is something compelling about all of his relationships;  Sam, his grandfather, his brothers, his mom, his friend Danica, and of course, the mysterious Lila.  They each serve as a foil in some capacity, highlighting Cassel's strengths and weaknesses.  His best friend Sam is great sounding board for Cassel, allowing him to work through his thoughts and feelings, and as the story progresses, so does their friendship.  The relationships between Cassel and his friends/family add depth and nuance to the story, making it more engaging and captivating.
Holly Black has created a story set in an intricate and fascinating world, with a main character I enjoyed trying to understand and puzzle out.  While I might have had an idea of the book's eventual outcome, how it would actually get there kept me guessing until the very end.  The story arc resolves satisfactorily with White Cat, however, because of some unresolved subplot points and a new twist at the end, I strongly encourage you to have the second (and third!) installment of the Curse Workers on hand.
Narration:
The narration for White Cat was well done and easy to follow.  I felt like Jesse Eisenberg did a great job creating distinct voices for each character.  I listened at 1.2x speed, which is slightly slower that my normal speed of 1.25x.  It seemed to work better with the performance.
Listen to a clip: HERE
Rating Breakdown
Plot
Writing
Characters
Dialogue
Narration (Audio)
Overall:
Related Posts