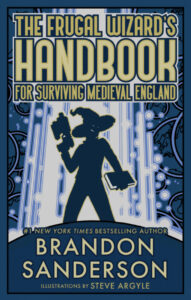 The Frugal Wizard's Handbook of Surviving Medieval England
by
Brandon Sanderson
Narrator:
Michael Kramer
,
Kate Reading
on April 11, 2023
Genres:
Science Fiction Fantasy
Length:
9 hours, 11 minutes
Format:
Audiobook
Source:
Kickstarter
Goodreads
Amazon
, 
Audiobook
, 
Barnes & Noble
, 
Apple





A man awakes in a clearing in what appears to be medieval England with no memory of who he is, where he came from, or why he is there. Chased by a group from his own time, his sole hope for survival lies in regaining his missing memories, making allies among the locals, and perhaps even trusting in their superstitious boasts. His only help from the "real world" should have been a guidebook entitled The Frugal Wizard's Handbook for Surviving Medieval England, except his copy exploded during transit. The few fragments he managed to save provide clues to his situation, but can he figure them out in time to survive?
During the pandemic, some writers couldn't write a book, others delivered like nothing was going on, some changed drastically what they were writing. But, Brandon Sanderson was/is a little different than everyone else out there and he not only delivered on his promised contracts but also wrote not 1, not 2, not 3, but 4 non-contracted books.  He then had the biggest Kickstarter of all time and now we are here with the second of those books The Frugal Wizard's Handbook for Surviving Medieval England.
This is the only book of the 4 written that isn't set in the Cosmere and while it does have at least one character from the Evil Librarians series in it, this is really just an exercise in fun.  Welcome to the multiverse where you can purchase your own dimension to own.  This dimension will be similar to the earth you know but set back in Mediaeval times along a different historical path.  You being from a technically advanced dimension will seem like a Wizard to the dimension you have landed in.
Johnny wakes up with no memory of who he, where he is or how he got there.  All he has is battered pages of a handbook for his dimensional jump to a new dimension in Medieval England.  As he goes on quests to help some of the people he meets initially more of his memories return.  We learn it is quite freeing to forget who you are, as you can reinvent yourself into a new person without the history of who you used to be.
This is supposed to be a lite story with some adventure, some silliness, some magic and some redemption.  Overall I had a good time in the story.  I like Johnny and his discovery of the man he used to be.  For me some of the best parts of the story were the handbook itself.  Can I have a dimension with talking bananas, Plague dimensions at a super discounted price if you want to try and save a world.  There are many trademark and legal subscripts to the handbook for the company selling them to be safe.  Always read the fine print
(4) Legal note: Our Plague-free Guarantee™ is void for all customers who refuse personal medial nannites. Enter your dimension at your own risk. Maybe bring a prefitted casket.   
Overall it's not my favorite Sanderson story.  There is the cheeky humor, the scifi aspect, the rediscovery of self and a new dimension with magic on it.  But the overall flow was a little off for me and it took me awhile to warm to the world and the magic in it.  Specifically how "boasting" worked to win battles.  The story is unique and interesting as always.  Sanderson does have a great imagination and has given us another look into just how packed full of stories his mind is
I think this would be great for those who really like gaming quests and are more in the YA realm.  The Frugal Wizard's Handbook for Surviving Medieval England is more of a Middle Grade to YA book.  Which makes total sense since Sanderson wrote this story as a gift for his son.
Just a note for readers of the ebook and hardbacks.  There are great illustrations throughout the story for the reader.  I had both and while I listened to this book, I did go through the ebook to see all the great artwork as it was a lot of fun to see it in the context of the story.
Narration:
Michael Kramer and Kate Reading are beyond pros in the narration world.  They are a dynamic duo that always do a superb job and really I can't say enough about how well they narrate EVERYTHING they do together.  I was able to listen at my usual 1.5x speed.
Listen to a clip HERE
Rating Breakdown
Plot
Writing
Characters
Dialogue
Narration (Audio)
Overall:
Related Posts