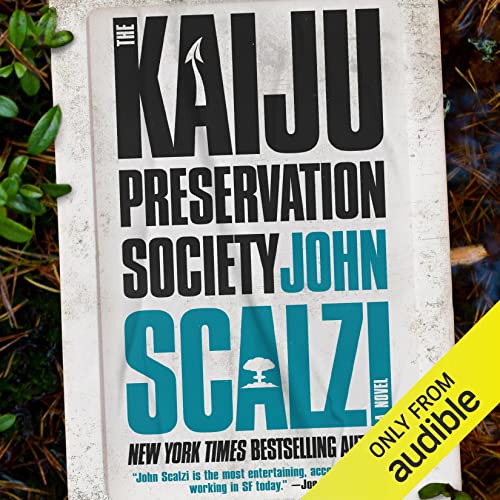 The Kaiju Preservation Society
by
John Scalzi
Narrator:
Wil Wheaton
Published by
Audible
on March 15, 2022
Genres:
Science Fiction
Length:
8 hours, 2 minutes
Format:
Audiobook
Source:
Purchased
Goodreads
Amazon
, 
Audible
, 
Barnes & Noble
, 
Apple





When COVID-19 sweeps through New York City, Jamie Gray is stuck as a dead-end driver for food delivery apps. That is, until Jamie makes a delivery to an old acquaintance, Tom, who works at what he calls "an animal rights organization." Tom's team needs a last-minute grunt to handle things on their next field visit. Jamie, eager to do anything, immediately signs on.

What Tom doesn't tell Jamie is that the animals his team cares for are not here on Earth. Not our Earth, at at least. In an alternate dimension, massive dinosaur-like creatures named Kaiju roam a warm and human-free world. They're the universe's largest and most dangerous panda and they're in trouble.

It's not just the Kaiju Preservation Society whose found their way to the alternate world. Others have, too. And their carelessness could cause millions back on our Earth to die
The Kaiju Preservation Society was a really fun stand alone novel for all of us who have loved monster movies over the years.  In an earth dimension, next to the one we have, there is another track of evolution that happened leading to a world with no people and the main apex predator is basically Godzillas or would that be Godzilli.
"You have no idea how difficult it was for me to not say, 'Welcome to Jurassic Park!' to all of you just now."
Jamie Gray was up and coming at a food delivery start-up in competition with uber right at the onset of covid.  But with covid his life changed along with the others around him.  Stuck as a delivery driver, he runs into someone from college who gives him an interesting opportunity.  Jamie didn't realize how interesting it was until he basically walks through a portal to an alternate dimension and is part of a group trying to make sure the Kaiju stay in their dimension and not accidentally end up in ours again.
I had a lot of fun with this book.  John Scalzi and my views on Covid and few other things definitely did not align with each other, except for how many ridiculous side affects you can get from vaccinations.  But that said, it was only a small portion of the book and he did try to make a lot of that lighthearted.  Once Jamie and team got to the new dimension I was hooked.  I loved the idea of Kaiju biology and why they could have crossed dimensions accidentally.  They themselves are like a huge ecosystem with parasites that are huge and terrifying but live in symbiosis with the Godzilla-like creatures.  The world and everything in it was a sci-fi nerds dream really.
Scalzi does friend dialogue very well too.  It is witty and lite and fun with little jokes and nudges for his readers.  But it also feels like when I hang out with some longtime friends and we goad and tease each other.
"You just got enough radiation passing through your body to spontaneously turn into a tumor," Niamh said.
"I'm pretty sure it doesn't work like that," Kahurangi replied.
"That's just what a person who has spontaneously turned into a tumor would say."
Kahurangi turned to Aparna. "You're the biologist here. Help me."
"I'm not saying you are a sentient tumor," Aparna said. "But I would have to run some tests to be sure."
Kahurangi pointed at me. "Jamie was in the same helicopter!
Where are the tumor accusations there?"
"I am definitely mostly tumor at this point," I admitted.
"I thought we were friends," Kahurangi said, narrowing his eyes
at me.
"Tumors have no friends," I replied."
I was impressed by the world, the plot, the monsters and the fun!  Sure there is a plot going on and billionaires with weapons contracts are trying to figure out how to start another world war or something like that but the real fun was in learning about the Kaiju, the huge other creatures on this version of earth and dimensional travel in general. The other plot stuff was just a bonus.  If you haven't red any of Scalzi's work before it is a great standalone to try out.
Narration:
Wil Weaton is the narrator for this story and it is a perfect fit for him.  He does a great job with the delivery of the story and some of craziness in it.  Plus I think you can tell he is having a great time narrating this story which made it even more fun.  Wil is an accomplished narrator and was able to bring the characters in the book to life for me.  I was able to listen at my usual 1.5x speed.
Listen to a clip: HERE
Rating Breakdown
Plot
Writing
Characters
Dialogue
Narration (Audio)
Overall:
Related Posts