Review copy was received from NetGalley. This does not affect my opinion of the book or the content of my review.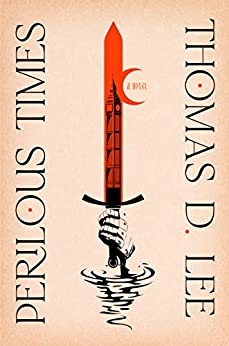 Perilous Times
by
Thomas D. Lee
Published by
Ballantine
on May 23, 2023
Genres:
Fantasy
Pages:
496
Format:
eARC
Source:
NetGalley
Goodreads
Amazon
, 
Audible
, 
Audiobook
, 
Barnes & Noble



An immortal Knight of the Round Table faces his greatest challenge yet—saving the politically polarized, rapidly warming world from itself—in this slyly funny contemporary take on Arthurian legend.

Legends don't always live up to reality.

Being reborn as an immortal defender of the realm gets awfully tiring over the years—or at least that's what Sir Kay's thinking as he claws his way up from beneath the earth yet again.

Kay once rode alongside his brother, King Arthur, as a Knight of the Round Table. Since then, he has fought at Hastings and at Waterloo and in both World Wars. But now he finds himself in a strange new world where oceans have risen, the army's been privatized, and half of Britain's been sold to foreign powers. The dragon that's running amok—that he can handle. The rest? He's not so sure.

Mariam's spent her life fighting what's wrong with her country. But she's just one ordinary person, up against a hopelessly broken system. So when she meets Kay, she dares to hope that the world has finally found the savior it needs.

Yet as the two travel through this bizarre and dangerous land, they discover that a magical plot of apocalyptic proportions is underway. And Kay's too busy hunting dragons—and exchanging blows with his old enemy Lancelot—to figure out what to do about it.

In perilous times like these, the realm doesn't just need a knight. It needs a true leader.

Luckily, Excalibur lies within reach.

But who will be fit to wield it?
Perilous Times is a debut novel by Thomas D. Lee.  What it should have been, was an Arthurian tale set in modern day, fighting dragons and magic.  What it was, is a SJW (social justice warrior) blend of one of the most iconic lore's known with climate activism and the new everything is racist movement.  Which is not my forte at all.
The premise is great.  Some of the knights of the round table entered into a pact to be essentially immortal and resurrect when needed to help protect England.  There have been times in history that they have been called upon when needed, WWII being the last time.  It is not all of the Knights but Lancelot and Kay (a black Knight) are a few whose trees are still alive to keep them here.
I was so intrigued the first part of the book when Kay is waking from the earth and knows that means Britain needs him how.  Getting a handle on how the world has changed from the way it was last time he slept.  And then there is an explosion and a dragon appears into this world.
He knows all too well that dragons are not real creatures.  They are manifestations of magic, entities from a different realm. Bursting through from the Otherworld in a monstrous form.  They don't usually appear for no reason.  Usually they need a bit of help, from this side of the veil.
I was ready for a modern day fantasy where we are off to slay the dragon and figure out who on this side of the veil set it loose and why.  But alas that was not the gist of the story as it was also filled with so much climate activism, brief meat shaming, some animal deaths (never my favorite), transgender and cookie cutter characters, white fragility and reverse racism bs.
There are moments that are pretty funny in the book.  But, for me because of the issues mentioned above I never really got into the story and this was by far my most difficult book to complete in a few years.  But if you are a fan of all the above mentioned items and an SJW, then those things would probably attract you to this story instead of detracting like it did for me.
That was always one of the perks of being in Arthur's warband.  You'd blunder into the forest and you'd happen upon a talking raven who could tell you where to find what you were questing for. 
Rating Breakdown
Plot
Writing
Characters
Dialogue
Overall:
Related Posts