Review copy was received from NetGalley. This does not affect my opinion of the book or the content of my review.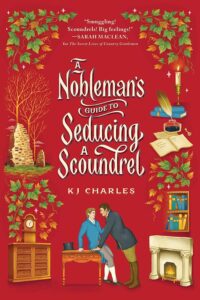 The Secret Lives of Country Gentlemen
by
KJ Charles
Series:
The Doomsday Books #2
Published by
Sourcebooks Casablanca
on September 19, 2023
Genres:
Historical Romance
Pages:
336
Format:
eARC
Source:
NetGalley
Goodreads
Amazon
, 
Audible
, 
Libro.fm
, 
Barnes & Noble
, 
Apple





Major Rufus d'Aumesty has unexpectedly become the Earl of Oxney, master of a remote Norman manor on the edge of the infamous Romney Marsh. There he's beset on all sides, his position contested both by his greedy uncle and by Luke Doomsday, son of a notorious smuggling clan.

The earl and the smuggler should be natural enemies, but cocksure, enragingly competent Luke is a trained secretary and expert schemer—exactly the sort of man Rufus needs by his side. Before long, Luke becomes an unexpected ally...and the lover Rufus had never hoped to find.

But Luke came to Stone Manor with an ulterior motive, one he's desperate to keep hidden even from the lord he can't resist. As the lies accumulate and family secrets threaten to destroy everything they hold dear, master and man find themselves forced to decide whose side they're really on...and what they're willing to do for love.
We return to the Romney Marsh thirteen years after the events of book one, The Secret Lives of Country Gentlemen, when the scamp, Luke Doomsday, is all grown up.
While I think A Nobleman's Guide to Seducing a Scoundrel turned out to be a great follow up story, even tying up one glinting plot intrigue leftover, I do think this one could be read out of order.  KJ Charles gives enough backstory that a new reader wouldn't be lost when this book references older events particularly related to Luke and the situation on the marsh.
Luke's story was a welcome surprise.  I didn't bother to look at the blurb before I jumped in so I didn't realize how this one would fit with the previous book.  It was wholly separate in ways, but there are also brief look-ins with the people of the marsh particularly Sir Gareth and Joss from the previous books.
Nobleman's Guide takes a step back from the smuggling and natural world of the Kentish marsh to focus largely on the d'Aumesty household and Stone House, the estate home.  For those familiar with Georgette Heyer's The Unknown Ajax, that is a very similar plot.
Rufus inherited the title as the son of the outcast second son with his Uncle Conrad, the third son, always assuming he'd slip into the title since the closer heirs had passed already.  The bitter disappointment leads to a rather acrimonious household aimed at poor Rufus who is not only the new earl, after months of court battles to prove he is indeed the rightful earl, but is unfortunate to have a common mother.  He's also struggling with a reading disability that hinders him now with estate paperwork, but he learned to shift around when fighting as a valiant officer in the Napoleonic War.
Luke comes along with his own agenda for wanting to be on the inside at Stone House, but it isn't long before he's conflicted.  He truly likes and is attracted to Rufus who is doing his best by the estate workers and the estate in the face of his family's opposition and his household staff ranged against him.  Luke is a skilled nobleman's secretary and dives in to help Rufus get sorted.  And, Rufus is as honest and true as the day is long.  He doesn't mess around and lets Luke right inside his big, gruff heart.  He stands by him even when others are wary of having an infamous Doomsday in the house and treated with confidence.
Luke has a personal battle waging inside him.  He knows that if he is successful at his scheme then Rufus is likely to feel betrayed and hurt, though Luke tells himself that Rufus will get over it and move on, and with Luke's help, all the better for the earldom.  Sir Gareth, the closest person Luke has to a father challenges him whether his scheme is worth the fallout and the part of Luke that hasn't gotten over his abusive childhood is determined to see it through.  The conflict is more internal than suspenseful and loaded with action like the first book.  That said, things get pretty intense.
This second book was as strong and engaging as book one- more so in some ways.  I couldn't put it down and loved Rufus and Luke so hard that I had to keep flipping pages to see what came next.  I love the blend of well-developed historical backdrop, romance, and the vein of suspense running through the story.  This could be the end as it seemed to wrap things up.  Those who enjoy some spice, intrigue, and gay historical romance shouldn't pass these up.
Related Posts