Review copy was received from NetGalley. This does not affect my opinion of the book or the content of my review.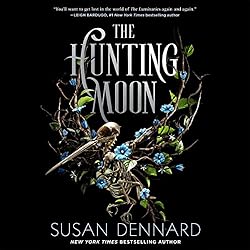 The Hunting Moon
by
Susan Dennard
Narrator:
Caitlin Davies
Series:
The Luminaries #2
Published by
MacMillan Audio
on November 7, 2023
Genres:
Young Adult
,
Urban Fantasy
Length:
9 hours, 52 minute
Format:
Audiobook
Source:
NetGalley
Goodreads
Amazon
, 
Audible
, 
Libro.fm
, 
Barnes & Noble
, 
Apple





Winnie Wednesday has gotten everything she thought she wanted. She passed the deadly hunter trials, her family has been welcomed back into the Luminaries, and overnight, she has become a local celebrity.

The Girl Who Jumped. The Girl Who Got Bitten.

Unfortunately, it all feels wrong. For one, nobody will believe her about the new nightmare called the Whisperer that's killing hunters each night. Everyone blames the werewolf, even though Winnie is certain the wolf is innocent.

On top of that, following her dad's convoluted clues about the Dianas, their magic, and what happened in Hemlock Falls four years ago is leaving her with more questions than answers.

Then to complicate it all, there is still only one person who can help her: Jay Friday, the boy with plenty of problems all his own.
The Hunting Moon is the second book of The Luminaries series, following one of the Luminaries on her journey to restore her family name and not get killed in a Forrest full of magical creatures her family has been fighting for generations.
Winnie Wednesday is an expert at not doing what is expected of her and finding trouble at every corner.  She and Jay Friday were the best of friends as kids but had a falling out when Winnie's family was excommunicated for something her father was accused of.  But what if he was innocent?  What if everything the Hunters of the Luminaries thinks is true, just isn't.  Winnie was outcast long enough to question everything and wonder if what everyone assumes is true about the Luminaries (the good guys), the Diana's (the bad guys) and the Woods of Hemlock Falls is right.
You either trust the Forrest of you don't. 
In this second book of the series, we get deeper dive into what it means to be a Luminary and some of the history.  We also get to see some Diana's in action so we understand how they are a bit different than everyone Winnie Wednesday grew up with.  There is a lot of focus on trying to find the wolf that everyone believes is responsible for recent deaths of hunters in the woods.  Winnie, knows the wolf isn't responsible; she is sure there is something else going on and she seems to be only one that ever sees it.  There is also some lovely longing and teenage romance blooming but it plays a slight back seat to everything else happening.  Also if you were paying attention in the first book you will already know who the wolf is and probably at least one of the Dianas.  But, the slow tease out of information is fun and I enjoyed spending time in Winnie's head as she tries to juggle the responsibility of saving her family's name and trying to be a normal teenager.
This is a fun YA series.  The Hunting Moon did suffer from a few slow pacing issues at the beginning of the book.  But once the action starts happening it is a good time and didn't really seem to slow much after that.  Winnie is an actual teenager; she never seems like she is really 20 which I've found some other YA books to suffer from.  There is enough mystery that I really can't wait to find out what is going on in Hemlock Falls and with the addition of a few characters in the book I think we will get some great answers later in the series.
Narration:
Caitlin Davies is an accomplished narrator of over 250 titles and well known to me as she has narrated some of my favorite YA UF novels.  She is fantastic as capturing the voice of a younger PoV and her narration performances for those characters are wonderful.  I have completely enjoyed other series by her and was not let down in this performance.  I was able to listen at my usual 1.5x speed.
Listen to a clip:  HERE
Rating Breakdown
Plot
Writing
Characters
Dialogue
Narration (Audio)
Overall:
Related Posts