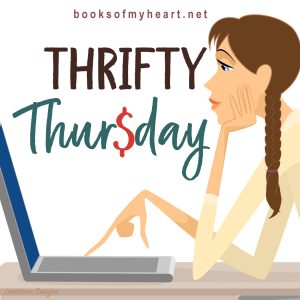 The purpose of Thrifty Thursday is to read a book which was free (at some point).
Kindle freebie on October 14, 2014  (currently $.99 at Amazon and Barnes & Noble as of writing this post)
Overall rating 4.04 with 20,483 ratings and 1,744 reviews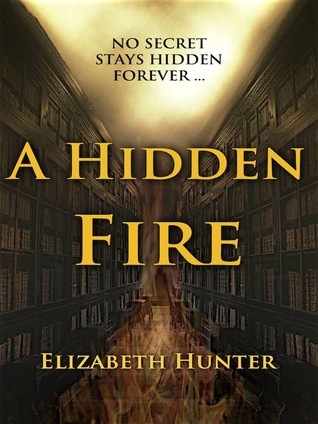 A Hidden Fire
by
Elizabeth Hunter
Series:
Elemental Mysteries #1
Published by
Self-Published
on October 18, 2011
Genres:
Urban Fantasy
Pages:
320
Format:
eBook
Source:
Purchased
Goodreads
Amazon
, 
Audible
, 
Audiobook
, 
Barnes & Noble






A phone call from an old friend sets Dr. Giovanni Vecchio back on the path of a mystery he'd abandoned years before. He never expected a young librarian could hold the key to the search, nor could he have expected the danger she would attract. Now he and Beatrice De Novo will follow a twisted maze that leads from the archives of a university library, through the fires of Renaissance Florence, and toward a confrontation they never could have predicted.
ICYMI is a post from my early days of blogging at Yummy Men & KickAss Chicks.  A Hidden Fire is the first in the original series by Elizabeth Hunter who is one of my favorite urban fantasy authors.  It is not to be missed  You can see the original review here
---
A Hidden Fire is the first book in the Elemental Mysteries series by Elizabeth Hunter. I have read and loved all of her newer series and have had this in mind to read for a long time. I don't know why this series took me so long to read. I am so excited it is free now so I could review it for Thrifty Thursday!!!
Elizabeth Hunter does an amazing job with her characters and world building. It is never boring or overwhelming. This is a fresh, new world of vampires. The story is set within libraries and has historical aspects.
B is smart and a bit geeky. She is working at a library, living with her grandmother since her parents are dead. She is very likeable and honest with herself. You won't have any of the too stupid to live going on with her – thank you very much.
Gio is a vampire. He "works" in research, locating old books and documents. He meets B at the library where her job is handling special collections. Over a period of time, they end up learning more about each other and she goes to work for him personally doing research for him.
I like the way their connection builds as they start to share more with each other and become closer. This author is excellent at romance as well as the writing itself. That's really the basis for why this book didn't get 5 stars from me. It doesn't have quite enough romance for me and the accompanying banter. I also like a bit more humor. The author claims this is a paranormal romance but I would classify this as urban fantasy.
I do enjoy the friends and family of Gio and B. They are interesting and fun, adding much to the story. They are not flat characters; they are very well developed. Caspar is Gio's human, sort of day person / butler. Isadora is B's grandmother, who has a circle of friends as well. There are B's co-workers at the library. There are also other vampires who are Gio's friends, family and foes.
The mysteries are fascinating. It's multi-faceted. The world is building and we are learning about vampires as we go along. There are the book and document research and discovery. And the overall mystery of the series with vampires and families and the power struggles.
I don't like the ending, mostly because I can't sit down and read the next book this minute! So as urban fantasy, it's at an appropriate stopping point. But nothing is finished as far as relationships and the mysteries. I also have so much I want to know yet about the world and these characters.
I highly recommend A Hidden Fire, this series, and this author. This is the best stuff! It brings out all the emotions. The series is also available in a four book set on Kindle at a great price. I bought that after reading this first book.  *There is also spin off Elemental World series following this one*
Latest posts by Anne - Books of My Heart
(see all)
Related Posts