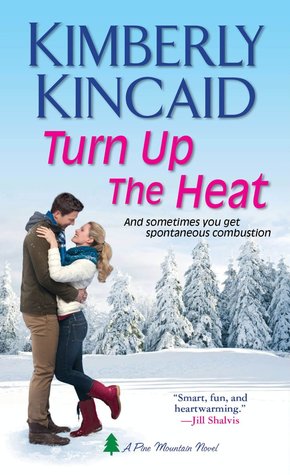 Turn Up the Heat
by
Kimberly Kincaid
Series:
Pine Mountain #1
on March 4th 2014
Genres:
Contemporary Romance
Format:
Paperback
Source:
Library
Goodreads
Amazon
, 
Audible
, 
Libro.fm




"It's not you."

There are only so many times a girl can hear those words before she believes that it is, in fact, very much her. Unexpectedly jilted by her locally famous boyfriend and haunted by a boss who makes Attila the Hun look like a lap dog, Bellamy Blake does what any self-respecting girl in her shoes would do. She rounds up her two best girlfriends and makes plans to get the hell out of Dodge.

But Bellamy's escape plan takes a nose dive on the side of rural route 164 when her transmission self-destructs, leaving her in the middle of a cell phone dead zone with nothing but her wits. Oh, and Shane Griffin, the hottest mechanic who's ever checked under her hood.

Yet this small-town man isn't all he seems. Can Shane and Bellamy prove that sometimes the most unlikely ingredients make the most deliciously sexy mix?


I saw something about this and wanted to read it. It was published about a year ago, so I wasn't really planning on reviewing it. But I really loved it.
I liked the characters. It wasn't perfect. There was a bit of stereotype and I think Bellamy and Shane were a little old to be having some of the struggles they were. It pushed believable to the edge. And they fell for each other so fast. I can believe attraction happening so quickly and even love, so this felt real, but also knowing they will have to spend some time now, building on the start of their relationship, IF this is to be somewhat realistic.
Bellamy was great, so honest with herself and others. I certainly understand parents owning a business and loving to cook, too. She had lots of change in a short time, no wonder it was emotional.
Shane tried to bottle everything up and that seemed weird. I can get him thinking people wouldn't understand but his not sharing some facts was beyond weird into what the hell! He got that chip on his shoulder and just shut everything down, even with those closest to him.
The reason I wanted to write a review after reading this is, it made me FEEL. And it was funny. I laughed out loud more than once. After reading Turn Up The Heat, I have to read on in the series, and hope to see how things continue for these two.
Giggle worthy quote:
Bellamy bit her lip, then figured she'd opened the bag, so she might as well let the cat prance right on out. " My parents have owned their own realty business since I was a little girl. They started it from the ground up, just the two of them." She prepared the food while she spoke, and Shane stepped out of her way, just giving her space to move and talk.

"So when other girls were dressing their Barbies in ball gowns, mine were bossing Ken around in board meetings…"
Latest posts by Anne - Books of My Heart
(see all)
Related Posts