Review copy was received from NetGalley. This does not affect my opinion of the book or the content of my review.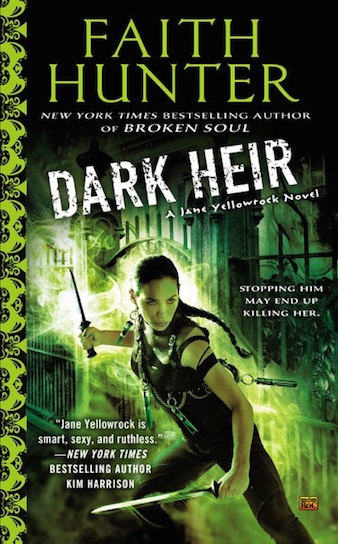 Dark Heir
by
Faith Hunter
Series:
Jane Yellowrock #9
Published by
Roc
on 4/7/2015
Genres:
Urban Fantasy
Format:
eARC
Source:
NetGalley
Goodreads
Amazon
, 
Audible
, 
Libro.fm
, 
Barnes & Noble




Shapeshifting skinwalker Jane Yellowrock is the best in the business when it comes to slaying vampires. But her latest fanged foe may be above her pay grade…

For centuries, the extremely powerful and ruthless vampire witches of the European Council have wandered the Earth, controlling governments, fostering war, creating political conflict, and often leaving absolute destruction in their wake. One of the strongest of them is set to create some havoc in the city of New Orleans, and it's definitely personal.

Jane is tasked with tracking him down. With the help of a tech wiz and an ex-Army ranger, her partners in Yellowrock Securities, she'll have to put everything on the line, and hope it's enough. Things are about to get real hard in the Big Easy.
I couldn't wait to read Dark Heir and it arrived when I was really busy so I had to actually put it down and it took over a week to read, instead of a day!  Oh the torture.
I'm so comfortable with these characters and the world now.  They feel like the dearest of friends, and enemies.  I especially enjoy the relationship which has developed with Jane and her partners, the Younger brothers.   Especially since I don't like how things are with Molly and I haven't for awhile.   This is a series which should be read in order; this would not be as much fun as a standalone book.
Now I have to say the humor, in this book, felt better than many of the previous books.  I can't say why, but I found it very amusing.  And usually it's Beast who has me chortling but Beast was not as much in the forefront here. It could be my comfort with the characters or just a juxtaposition of dark and light. Laughing so you don't cry?  A stress relief from the strong possibility of death?  Or I just love it when Jane mouths off to Leo,  the top suckhead.
The story is the one which has been building for a few books.  Sort of.  The European Mithrans are coming.  Jane needs to take down the Son of Darkness, one of the three original vampires.   This book seemed very different from some of the previous books.   There was plenty of time with the Younger brothers and trying to find the enemy.   There was more history.   I kept waiting for the battle with the Son of Darkness or the Eurpean Mithrans' attack.
Being me,  I have to mention the romance.  OMG, I'm a mess.  I was Team Ricky Bo and now I want to cut off his body parts and feed them to the enemy.  I am still not feeling Bruiser.  I realized… with SHOCK..  I am starting to crush on Leo.  LEO! WTH.  Leo is hitting me with a Trent Kalamack / Eric Northman vibe. In the early days, I hated them but admired their intelligence, beauty and power? I guess love / hate is a fine line because I really haven't liked Leo much.   I don't expect it to happen.  As an aside,  I feel the same way about Bill Compton as I do Ricky Bo.  They can go f*ck each other.
So I feel strongly about the characters and the story and isn't that what makes a good book? Dark Heir is another great book, in a series of great books.  I'm just so happy to be along for the story.
Giggle worthy quote:   
"What's the plan?" I asked.

"Well, we could go in slow and easy and hunt him down, step by step.  Or I could get a good vantage, and you could race naked through the backyard and draw him out. And then I could shoot him."

"Naked."

Eli's grin widened. "Works for me."

I almost said something snarky and then I realized he was pulling my leg. "How 'bout I keep my clothes on."

"That'll work too, but the video won't be nearly so much fun to watch later."
---
Dark Heir Excerpt
"Not bad," Jodi said. "The governor's contract is being faxed to your office now, the fee to be paid by a local man whose son is inside the bar, on the floor, the result of a hungry fanghead, one of the drained ones." Her face fell, showing for a moment the despair of dealing with the grief and anger of the populace, while at the same time having to be professional, cool, calm, and able to protect and serve.
Carefully, so as not to rock the precarious emotional Jodi was preserving, I said, "Just to clarify, Yellowrock Securities doesn't take orders from the donor, or any state or federal law enforcement agency. I'll be working under contract to the Mithran Council, but under the direct command of the governor." Jodi's lips tightened as if she was about to disagree and I rushed ahead. "But I will keep you, personally, in the loop. We provide each other intel and backup as needed. Agreed?"
Some of her strain eased. "You're not going to make me pinkie swear in front of the press, are you?" she asked.
"No. You're not gonna make me talk, are you?"
"Yes." She grabbed my right arm and pulled me toward the stairs. "Come on. It's time." I managed not to hiss in pain and, with my good fingers, peeled her grip free as we walked. Jodi didn't notice my discomfort. But . . . I'm gonna have to talk? To the press? My heart rate sped.[su_spacer]
---
Tour stops:
3/23: Theresa M. Cole (Q&A & excerpt #1)
3/24: I Smell Sheep (excerpt #2), Literal Addiction (guest post #1 & review)
3/25: Enchanted Alley (review & excerpt #3)
3/26: Mad Hatter Reads (review & excerpt #4)
3/27: Paranormal Cravings (review & excerpt #5), Paranormal Haven (guest post #2)
3/28: The Urban Paranormal Book Blog (review & Q&A)
3/30: Team Tynga's Reviews (guest post #3 & review), Vampire Book Club (excerpt #6)
3/31: Bad Bird Reads (review & Q&A)
4/1: Fiona Skye (review & excerpt #7)
4/2: Urban Fantasy Investigations (guest post #4, review, excerpt #8)
4/3: The Qwillery (review & excerpt #9)
4/5: In the Pages of a Good Book (guest post #5 & excerpt #10)
4/6: drey's library (guest post #6 & review)
4/7: The Book Nympho (review & excerpt #11), Under the Covers Book Blog (guest post #7)
4/8: That's What I'm Talking About (review & excerpt #12)
4/9: Bea's Book Nook (review & excerpt #13)
4/10: Gizmo's Reviews (review & excerpt #14)
Latest posts by Anne - Books of My Heart
(see all)
Related Posts