Review copy was received from Publisher. This does not affect my opinion of the book or the content of my review.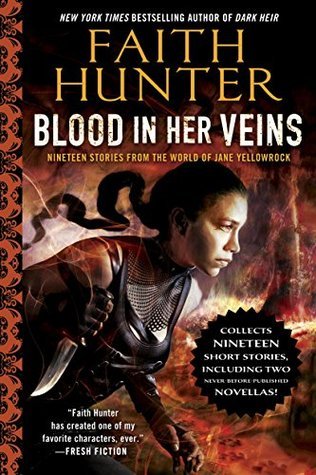 Blood in Her Veins
by
Faith Hunter
Series:
Jane Yellowrock
Published by
Roc
on February 2nd 2016
Genres:
Urban Fantasy
Format:
eARC
Source:
Publisher
Goodreads
Amazon
, 
Audiobook




In this must-have collection of stories, experience nineteen thrilling adventures from the world of vampire-hunter Jane Yellowrock, including many fan favorites and two all-new novellas. Read about the first time Jane put the pedal to the metal in "The Early Years," and the last thing a werewolf will ever see as Jane delivers justice in "Beneath a Bloody Moon." Get a searing look into the pasts of some of the series' best-loved characters: Beast in "WeSa and the Lumber King," Rick LaFleur in "Cat Tats," and Molly Everhart Trueblood in "Haints."

In the brand-new "Cat Fight," the witches and vampires of Bayou, Oiseau, are at war over a magical talisman—and Jane must figure out how to keep the mysterious artifact out of the covetous hands of the Master of New Orleans. And in the never-before-published "Bound No More," Jane welcomes a visit from Molly and her daughter, Angie, who is about to prove she's the most powerful witch in Everhart history....

From the Big Easy to the bad bayou, from the open road to a vampire's lair—with Jane Yellowrock, it's always a given: have stakes, will travel.
I love the concept of having a book of all the short stories in the series. All together in chronological order! I read the Jane Yellowrock series initially last year (early in 2015) for the first time after Jessica from Rabid Reads recommended it to me.  I loved it.  Being OCD, I read everything in order and the short stories were in different books and not in order at all.  So I applaud this book of shorts.
However, is this all the short stories or will there need to be an additional volume or updated volume with future stories?   Perhaps there could be a new edition when the series is complete?
Short stories are VERY important to series. They allow the author to further develop some concepts or characters which the engaged reader (ME) really appreciates, while not boring the casual reader who only reads the main books, with more details.  In this case, though, there are not only nuances that would be missed, but there are a couple of more major things, which really bothers me conceptually. I'll read everything so it won't affect me.
The two new tales are long, taking up a good 25% of the material. That just sweetens the pot.  I really loved this. I thought I could just skim the stories I had already read and couldn't because I got so engrossed in them.  I did a few sorta reviews below but these are shorts so much more would be spoilers.   If you are a fan of the series, and reading this whole series,  you MUST read Blood in Her Veins and its stories interwoven with the main books. Highly recommended.
Stories in order chronology and in Blood in her Veins:
(I wanted and couldn't find this table of contents anywhere except in the actual arc, so I wrote it down for myself and for you)
WeSa and the Lumber King (also in Have Stakes Will Travel)
The Early Years  (also in Cat Tales)
Snafu (Audible short with Black Water)
Cat Tats (also in Cat Tales)
Kits (also in Cat Tales)
Haints (also in Have Stakes Will Travel)
Signatures of the Dead (also in Have Stakes Will Travel and anthology Strange Brew))
First Sight (Jane Yellowrock Companion)
Blood, Fangs and Going Furry  (also in Cat Tales)
Dance Master (Jane Yellowrock Companion)
Golden Delicious (anthology An Apple for the Creature)
Cajon with Fangs  (also in Have Stakes Will Travel)
The Devil's Left Boot (anthology  Kicking It)
Beneath a Bloody Moon (Jane Yellowrock Companion Guide)
Black Water (Audible short)
Off the Grid (Audible short with Black Water)
Not All Is as It Seems
Cat Fight
Bound No More
Cat Tales ( 3.5)     4 stars
Early Years, Cat Tats, Kits,  Blood Fangs and Going Furry
For the most part, I liked these stories. I especially enjoyed Cat Tats and Blood, Fangs and Going Furry because they gave me more about Rick. At the time I first read these, I was team Rick, so to speak, altho he has some work to do on himself. Hopefully, the fact he chose Cat Tats WILL impact his future. It seems like that's true so far as I have read.   
Upon reading them recently I further appreciated Early Years and the very beginnings of Jane.   I still enjoyed reading about Rick but …#$*#$.
Have Stakes, Will Travel (4.5) 4 stars   
WeSa and the Lumber King, Haints, Signatures of the Dead, Cajuns with Fangs
The first story here is a Beast story, and I can't say it did much for me.  I love Beast but perhaps it was much of her in one fell swoop. Intermixed with Jane is more interesting.
The next two are history of working with Molly and the vampire take-down which set Jane up in business.   I love the dimensions of the characters in these two stories and the relationship building of Jane and Molly.  This is important to the overall character development and storyline with such strong secondary characters.  Haints and Signatures of the Dead meant even more to me on my recent reading and I would rate them at 4.5 stars.  
The final story, Cajun with Fangs, is set between Raven's Curse and Death's Rival.    Jane is getting into a centuries old fight between vamps and witches in a small bayou town.  At this point, she is still a rogue-hunter but she is definitely working with the "suckheads."  LOL.
The Devil's Left Boot (6.1)      4 stars
This is the story of two of the Everhart sisters, twins and witches.  It follows book 6  Blood Trade where they lose their sister.  This is one of the reasons I love novellas.  They allow the author to give us more about side characters, more depth and it builds the connections I have to the world and the relationships between characters.  It's like the weave in cloth going from a coarser weave to finer weave, less holes.   Jane comes in at the end of the story to do her thing – hunt vampires.  The collaboration with the Everhart sisters and Jane feels good.
Jane Yellowrock Companion 4 stars
I barely looked at some of the beginning stuff focusing on the short stories. There were two stories,  First Sight with a Bruiser point of view, which was interesting, he does like and respect Jane. But he is under Leo's control.

The last one, Beneath a Bloody Moon, which in time follows Black Water, really helped flesh out that book. It also gave us more Rick and Jane. Rick certainly is feeling some woe is me. He feels as though he has lost everything and going with Psyled is his only possible usefulness right now. He certainly doesn't bother to treat Jane well.


Off the Grid 4 stars
This takes place after Broken Soul and is particularly important as it introduces us to Nell.  Nell will have her own series beginning in August 2016.  
Not All Is As It Seems 4 stars
This is also after Broken Soul and I had not read it previously.  These short stories bring Jane back to spend time with Molly and her family.  Angie Baby is getting more of a part of things over time too.
Cat Fight 4 stars
This is one of the new stories and it has all the comfort of well-loved characters with an interesting new mystery. It gives us further insight into the characters. The location and secondary characters are introduced in a previous short, Cajun With Fangs .    And we learn more about Edmund.
Bound No More 4.5 stars
The second new story and it has Angie Baby! As a meeting with the witches and vampires in New Orleans draws near, Molly and Angie Baby are staying at Jane's home.  They have a chance to spend time with each other and work together again. I hope they are repairing their issues but I am still kind of mad at Molly.  Molly has had some bad things happen but she has a husband and family to comfort her and help her. Jane had no one until the Youngers other than Molly. I am so glad the Youngers are part of Yellowrock Security.
GIVEAWAY
Faith Hunter has a $25 Starbucks gift card for ONE commenter who comments on all the blogs who're hosting the story parts (i.e. guest post stops). Blog tour schedule is
here
.
Latest posts by Anne - Books of My Heart
(see all)
Related Posts