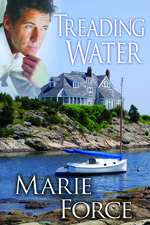 Treading Water
by
Marie Force
Series:
Treading Water #1
on October 25th 2011
Genres:
Contemporary Romance
Format:
eBook
Source:
Purchased
Goodreads
Amazon



Love is the last thing on Jack Harrington's mind when he sets out to meet Andi Walsh's flight. Recently back to work after spending more than a year tending to his comatose wife, Jack is focused on getting through each day and caring for his three daughters. However, the moment he sets eyes on Andrea Walsh, the interior designer who has come to decorate the hotel his company is building in Newport, Rhode Island, Jack begins to wonder if Andi might be his second chance. After a disastrous marriage, Andi, single mom to a hearing-impaired son, isn't exactly looking for love, either, but that's what she finds with Jack. The two embark on a long-distance relationship fraught with challenges as they balance the needs of their children and dueling careers while Jack continues to care for his wife, Clare. Just when Jack thinks his life is once again settled, he is confronted with a new challenge that tests him in ways he never could've imagined, leaving him to wonder if "happily ever after" is in the cards for him.
The purpose of Thrifty Thursday is to pick a book which was free (at some point).

Free on Kindle on June 25, 2013
Currently it is $ 3.99 on Amazon, Nook, and Kobo.
I really enjoy some of Marie Force's other series, so I thought I would try this one.  Overall the book didn't work for me, as I suspected from the beginning what would happen.  I didn't really connect with the characters other than the children. I cared a lot about the children – Eric, Jill, Kate and Maggie.
Jamie and Frannie were a fun couple and I loved their story.  They felt real to me.  They were amazing and supportive to Jack and his family, as well as Andi and Eric.
Jack and Andi, I could understand their situation but their choices were not what I could do.  I couldn't believe all the people pushing Jack forward and after such a short time overall.  It just felt wrong to me.  Also, the beginning setup, Jack is wealthy and Clare was a waitress, which pushes my buttons.  I was happy to see Andi was successful in her career and comfortable.
In Treading Water, all the problems were resolved more easily than expected also.  I actually might read on in the series, since I appreciate this author, and the next story is Clare.  I connected with her in the end so I want to see what is next for her. I also hope to get bits of the children and Jamie and Frannie.
Latest posts by Anne - Books of My Heart
(see all)
Related Posts