Review copy was received from NetGalley. This does not affect my opinion of the book or the content of my review.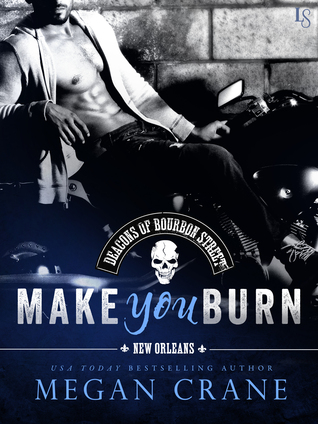 Make You Burn
by
Megan Crane
Series:
Deacons of Bourbon Street #1
on August 4th 2015
Genres:
Contemporary Romance
Format:
eBook
Goodreads
Amazon



Meet the Deacons of Bourbon Street, bad boy bikers who are hell on wheels—and heaven between the sheets. Megan Crane revs up an irresistible new series co-written with Rachael Johns, Jackie Ashenden, and Maisey Yates.

Sean "Ajax" Harding's oaths are inked into his skin. Once second-in-command of the Deacons of Bourbon Street motorcycle club, he left New Orleans to protect the brotherhood, and only the death of his beloved mentor, Priest Lombard, could lure him back. Walking into the old hangout gives him a familiar thrill—especially when he gets an eyeful of the bar's delectable new owner. A wild ride with her is just the welcome Ajax needs. Then he realizes that she's Priest's daughter, all grown up and totally off limits.

Sophie Lombard loved her father, not his lifestyle. She's done with bikers . . . until Ajax roars into town—arrogant, tough, and sexy as ever. And although he treats her like the Catholic schoolgirl he once knew, Sophie's daydreams tend to revolve around sin. With the very real possibility of heartbreak looming, Sophie knows better than to get too close to an outlaw. But every touch from Ajax is steamier than the Louisiana bayou—and heat like this may just be worth getting burned.
I have been excited to get into this genre because I am a Harley rider, a 2009 Dyna Super Glide. I have done some long distance traveling.  In 2014,  I rode 17,000 miles in 29 states.  Sadly, I won't ride as much this year.
I read one book  from another  motorcycle series book last summer and didn't really love it.  It was very violent, very dark and quite graphic.
Make You Burn  is more of a sexy, on the edge book.  It doesn't really give hardly any details of the club. This is more of an erotic romance between an exiled member of the club and the club president's daughter. There is only limited plot other than this, limited action or mystery.  In a sense, these are the loose ends to learn more about the club, and the mysteries, as the series unfolds.
It might be because it wasn't what I was expecting, but I didn't enjoy it much.  Ajax was an alpha hole, as they say, and other than being handsome and powerful, wasn't attractive to me. An alpha man whore needs to show more intelligence or humor to interest me. I didn't get enough here.  Sophie is more relatable and likable.  I feel as though all the characters could have had more depth.  I could understand the attraction but I didn't feel it.
If I read further in the series, I might come to know the characters better and learn more about some of the questions I had when this story ended.  I would also hope to get a lot more information on the club and questions I had and just MORE, by reading future installments.   If you prefer erotic romance with an alpha guy, rather than romantic suspense or mystery (less plot more sex),  you may enjoy this book.
5 Pictures of Charlie Hunnam that Inspired the Writing of Make You Burn
This is the first picture I ever saw of him.  It inspired me to become a very, very serious fan.  Of his work. 😉
I immersed myself in Sons of Anarchy, as you do.  Complete, all-out binge of the first four seasons, then the rest as they came out.  That can get into a writer's brain.  I knew I wanted to write a biker book.
When I had the opportunity to write Make You Burn, I jumped at it!  A man so beautiful people sometimes fail to notice how dangerous he is?  I loved the idea.  And I had a lot of inspiration.
My character Ajax (so named because if you step to him, he'll clean the floor with you), it turns out, has a whole lot of swagger.  It's central to who he is and his role in the Deacons of Bourbon Street MC.
And I found that the things that make Ajax such a fierce biker make him a pretty phenomenal lover, too.  Lucky Sophie, who wins his heart.  She finds him maddening—but she can't quite resist him, either.  Can you?
The demon incarnate laughed.
He lounged there at her bar like it was his, far too beautiful and much too dangerous, like he was still her father's favorite weapon and it was still ten years ago, when that might have mattered.
And he laughed.
Like Sophie was still a little girl, beholden to the lawless whims and half-assed schemes of men like him, battered and rough and wild straight through, unfit for society and unwilling to change even a goddamned inch. No matter who it hurt.
He was just like her father. But her father was dead and Ajax didn't belong here. Not anymore.
Her father. Grief and loss and that familiar, hopeless fury lashed at her like the business edge of a Louisiana rainstorm, but she beat it back. Not here. Not now.
Lombards kept their tears to themselves. No matter what that cost them. And it didn't matter that Sophie was tired of paying that particular tax, too. She was still a Lombard. Her father had depended on her. The more he'd retreated into his back room office these last few years, the more he'd left the bar and everything else in her hands, the more she'd showed him she could live up to his notion of what it meant to be a Lombard even if she hadn't been a member of his club of assholes and degenerates.
She'd been more than that. She'd been his blood.
I'll always take care of you, he'd told her a million times, especially when he'd been drunk. You're my blood, angel.
Sophie thought that meant more than a gang tattoo and a few Harleys. It had to her. She kept telling herself it had to him, too.
But then Ajax stopped laughing, and that was worse.
"You should mind your fucking manners, Sophie," he said, quietly. Much too quietly.
To someone who didn't know him, he probably sounded about as friendly as a huge, built, flint-eyed guy with that many tattoos and that particular way of carrying himself—like a threat on a very short leash—could sound.
Sophie knew better, and not only because she could see the impossible blue of his eyes.
"Or what?" she asked, making herself sound as bored as possible.
Behind the bar, poor Danielle was staring at her as if Sophie had lost her mind. Maybe she had. Maybe that was what this thing inside of her was.
It had started when the police had turned up yesterday to tell her the news. That finally, impossibly, Theodore "Priest" Lombard, legendary president of the Deacons of Bourbon Street motorcycle club and Sophie's only family in the world, had taken one fast turn too many on his beloved Harley. It had fused into the crazy urge she'd had to wander the Quarter dressed like this, hiding her grief and her loss and her urge to lie down in the fetal position somewhere and never get up again in plain, gold pastie-ed sight.
And then Ajax had rolled into the Priory like he'd never been away. The gritty old bar was the only thing she had left of her father and the only thing that was really hers anyway after all these years of running it by herself. And here came Ajax with all of that old biker shit clinging to that ruthless body of his and so much like her father it hurt Sophie to look at him—and that thing inside her had simply . . . imploded.
If she stopped running her mouth, she didn't know what would become of her.
Maybe she'd die, too.
She could feel Ajax's gaze on her like a touch, a little bit dirty and very, very thorough, and she was fiercely glad she was practically naked. Men were simple and bikers were even more elemental than that. He'd be a lot more likely to look at her exposed skin than the pulse she could feel doing backflips and assorted acrobatics in her neck and her wrists and deep between her legs. It would give her away in an instant if he could jerk his attention away from her tits, but why would a guy like Ajax do a thing like that?
But even as she thought that, his gaze was on hers again. Hard and shrewd, and she felt a little chill of something too much like foreboding creep down her exposed spine.
"Or I might lose my patience with you, little girl. You want to see what happens then, say the word."
She'd lost her father and she'd loved that man, for all that he'd been infuriating, hypocritical, secretive, and wholly incapable of grasping that she was a grown woman who didn't need his permission to do as she pleased. It was beside the point that she'd wanted his approval anyway. That she'd tried to take the place of all his lost brothers over the years, as if running this bar better than he ever had could bridge that gap. Still, she'd thought she'd done it. He'd even thanked her, in his typically gruff way. This place would sink without you, he'd told her, one whiskey-infused evening when he'd been feeling uncharacteristically emotional. Maybe I would, too.
And it had been one thing to put up with biker caveman bullshit from the man who'd raised her all on his own. She wasn't taking it from anyone else. Not even if the anyone else in question looked like her hottest fantasies made flesh and sent straight to the French Quarter to test her resolve.
But that was between her and her vibrator.
"And that means what, exactly?" she asked Ajax, not bothering to hide her disdain. Or maybe that was her temper. It was hard to tell the difference today, or separate that out from the grief for her father like a live wire burning hot in her belly besides. "You going to shout a lot and act real scary and then run away from home for ten years? Oh, wait. You already did that."
---
One Loveswept Mug
One Flirt Mug
Ebook copies of:
JUST A LITTLE CRUSH by Renita Pizzitola
CRUSHED by Lauren Layne
AGAINST THE CAGE by Sidney Halston
POSSESS by Laura Marie Altom
AFTER MIDNIGHT by Kathy Clark
MAKE YOU BURN by Megan Crane
MY HIGHLAND LOVER by Maeve Greyson
BREAKING NOAH by Missy Johnson and Ashley Suzanne
A FASHIONABLE INDULGENCE by K.J. Charles
FORBIDDEN by Jacquelyn Frank
Latest posts by Anne - Books of My Heart
(see all)
Related Posts