Review copy was received from Publisher. This does not affect my opinion of the book or the content of my review.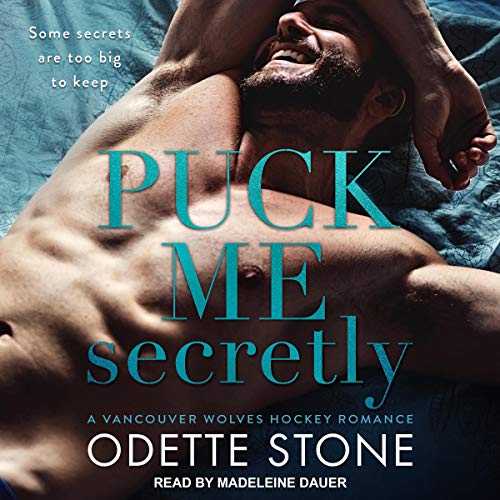 Puck Me Secretly
by
Odette Stone
Narrator:
Madeleine Dauer
Series:
Vancouver Wolves Hockey Romance #1
Published by
Tantor Audio
on May 21, 2019
Genres:
Contemporary Romance
Length:
9 hours, 59 minutes
Format:
Audiobook
Goodreads
Amazon
, 
Audible
, 
Audiobook




I've never been in love.

I've never had an orgasm, but I've faked plenty.

I want to experience love. Real, passionate love.

I don't want to die.

It's funny what blurts out of your mouth when the plane you're on is going down, and I didn't hold back with my seat mate when my plane decided to crash.

My hysterical confessions didn't faze the muscular stranger that sat beside me. In fact, he promised if we survived, he'd give me my first orgasm.

We survived.

I came.

And then he left without telling me who he was.

On the first day of my job, I stood in front of the Vancouver Wolves hockey team and called out a number. #33.

Imagine my shock when he skated forward.

Max is an incredible hockey player, whose wild, out-of-control antics have almost derailed his career. So many secrets shroud his past and continue to threaten his future.

Now he's my secret. And that secret could ruin everything.

Puck Me SECRETLY. Some secrets are too big to keep.
Puck Me Secretly is the first installment in the Vancouver Wolves series by Odette Stone.  This is my first book by this author, and I was glad I took a chance on Puck Me Secretly.  The cover alone is fantastic.  I'm not sure I'd categorize this as enemies-to-lovers as the subtitle says, but it is solidly in the sports romance arena.
Rory, an aviophobe, is headed home from college to begin an internship with her father's company when she meets Max.  He's an aloof, albeit hot, jackass who drips scorn at Rory's nervous gaffs, which had me alternating between laughing and cringing.  However, when push comes to shove (translate: the plane goes down), he shows his true colors.  They manage to cheat death, but go their separate ways once they've reached their final destination.  The miracle of fiction finds them working together, as part of the Vancouver Wolves NHL franchise.  They each struggle to navigate their positions in the organization and to understand their feelings for each other.
First off, I like sports romance to be about romance AND about the sport (which really should be implied in the name, but you'd be surprised…).  The game of hockey, team dynamics, and management of a professional franchise are part of this story, which earned it big points on my scoreboard.  The author manages to make the sports element interesting without dragging down the story with too much detail or obscuring the romantic element.
I was immediately drawn into the story by this unorthodox situation and how the chemistry between Rory and Max ignites in the wake of a life-altering experience.  As Rory states, we were "two survivors who didn't want to face the aftermath alone."
Unfortunately, the action was quickly muddled and bogged down as superfluous tropes were introduced, almost as if the author couldn't quite decided where to go with the plot.  Over-the-top villains, life-threatening illness, sabotage, and corporate power-struggles are just a few of the examples of what Rory and Max face throughout the book.   The result was a choppy story about two people fumbling through a series of unfortunate events.  I felt bounced all over the map and the essentials of Rory's and Max's shared connection was diluted.
In the end, Rory discovers what she is really looking for in a boyfriend and in her career.  Max deals with his emotional baggage and discovers that he trusts someone to see the 'real Max.'  Despite the surplus of tropes, there is a lot of potential and the some great writing.  The characters were well developed and engaging, and I found myself rooting for their HEA.  I'll definitely pursue other titles by Odette Stone.
Narration:
The narration for Puck Me Secretly was satisfactory, if a little dull.  The performance of the main characters was a little too monotone and I found that emphasis or pausing at certain parts of the sentences to be distracting.  I didn't care for the interpretation of the supporting character's voices.  I think the pacing was good, although midway through I increased the rate to 1.25x, and still found the story easy to follow.  I really appreciated that the narrator included subtle Canadian pronunciation, such as with 'out' or 'down', which fit with a Canadian main character without making it comical.
Listen to a clip: HERE
Rating Breakdown
Plot
Writing
Characters
Narration (Audio)
Overall:
Related Posts