Review copy was received from Publisher. This does not affect my opinion of the book or the content of my review.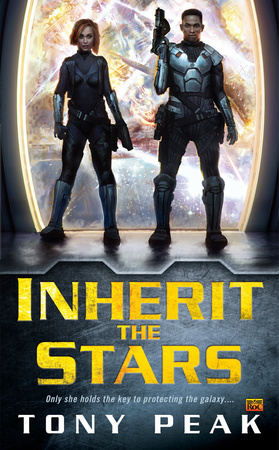 Inherit the Stars
by
Tony Peak
Published by
Roc
on November 3, 2015
Genres:
Science Fiction
,
Urban Fantasy
Source:
Publisher
Goodreads
Amazon





An epic debut set on the edges of space, where one botched job could mean death—or so much worse…

Wanderlust runs in Kivita Vondir's blood. She dreamed of salvaging like her father when she was young, and now it's her addiction, getting her through pit stops filled with cheap alcohol and cheaper companionship and distracting her from her broken heart.

Her latest contract to hunt down a fabled gemstone is exactly the kind of adventure she craves. But this job is more than meets the eye. For one thing, her duplicitous employer has hired rebel Sar Redryll—Kivita's former lover—to stop her at any cost. For another, Kivita's recovery of the relic unleashes in her powerful new abilities. Abilities that everyone in the Cetturo Arm—human, alien, and in-between—desperately wishes to control…

As she avoids a massive galactic manhunt, Kivita teams up with two unlikely allies: Sar and his enigmatic new partner. Only, as the gem's mysteries are revealed and danger draws near, Kivita begins to wonder if her ex has truly changed, or if he's just waiting for the right moment to betray her once again…
Being an Ace Roc star is wonderful, taking me back to the science fiction and fantasy books which it turns out I still love and have missed. Why wasn't I reading these books? I grew up totally loving Star Trek (reruns after school)  and Star Wars. I read lots of this genre through high school and college.
On Goodreads, the classification seems to be science fiction.  To me, this seems like urban fantasy or maybe more accurately, space opera.  There is a strong heroine who grows and learns more about the world and herself than her original notions.  She has loved and lost, and now he's turned up again like a bad penny.  There are futuristic and paranormal elements and different species.
This space opera has a war which is already being fought, just not everyone realizes it.  And I enjoyed this book, by the way.  The strategy, planning and battles engage my mind.  The people capture my feelings. The heroine, as well as others, have some difficulty in determining who are the good guys and who are the bad guys?  Not everyone tells the truth.  I know; I'm shocked.
It's trying to figure out what's black and white, when really it's gray.  The moral dilemmas of who lives and dies to achieve the goals, or who is lost when you are doing the best you can.    In any of the books with military type actions, it should be easy, our main character is the white hat and so are their allies.  But this doesn't always work out to be true.  
And then there is figuring out the WHY.  The motivations tell more about which side someone took and will take in the future.   This all adds more to a book, than just the action, and the relationships of various sorts.  
I think Inherit the Stars is the first in a series and it will be interesting to learn more about this world and these people. I read it all in one sitting. What will happen now?
Latest posts by Anne - Books of My Heart
(see all)
Related Posts