Review copy was received from NetGalley. This does not affect my opinion of the book or the content of my review.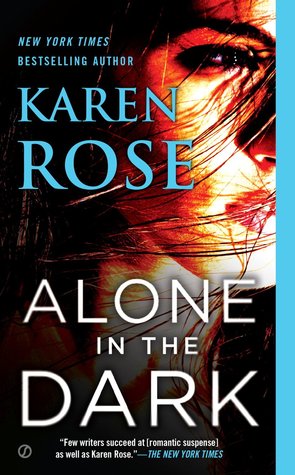 Alone in the Dark
by
Karen Rose
Series:
Faith Corcoran #2
on February 2nd 2016
Genres:
Romantic Suspense
Format:
eARC
Source:
NetGalley
Goodreads
Amazon




Homicide Detective Scarlett Bishop has seen enough bad guys slip through the cracks and too many innocent victims go unavenged to know good doesn't always prevail. So far she's been able to lock away her rage and her vigilante fantasies. That lock is about to break.

Former Army Ranger Marcus O'Bannion is a fierce champion of victims' rights. His secret past gives him good reason. He believes he's seen the depths of human depravity, but then his investigation into the murder of a young girl who once asked for his help lures him and Scarlett down a dark, dark road—and straight into the crosshairs of a dangerous, powerful underground ring that deals in human trade. To stop them, Scarlett and Marcus have to be just as cunning and just as ruthless. But first they have to make it out alive.
Karen Rose might very well be my favorite romantic suspense author. I never get bored or lose interest and her books are looooong. Her characters are so real to me. They may not be perfectly realistic with some horrible things happening and some characters have unbelievable money or contacts, but they have diversity and dimension. They make me feel.
Marcus and Scarlett, in this book, have faced some horrible things in their pasts and it has made them who they are. But everyone chooses how to react to bad things (or good) and they are strong. They are smart. They care. They have chosen to help others. They are definitely the "good" guys.
Of course, they are a target for the bad guys. As with the other books in the series, this couple is put into a scary situation and they work together to fight the evil. I like this working together. They did meet nine months ago in the previous book, but haven't really seen each other in the interim. It makes for a fast, intense romance but I like it anyway. The mystery and action parts of the story held my attention.
I reviewed the "first book" in this series, sort of, last year: Closer Than You Think . That led me to read books 1-14 and I only have #15 left to be up to date. I'm a little out of order but each book is about a new couple, although there are a few references to previous happenings. Faith was only barely in this story; her guy, Deacon was more present. So I think it is more Romantic Suspense #17 or even Cincinnati #2, more than Faith Corcoran #2 but the important thing is Alone in the Dark is a great read. I can't help wondering if the next book will bring down the bad guy from Scarlett's past. Or will Stone or Kate be featured?
Latest posts by Anne - Books of My Heart
(see all)
Related Posts